Our City Guide to San Francisco, USA
San Francisco is known as the cultural, commercial and financial centre of Northern California, and the city covers a land area of around 49.9 square miles. A great destination for a city break, San Francisco has something to suit everyone — whether you want to soak up some culture in one of the city's museums or drive across the famous Golden Gate Bridge.
Getting around San Francisco and the wider area has never been easier thanks to our great car hire deals. With one of our high-quality cars, you'll have the freedom to explore this amazing city at a pace that suits you.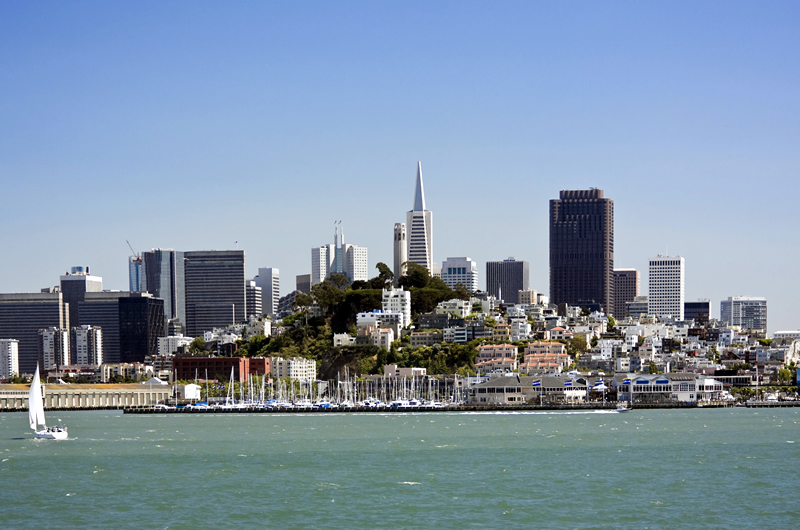 Compare car hire in San Francisco
To help you plan your perfect holiday to San Francisco, we've put together a list of some of the city's top sights and attractions, and suggested some places a little further afield for you to explore with your car hire.
Here's our choice of attractions in San Francisco itself — which we've picked out just for you:
The Golden Gate Bridge
Undoubtedly San Francisco's most famous landmark, the Golden Gate Bridge is one landmark that's definitely hard to miss! The 1.7-mile long, orange suspension bridge connects the City of San Francisco with the County of Marin to the north. Visitors have the option of driving, cycling or walking over the bridge (depending on the time of day you visit).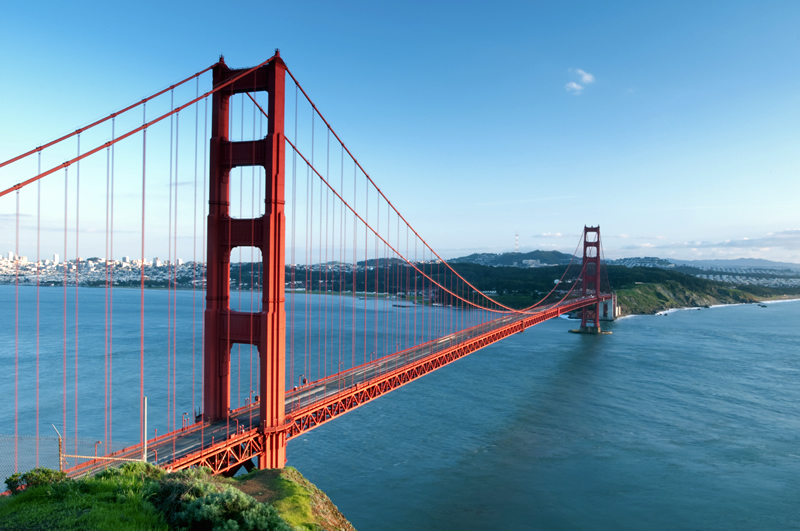 You can also visit the Bridge Pavillion, an on-site centre which tells you all about the bridge's history, while the outdoor exhibits allow you to learn about the construction process from start to finish. On Thursdays and Sundays, free walking tours are also offered.
Golden Gate Bridge, San Francisco, CA 94129, United States. Cyclists and pedestrians have toll-free access to the bridge (please note that pedestrians can only use the east sidewalk, which is subject to time restrictions). A one-time toll payment for a two-axle vehicle is $7.
Pier 39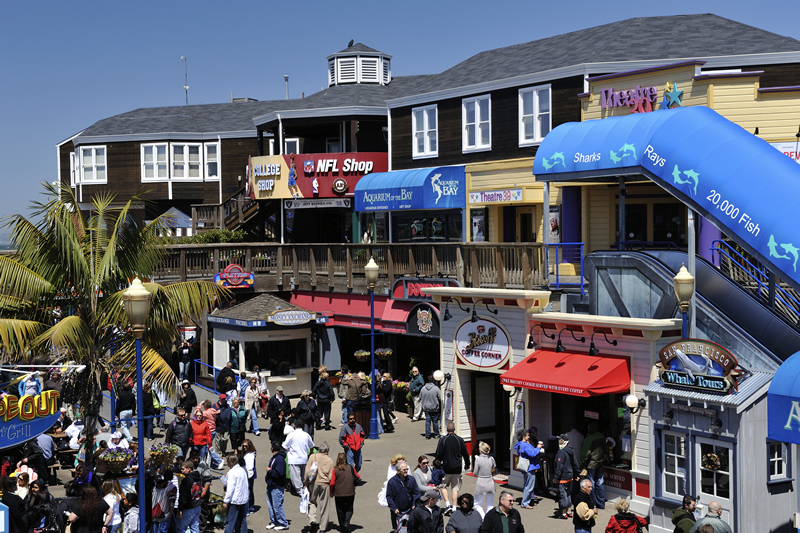 Pier 39 is one of San Francisco's most versatile and vibrant tourist attractions. With plenty to suit all ages, Pier 39 is the perfect place for a family day out. One of the pier's biggest draws is the vast sea-lion population found in the west marina (you'll see more sea-lions in the winter than in the summer). The nearby Sea Lion Center has a range of interactive displays and educational presentations for you to lean all about these fascinating creatures.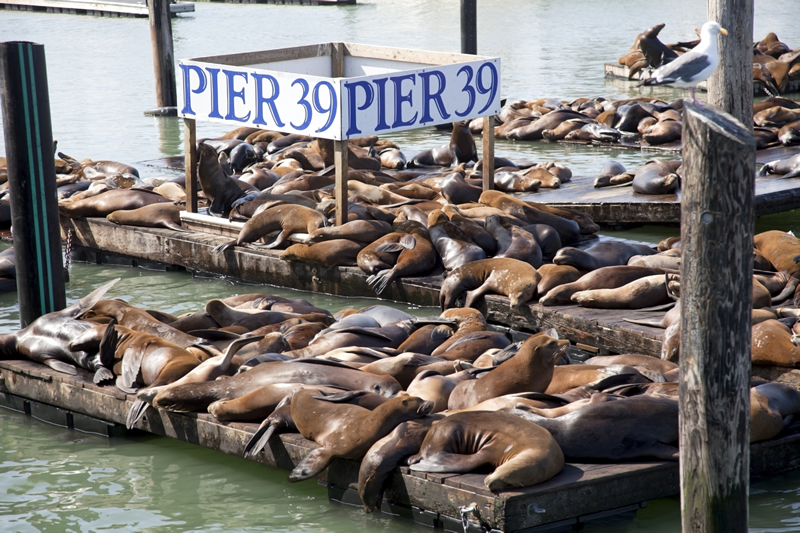 Other fantastic, family-oriented attractions include a mirror maze, a '7D' laser game and whale-watching tours. The pier is also home to a good selection of shops, which sell everything from clothes to candy. When you're all shopped out, head to one of the pier's many eateries and enjoy a well-earned bite to eat.
Beach Street & The Embarcadero, San Francisco, CA 94133. Opening hours depend on the time of year. As Pier 39 is not a gated attraction, it's free to walk around the pier — although extra charges will apply for the individual attractions.
Lombard Street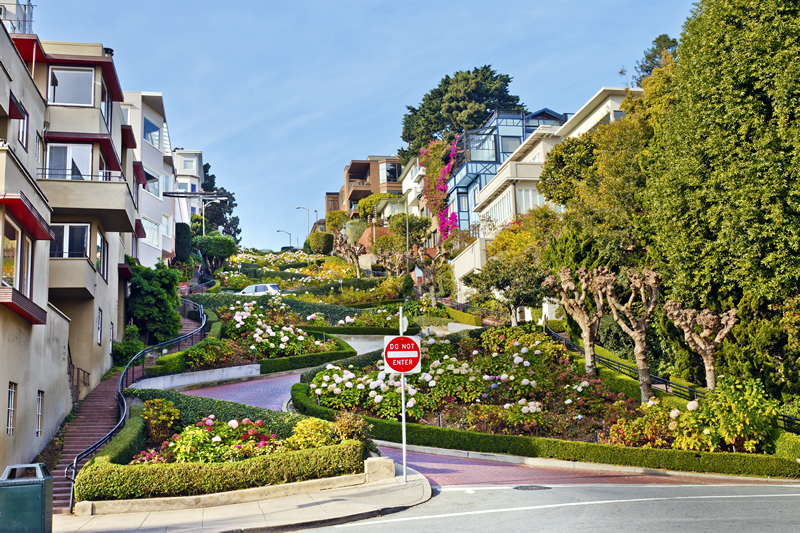 Known as 'the most crooked street in the world', San Francisco's famous Lombard Street consists of eight hair-pin turns. From the top, you can take in the beautiful views across the bay, and as you meander down the zigzag-shaped road, you'll be treated to pretty gardens at every turn.
Lombard St, San Francisco, CA 94133
Take a Ride on one of San Francisco's Cable Cars
San Francisco is known for its steep hills, and one of the best ways to experience them (and save your legs!) is by taking a ride on one of the city's traditional, manually operated cable cars. There are three different routes in operation, so they're also a great way of getting a tour of different areas of the city.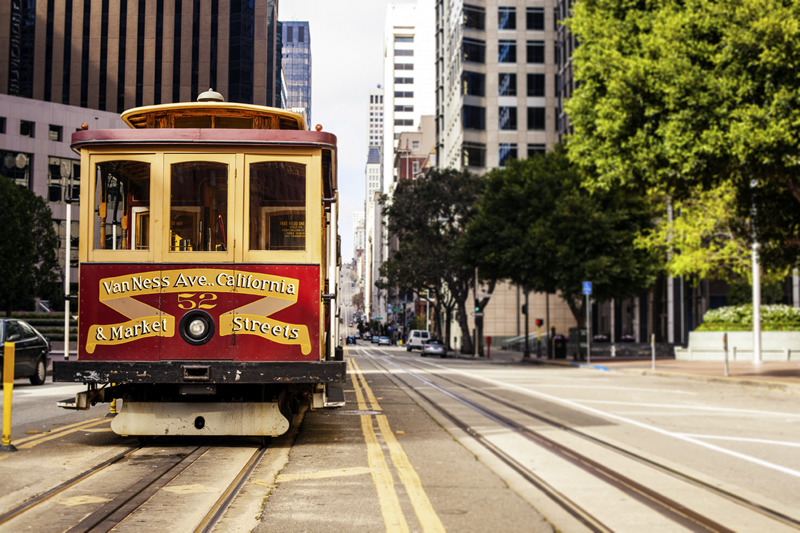 The cable cars run seven days a week, although special schedules apply at weekends. Single tickets cost $5 for adults (18+) and children (aged 5-17 years). Children aged four years old and under can ride free of charge. 'Passports' can also be purchased, which allow unlimited travel for one, three or five days.
Alcatraz Island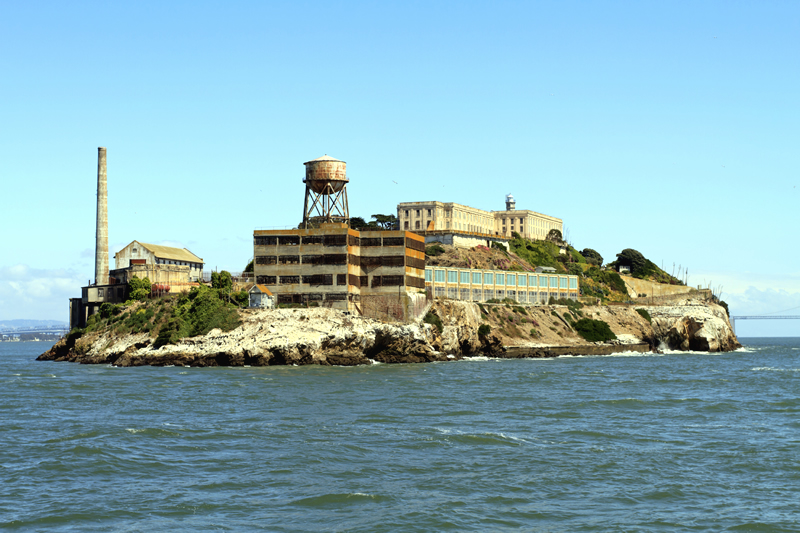 Located 1.5 miles offshore from San Francisco, Alcatraz Island is easily accessed by a short ferry ride. The island is home to an abandoned prison (which once housed famous inmates like Al Capone and Robert Stroud), the oldest operating lighthouse on the west coast of the USA, early military fortifications and a seabird colony. Steeped in history and natural beauty, Alcatraz Island is a great escape from the hustle and bustle of the city.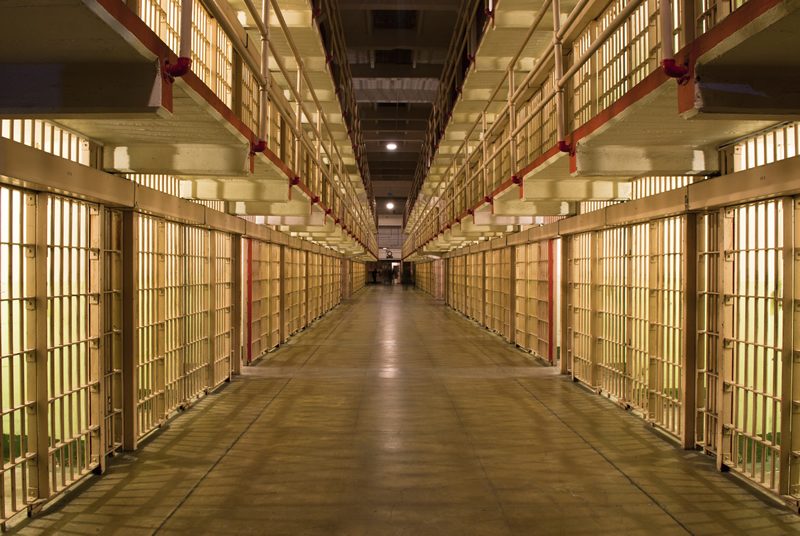 Tours depart daily at various times from Pier 33. Tickets prices depend on which part of the day you go, but day tours (departing from 9.10am-1.05pm and returning from 9.30am-4.25pm) cost $30 for anyone aged 12-61 years, $28.25 for seniors (aged 62+) and $18.25 for children (aged 5-11 years). Children aged four years and under can enjoy the tour free of charge. Prices are correct for the current winter season (November 3rd 2014 - March 8th 2015).
De Young Museum
Dedicated to fine arts, the De Young Museum is the oldest museum in San Francisco. Built in 1895, it's home to a range of exhibitions and collections, from American paintings and African art to photography and multimedia. The museum also holds live dance, music and theatre performances on a Friday night, as well as offering artist demonstrations, hands-on activities and panel discussions.
50 Hagiwara Tea Garden Dr, San Francisco, CA 94118. Opening hours depend on the time of year. The museum is closed on Thanksgiving Day and Christmas Day. Entry costs $10 for adults, $7 for seniors (aged 65+) and $6 for children between the ages of 13 and 17 years. Children aged 12 and under are admitted free of charge.
So you can make the most of your car hire, we've also suggested some great places to visit which are a short drive away from San Francisco — to help you decide where to take the car.
Sausalito
The picturesque, upmarket town of Sausalito is located around 10 miles north of downtown San Francisco, over the Golden Gate Bridge.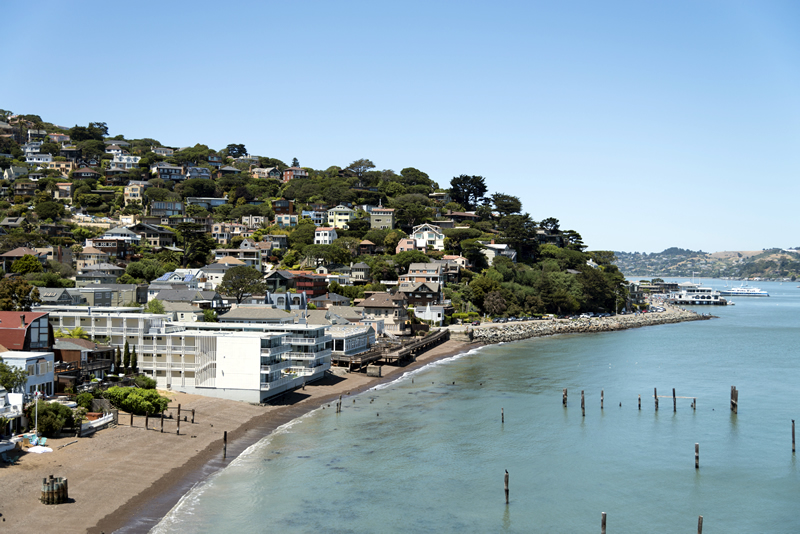 A small, bay-side settlement, Sausalito is where you'll find fine restaurants, trendy boutiques and small art galleries. The main street through Sausalito also runs parallel to the water, offering stunning views over San Francisco and the bay area. If you want quaint cafés and restaurants, head to Caledonia Street and enjoy a bite to eat while watching the world go by.
Angel Island and Tiburon
Lying around eight miles to the north of San Francisco, Angel Island is one of California's State Parks. Just like Alcatraz, the island was once home to a large prison, as well as a quarantine centre for immigrants and a large missile base. Today, however, Angel Island is the perfect place to relax — with plenty of green lawns next to the water for you to chill out on. If you fancy something a little more adventurous, you can also go on a hiking trip or enjoy a bit of mountain-biking.
Tiburon can easily be accessed by a short ferry ride from Angel Island, and it's well worth making the trip. The small seaside town is flanked by green hills, and if you drive up the narrow roads, you'll be rewarded with spectacular views of San Francisco's skyline. There are also a selection of boutiques, antique shops and art galleries for you to explore.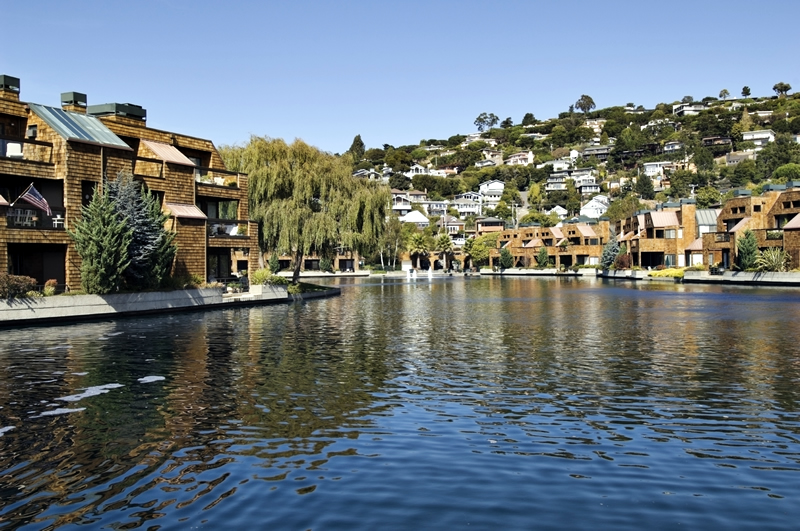 San Jose
Well worth the 50-minute drive from San Francisco, San Jose is a vibrant city that has plenty to offer. From its wealth of shops and restaurants to its beautiful parks and public art, the city enjoys a warm and sunny climate. Thanks to the prosperity of Silicone Valley, San Jose has transformed from a sleepy town into the third-largest city in the whole of California.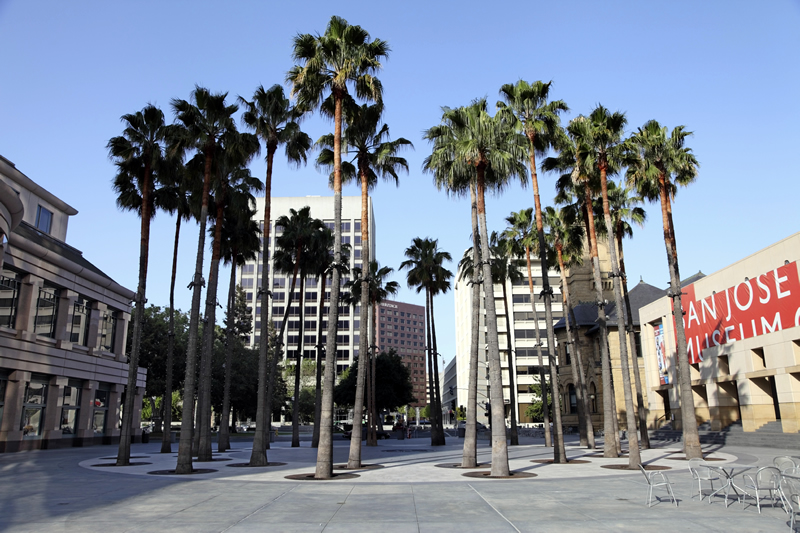 If you've enjoyed reading our guide to San Francisco, you may also enjoy reading our guide to Los Angeles. If you're planning on visiting California over the festive season, take a look at our guide to California in the winter.