Our Guide to Malaga, Spain
On Spain's Costa del Sol, Malaga is a cosmopolitan city which combines history and culture (largely thanks to its Moorish influence) with modern charm. The summer season in Malaga lasts around eight months, and the city boasts one of the warmest winters in the whole of Europe — so there's never a bad time to visit!
To help you make the most of your Malaga car hire, we've put together a list of top attractions in the city, and suggested some great places to drive to.
Here's our pick of 'must-see' attractions in Malaga itself:
Alcazaba of Malaga
This stunning Moorish fortress is in the heart of the city centre, and it's one of the most beautiful historic sites in the area. The Alcazaba majestically overlooks Malaga, and its hill-top location provides stunning views of the city. From its pretty cobbled paths and courtyards to its lavish marble columns and balconies, the fortress is well worth a walk around.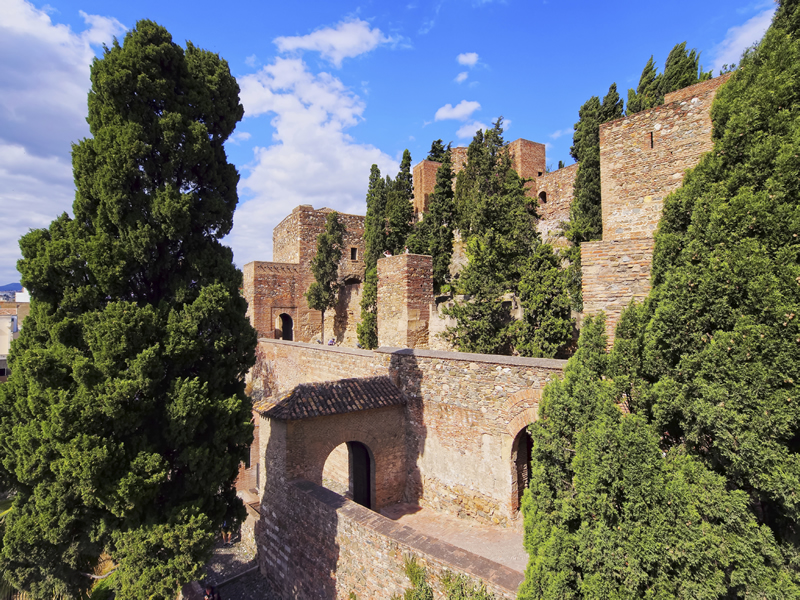 Calle Alcazabilla 2, 29012 Málaga. Open Tuesday to Sunday (9.30am-8pm in the summer and 8.30am-7.30pm in the winter). Entry costs €2.20 for anyone over the age of 16, and €0.60 for children aged 6-16. Children under the age of six are admitted free of charge. Entry is free for all visitors on Sundays, after 2pm.
Castillo de Gibralfaro
The Castillo de Gibralfaro is another one of Malaga's historical points of interest. Just like the Alcazaba, the castle sits on top of a hill, which forms part of the Montes de Malaga mountain range. Offering some of the best views over the city, the castle originally served as a lighthouse and military barracks.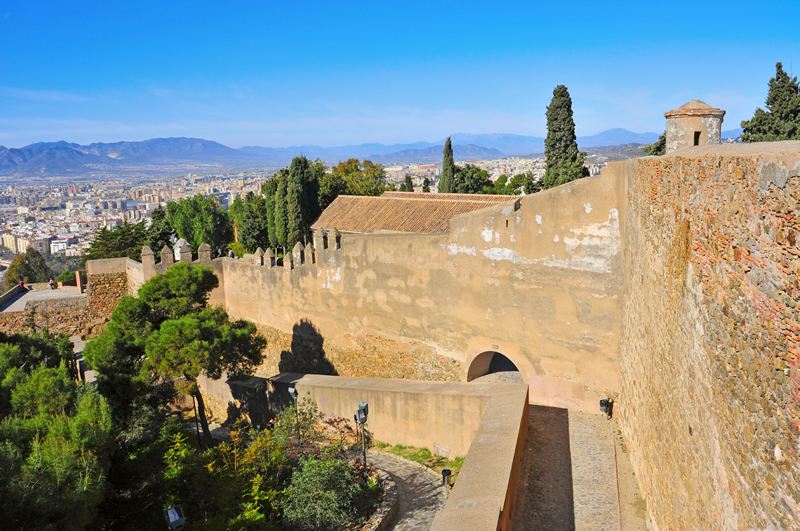 CMNO Gibralfaro 11, 29016 Málaga. Open Tuesday to Sunday (9am-8pm in the summer and 9am-6pm in the winter). Entry costs €2.20 for anyone over the age of 16, and €0.60 for children aged 6-16. Children under the age of six are admitted free of charge. Entry is free for all visitors on Sundays, after 2pm.
Malaga Cathedral
A visit to Malaga's stunning cathedral is a great way to spend a morning or afternoon. The cathedral's interior has Renaissance and Baroque influences, and some of the most attractive features include the 17th-century choir stalls in the central nave and the sculptural works of Pedro de Mena — one of Spain's most famous wood-carvers of the time.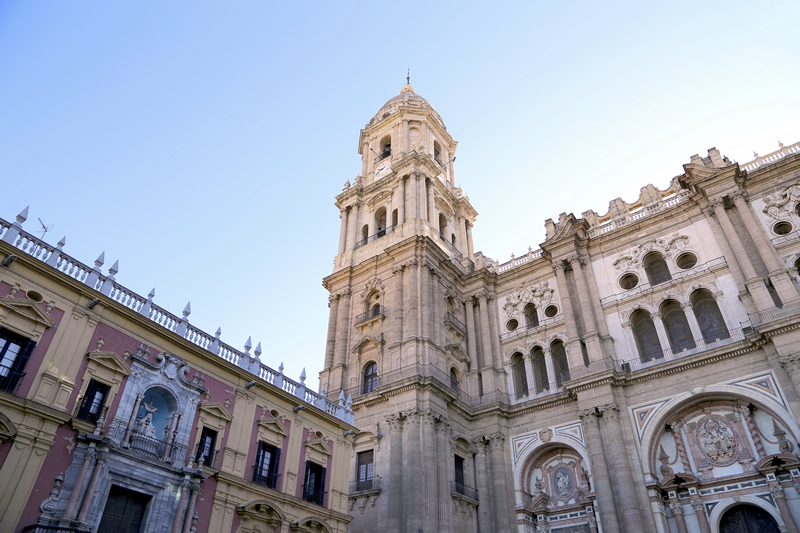 Calle Molina Lario 9, 29015 Málaga. Entry costs €5.
Picasso Museum
Home to some of Picasso's most celebrated works (233 permanent pieces to be exact), the Picasso Museum mainly contains paintings that Picasso either kept to himself or gave to family members. The museum, itself a fine example of 16th-century Andalusian architecture, can be found in the centre of the old city. Not only is the museum home to fascinating exhibitions, it also boasts a library, a bookshop and a café.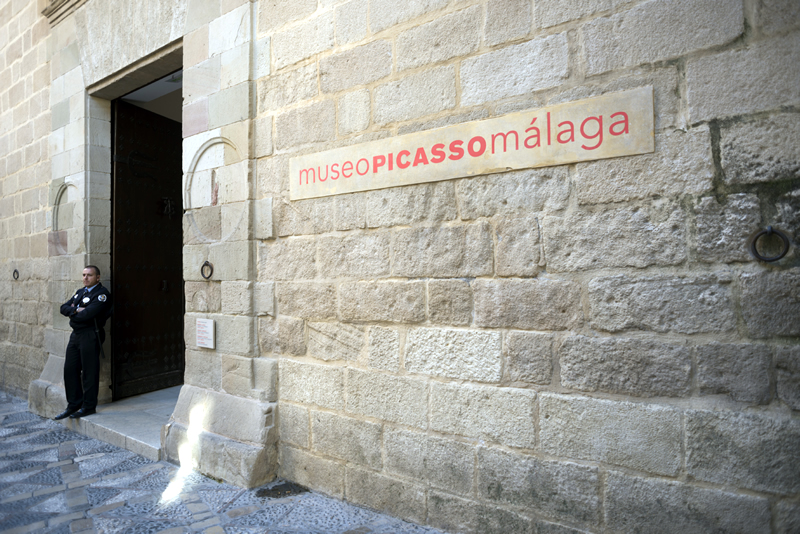 Palacio de Buenavista, C/ San Agustín 8, 29015 Málaga. Opening hours depend on the time of year. Entry costs €8 for adults and €4 for seniors (65+). People under the age of 18 (children aged 12 and under must be accompanied by an adult) are admitted free of charge. Entrance is also free for all visitors on Sundays, between 6pm and 8pm.
Fundación Picasso
The house that Picasso was born in has now been transformed into the headquarters of the Picasso Foundation. Home to various exhibitions and the 'Birthplace Museum', the five-storey building gives visitors an insight into how the artist lived.
Plaza de la Merced, 15, 29012 Málaga. Open all year round, except for Christmas Day, New Year's Day and every Tuesday between November and March. A combined ticket for both museum and exhibitions costs €3. Seniors (aged 65+) and children under the age of 17 years (when accompanied by an adult) are admitted free of charge. Entry is free for all visitors on Sundays and selected dates around the year, such as Picasso's birthday (October 25th) and International Museum Day (May 18th).
Get the most out of your car hire and explore some of the beautiful places that are within an hour's drive of Malaga. We've picked out a selection of towns which we think are worth hitting the road for:
Torremolinos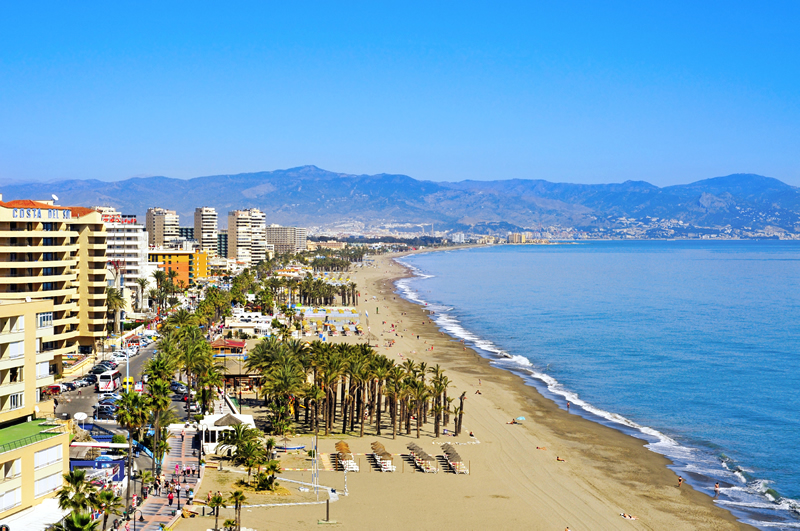 Just 20 minutes away from Malaga is the popular tourist hot-spot of Torremolinos. Boasting some of the finest beaches on the Costa del Sol, Torremolinos is the perfect place to enjoy a spot of sunbathing. The town also has a waterpark, guaranteed to provide hours of fun for children and adults alike. Along the beachfront, you'll find a wealth of fine restaurants, serving fresh, tasty and traditional Andalusian seafood dishes. Torremolinos has lively nightlife, so it's a great place for people who like to party.
Benalmadena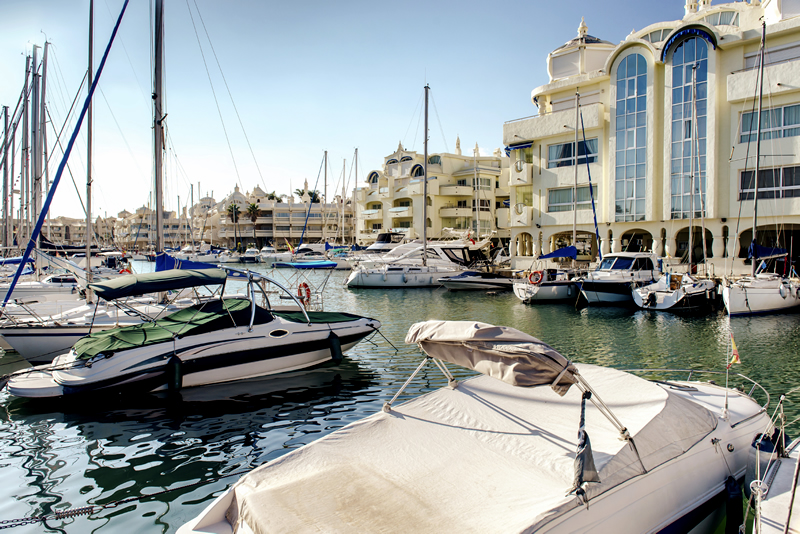 ​Benalmadena is a little further down the coast from Torremolinos (a 10-minute drive), and although a busy resort, it has retained much of its authentic Spanish character. There are plenty of family-friendly attractions here, such as the Sea Life Centre and the Tivoli World theme park. The town has a good selection of shops and restaurants, and a picturesque marina where you can book a boat trip and go fishing or dolphin-watching.
Fuengirola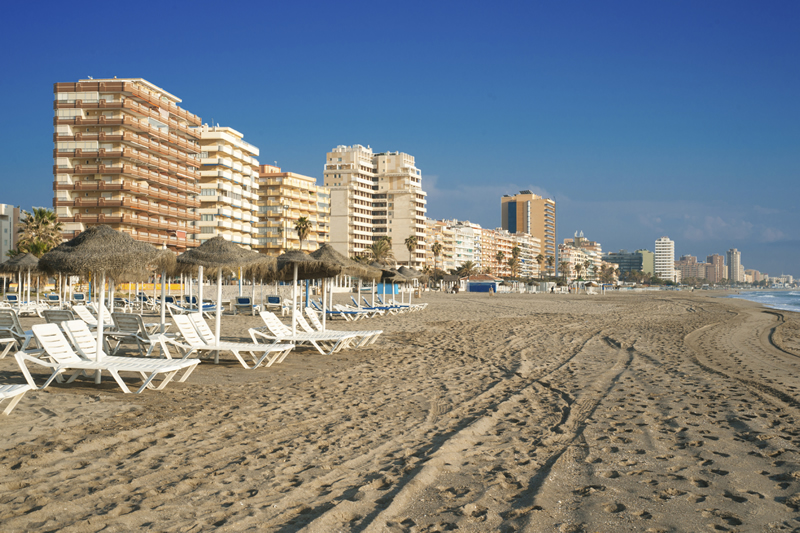 The next main resort along the coast is Fuengirola, which has five miles of fantastic beaches (the Los Biloches, Gaviotas and Torreblanca beaches all have blue-flag status, meaning they've met strict standards for cleanliness, water quality and safety). Packed with fine restaurants and tapas bars, Fuengirola has plenty of activities and attractions to please visitors of all ages — including a zoo, a castle and a vibrant street market.
Mijas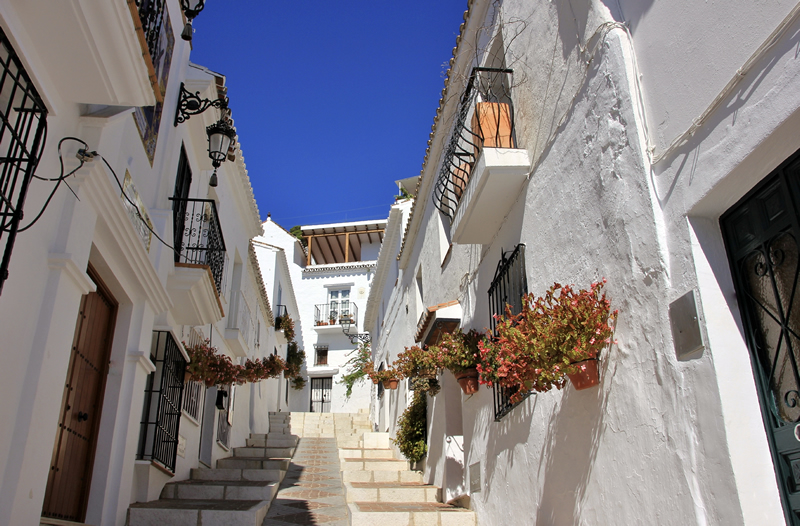 People looking for a taste of authentic Spain should head to the town of Mijas, located on the hillsides around 10km from Fuengirola. Characterised by white-washed houses and traditional donkey taxis, Mijas exhibits plenty of the Spanish charm that can be hard to find in tourist-oriented resorts. Featuring winding, cobbled streets lined with restaurants and gift shops, the centre of Mijas is the perfect place for a leisurely stroll. Golf enthusiasts will also love the area, since the Mijas Golf Complex is one of the best golf courses on the Costa del Sol.
Nerja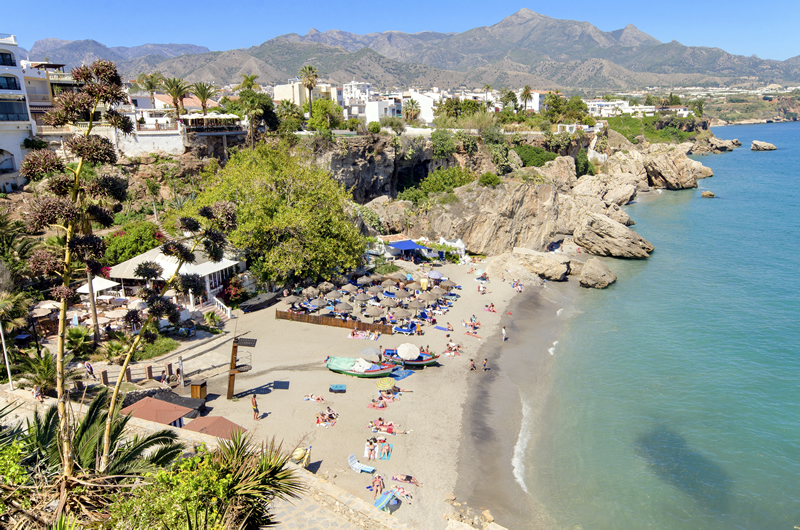 Featuring a traditional 'old town', lively nightlife and gorgeous scenery, Nerja is around 45 minutes east of Malaga. The former fishing village has kept its Spanish charm, yet still caters to tourists. Nerja's most visited attraction is the Nerja Caves Complex — a system of limestone caverns, where you'll find prehistoric paintings, archaeological finds, waterfalls and some breathtaking stalactite and stalagmite formations. The town is also home to the Balcón de Europa, an observation platform which offers striking coastal views.
Marbella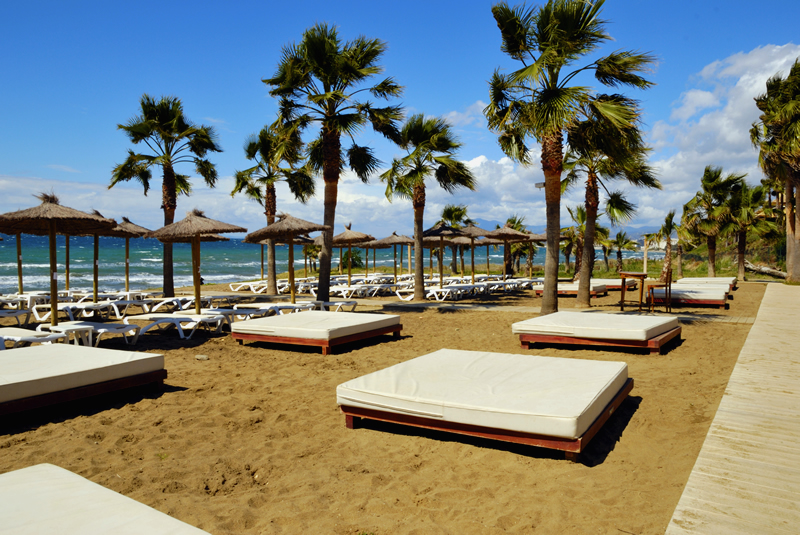 The city of Marbella is well worth exploring: popular among the rich and famous, Marbella has a modern, cosmopolitan feel, while the old quarter features Roman ruins and Moorish architecture. With many beautiful beaches for you to relax on (Fuerte, Bajadilla and Fontanilla all rank as some of the most attractive in Spain), Marbella has a great selection of shops, restaurants, bars and nightclubs. From Marbella, you can take a drive to the nearby Nagueles Cave at the foot of the Sierra Blanca mountain range.
Puerto Banus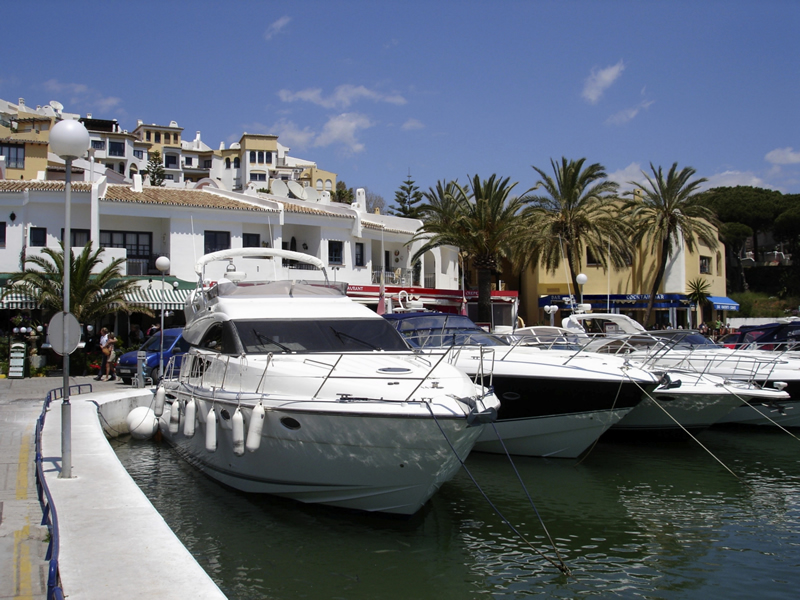 Just 8km west of Marbella is the glamorous marina of Puerto Banus. Packed with high-end designer boutiques, five-star hotels and fine dining opportunities, Puerto Banus is also home to a selection of beaches and exclusive beach clubs.
Events in Malaga
January 6th: The three kings make their way through the city, marking the day when Spanish children open most of their Christmas presents (Fiesta de Los Tres Reyes Magos, which translates as 'Festival of The Three Magic Kings'). After the parade, the festivities continue into the night with live music and dancing.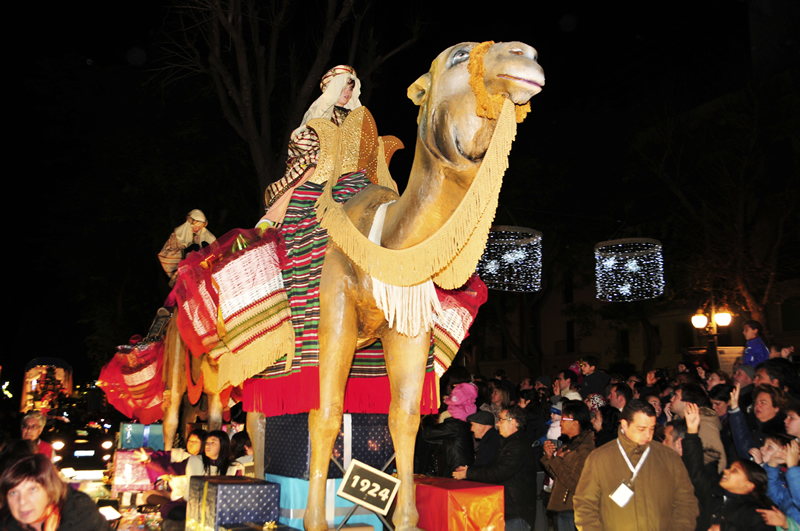 February: During the week before Lent, the Malaga Carnival takes place. With colourful floats and flamboyant costumes, the city comes alive with parades, music and performances.
Easter (March/April): Celebrated the week before Easter, Semana Santa (or Holy Week) sees religious processions make their way through Malaga.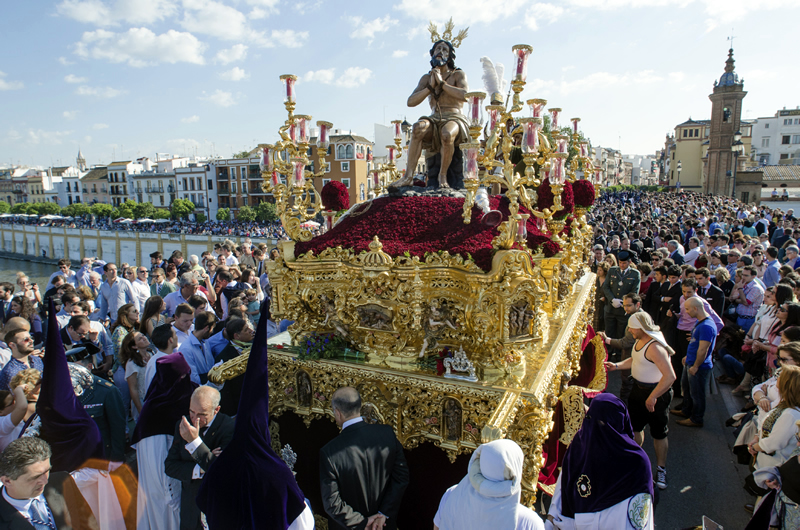 June 23rd: The Fiesta de San Juan takes place, featuring two days of festivities and effigies being burned on the beach.
July 16th: The Virgen del Carmen procession is celebrated. An image of Our Lady of Carmen is carried through the streets, before being sailed out to sea.
August: In mid-August, the Feria de Malaga happens. The week-long street party commemorates the re-conquest of the city by Isabella and Ferdinand in 1487.
December: The streets of Malaga are decorated with hundreds of beautiful, festive lights, and the annual Christmas markets pop up in the main areas.
You might also enjoy reading some of our other Spain travel guides.