The Ultimate Food-Lover's Guide In and Around Malaga
This year's Taste of London festival is just around the corner, so we're continuing our series of food and travel posts with an in-depth look at the gourmet delights of Malaga and the surrounding area.
The Malaga area is one of the foodie hotspots of southern Spain's Andalusia region; being the second-most mountainous area in the country, it has the perfect climate for all kinds of produce (including molasses, olive oil and goat's cheese). Sardines, anchovies and shellfish are also staple foods of Andalusian cuisine.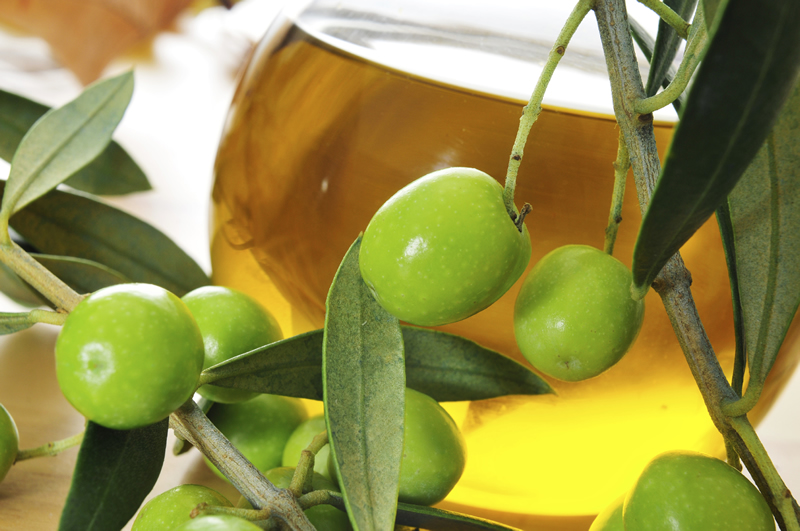 To help you decide what and where to eat during your time in Malaga, we've put together this handy guide featuring some great places to dine in the city.
We've also picked three fantastic drives to help you make the most of your hire car — not only will you be able to see more of this stunning region, you can also sample more of its delicious delicacies as you drive from place to place. Hiring a car will give you the freedom to escape the city and tantalise your taste buds with an array of Andalusian flavours.
What foods should I try while in the Malaga area?
Gazpacho: A refreshing soup that's served chilled. It usually has a tomato base and is made with stale bread and vegetables (typically cucumbers, peppers and onions). Garlic, olive oil, wine vinegar and salt are also added for enhanced flavour.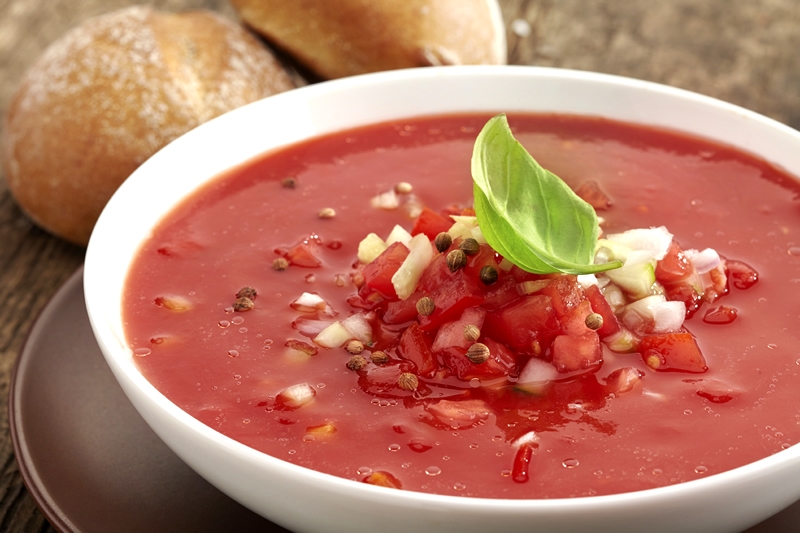 Ajo Blanco: Made with crushed almonds and garlic, Ajo Blanco is Malaga's own take on gazpacho. Just like a classic gazpacho, the white soup is served cold.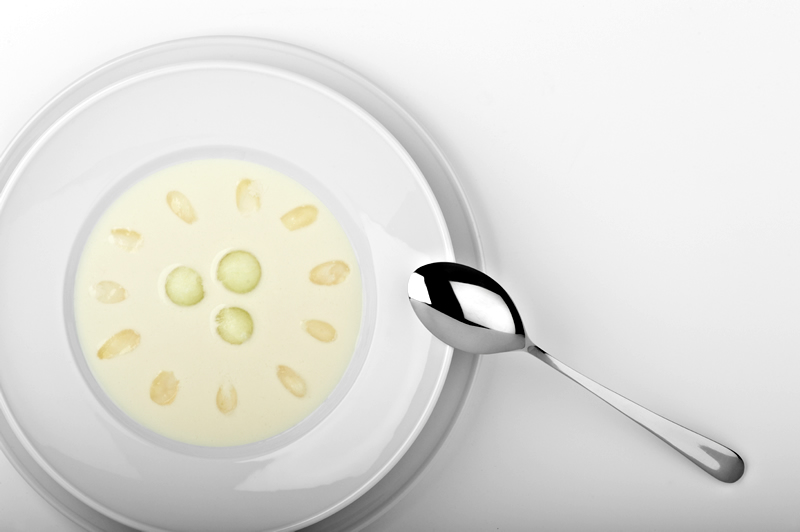 Gazpachuelo Malagueño: Unlike traditional gazpacho, gazpachuelo malagueño is a warm soup that's more commonly eaten in the winter months. It was originally seen as a 'poor man's dish', made with fish, potatoes, mayonnaise, wine vinegar, water and salt. Over time, more seafood was added (such as shrimp, langoustines and clams) to make a heartier dish. Sometimes it's served with toast and a hard-boiled egg.
Porra Antequerana: Similar to gazpacho, this cold, tomato-based soup has a thick consistency instead of a runny one. Usually, the soup is garnished with fresh tomatoes, hard-boiled eggs, ham and tuna.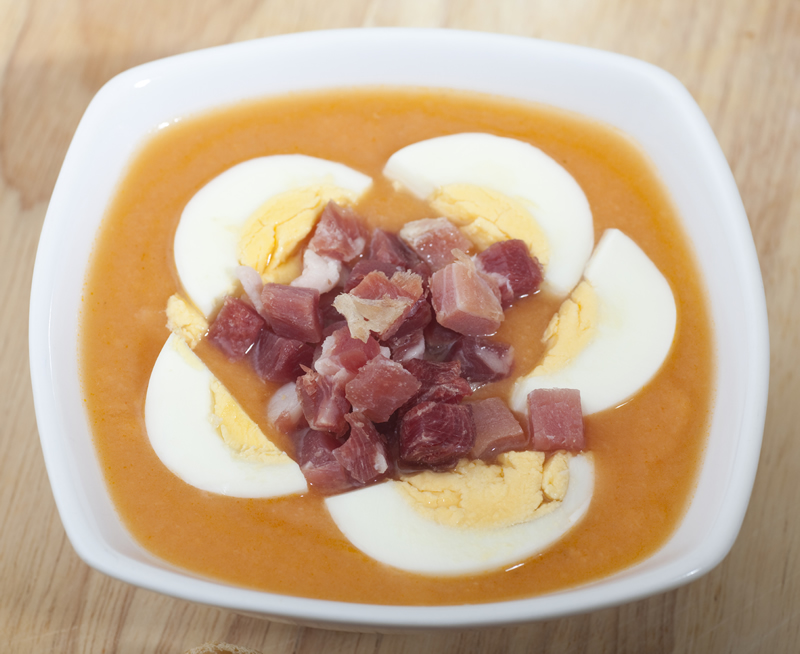 Fritura Malagueña: A mix of local fish and seafood (like anchovies, squid, baby squid, cuttlefish and red mullet), coated in flour and fried. The platter of battered fish is served with a wedge of lemon.
Boquerones en Vinagre: Raw, white anchovies marinated in vinegar, salt, garlic, parsley and olive oil.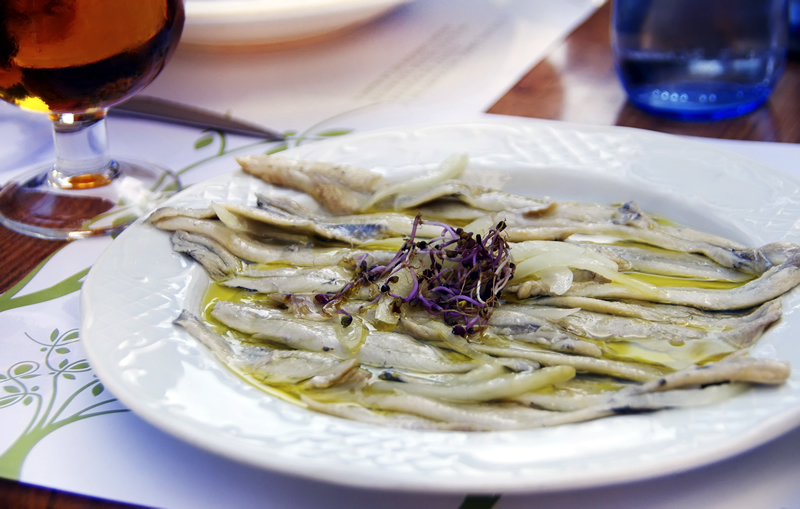 Espetos de Sardinas: Usually served at beachfront bars (known as chiringuitos), the sardines are roasted on spits over a barbecue pit (often shaped like an old fishing boat).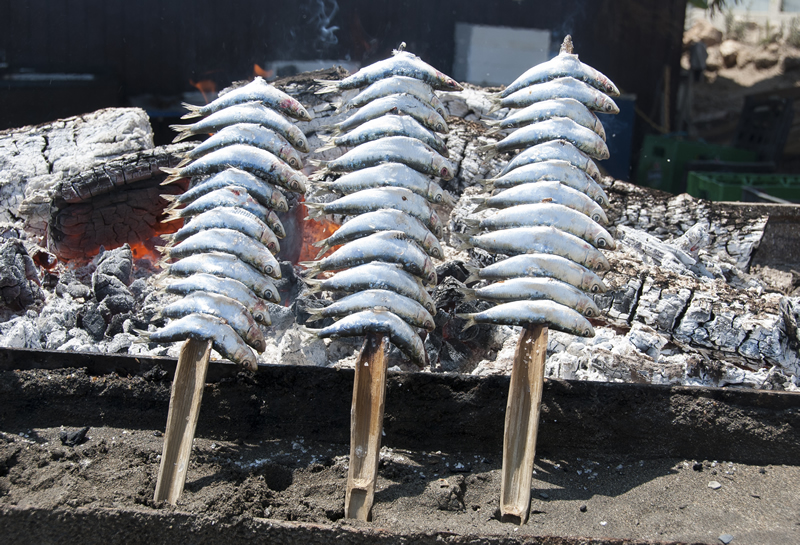 Migas: Translating as 'crumbs', Migas is made using day-old bread crumbs, olive oil and garlic. The breadcrumbs are served with a variety of foods, such as peppers, sardines, pork, roasted onions, chorizo, fried eggs and even melon.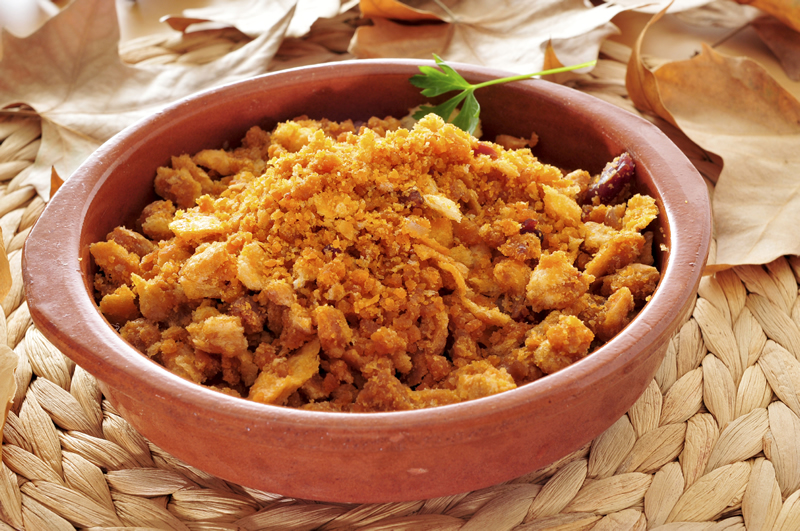 Berza Malagueña: A tasty stew made up of pork offal, blood sausage, cabbage, chickpeas and carrots. Seasoned with paprika, cumin and garlic, berza malagueña makes great 'comfort food' in the winter.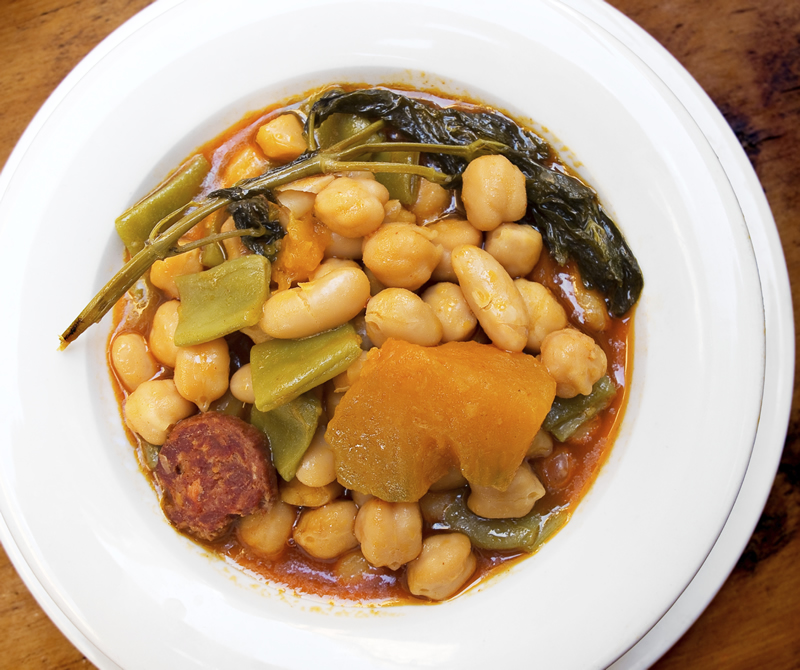 Pipirrana: Simple but delicious, this cold salad consists of red and green peppers, tomatoes, onions, olives, tuna, mussels (or any other seafood), drizzled in olive oil and seasoned with sea salt.
Tarta Malagueña: A very sweet cake made with apricot jam, sweet Malaga wine, almonds and raisins.
Where should I eat in Malaga?
The city of Malaga itself boasts an abundance of restaurants for you to pick from, many of which serve authentic Andalusian cuisine.
With something to suit all budgets, Malaga's extensive range of dining options will leave you spoiled for choice. To get your trip off to a mouth-watering start, we've picked out some eateries which we think are well worth a visit in between sightseeing.
Meson La Buena Mano (£)
Meson La Buena Mano is one of the best places in the city for traditional 'malagueño' cuisine. Although it pulls in the locals, tourists will still be made welcome — just don't expect much English to be spoken or understood! Tapas dishes cost as little as €2.50, so if you're not too hungry, you can eat for very little money.
You will find authentic, flavoursome dishes like pipiranna, gazpachuelo malagueño, albondigas (meatballs in sauce) and a stew of salt cod and potatoes. There isn't a menu — you simply choose your plates from the selection behind the counter. Dishes change on a daily basis, so why not pop in a couple of times during your trip to see what's new?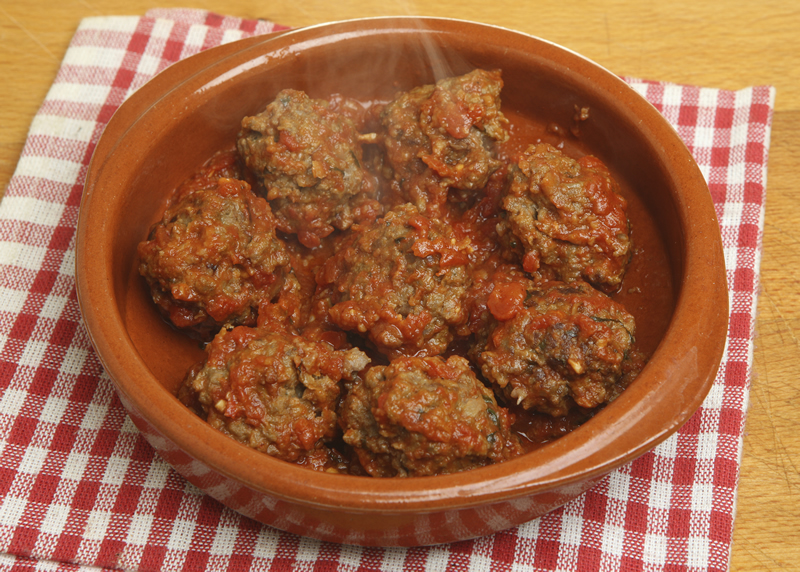 Calle Calder ón de la Barca 6, 29005 Malaga. Open Monday-Friday from 9am-11pm, and Saturdays from 9am-5pm. Closed on Sundays.
Near to:
Centro Histórico
Plaza de la Constitucion
Restaurante El Tintero II (££)
Located in the El Palo neighbourhood of the city, Restaurante El Tintero II is a haven for people who love fish and seafood. The restaurant is known for its lively atmosphere and unique ordering system — the waiter will shout out items on the tray, and you simply shout back if something takes your fancy! Make sure you try the boquerones (anchovies), lubina (sea bass) and gambas pil pil (prawns cooked in oil, garlic, paprika and chili).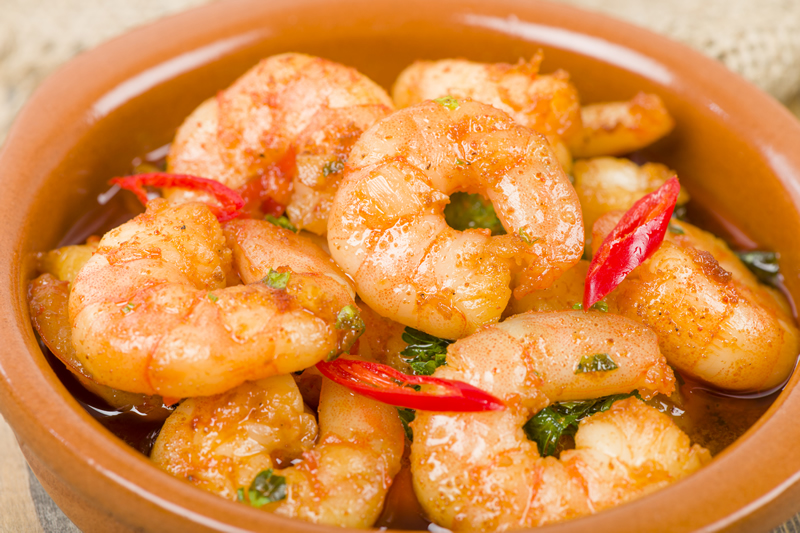 Carretera de Almeria 99‬, Playa del Dedo, El Palo‬‬, Malaga. Open daily from 12pm-11.30pm.
Near to:
Puerto del Candado (a picturesque marina)
El Candado Golf Club
El Tapeo de Cervantes (££/£££)
A great place if you want to sample some authentic Andalusian fare with a creative twist, El Tapeo de Cervantes provides a 'warm, intimate and cosy atmosphere'. For most of the dishes on the menu, you can have a tapas-sized portion, half a portion or a full portion, so it's ideal if you've got differing appetites in your party. On the menu, you will find the likes of porra antequerana served with quail's eggs, potato omelette with chorizo, and battered prawns with treacle and spinach leaves.
Calle de Cárcer, 8, Malaga. Open Tuesday-Saturday from 1pm-3pm and 7.30pm-11.30pm, and just from 7.30pm-11.30pm on Sundays. Closed on Mondays.
Near to:
Plaza de la Merced
Gibralfaro Castle
Alcazaba (pictured below)
Teatro Cervantes
Picasso Museum
Malaga Interactive Museum of Music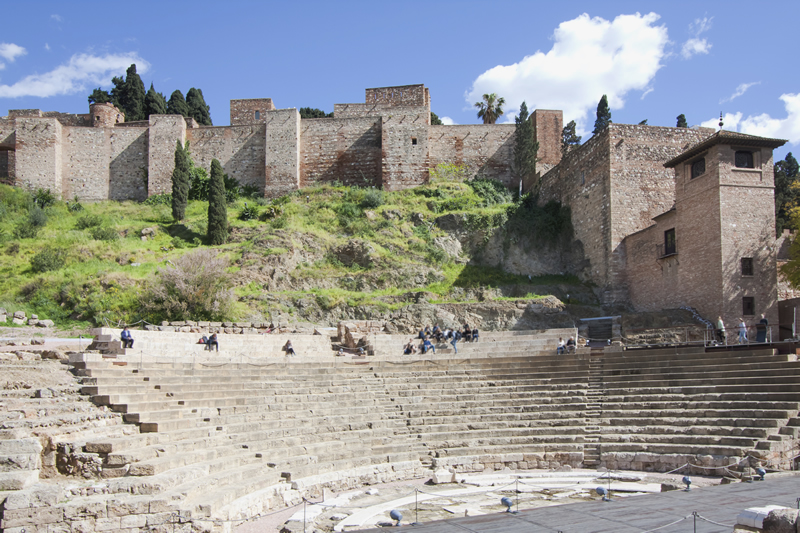 Toro Muelle Uno (£££)
Serving up authentic tapas dishes with a contemporary element, Toro restaurant in Malaga's Muelle Uno shopping centre offers fantastic food and beautiful views across the marina.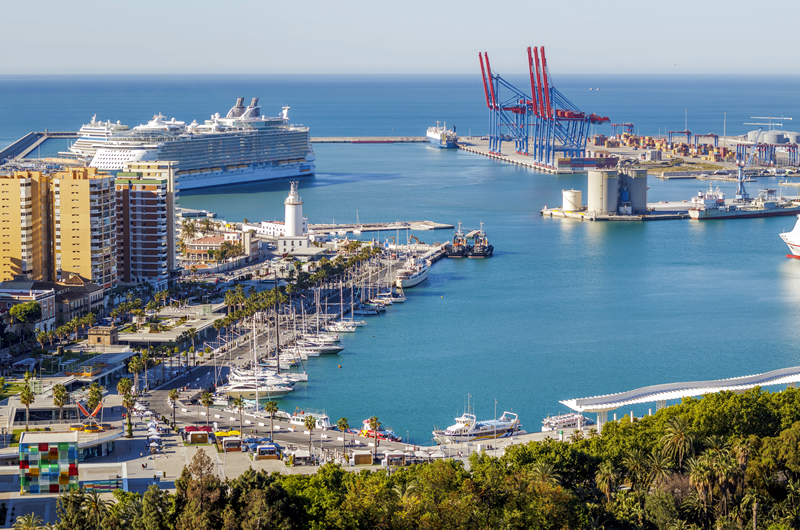 Tapas dishes to share include a selection of spicy chorizo and blood sausage, scrambled eggs with potatoes and chorizo, and piquillo peppers stuffed with cod. If you'd prefer a main course to yourself, the restaurant has a number of fish and seafood dishes: such as red tuna with seasonal vegetables, fillet steak, and pork cheeks with chestnuts.
Muelle Uno, 29001, Malaga. Open daily from 12pm-12am.
Near to:
Muelle Uno Shopping Centre
Port of Malaga
Malaga Pompidou Centre
Paseo del Parque​
Malagueta Beach
Vino Mio (£££/££££)
Although not strictly Andalusian (bar a couple of items on the menu), Vino Mio is a great place to go if you like Mediterranean cuisine with an exotic twist.
From cod in orange and star anise sauce and Australian kangaroo tenderloin, to lamb meat balls in spicy Moroccan sauce and duck leg confit in a strawberry, whiskey and black pepper sauce, the menu has plenty of unusual flavour combinations to excite your palate.
If you've room for dessert, you can tuck into a range of decadent delights, including chocolate and Guinness cake, carmelised pear tarte tatin and creamy mango mousse.
The restaurant also has a flamenco show each night from 8pm-9.30pm.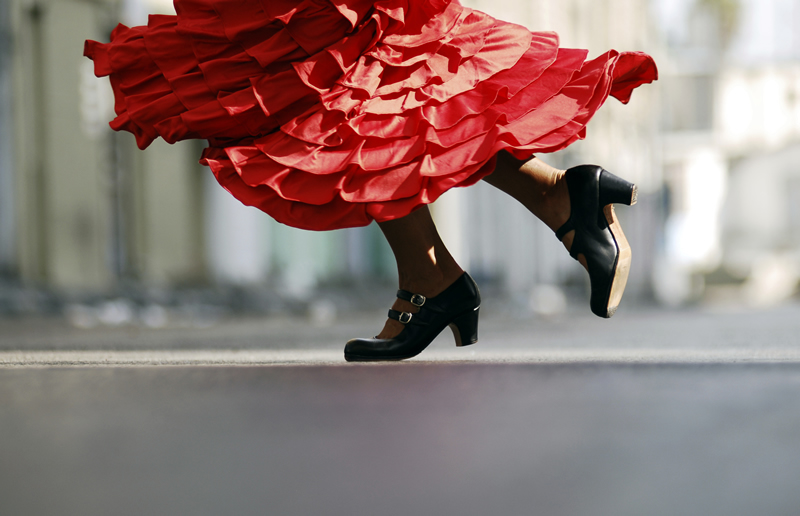 Plaza Jerónimo Cuervo 2, Malaga. Open daily from 1pm.
Near to:
Teatro Cervantes
Plaza de la Merced
Picasso Museum
Restaurante José Carlos Gracía (£££££)
José Carlos García (a master in Spanish haute cuisine) opened his Michelin-starred restaurant in 2011, and since then visitors' senses have been captivated by the exquisitely presented items on the menu. The dining room (where you can make your way through a sumptuous tasting menu) only has six tables, creating a quiet and intimate atmosphere — enhanced by the spectacular views over the waterfront. An à la carte menu is also available if you'd prefer.
You can watch your food being expertly prepared, as the kitchen is in an enclosed, glass cube in the middle of the restaurant. There's also an outdoor terrace open during the spring and summer months, where you can dine while taking in the panoramic views of the harbour.
Puerto de Málaga, Plaza de la Capilla, 1, Malaga. Open Tuesday-Saturday from 1pm-2.30pm, and 8pm-9.30pm.
Near to:
Marina
Malagueta Beach (pictured below)
Gibralfaro Castle
Malaga Cathedral
Muelle Uno Shopping Centre
Bullring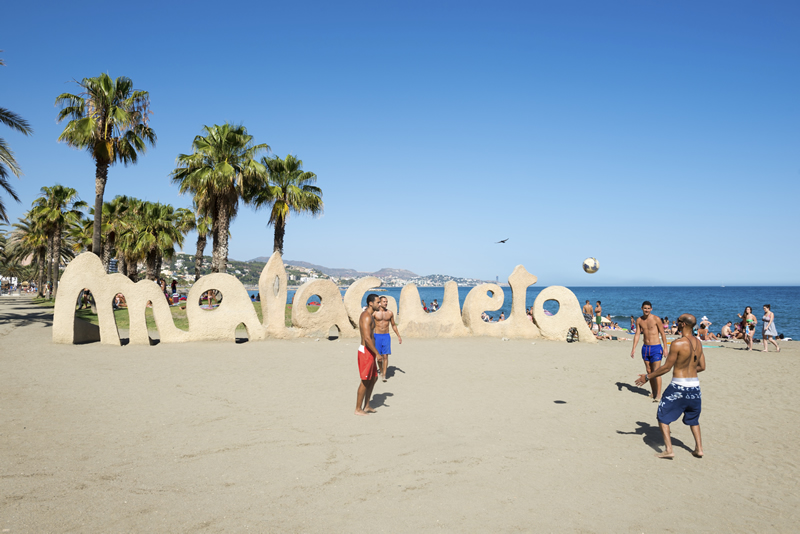 Foodie Drives from Malaga
Spend some time away from the city and use your hire car to explore the sights (and flavours!) of the wider area. To give you a bit of inspiration, we've chosen three great drives for you to enjoy, so you can really get the most out of your time in Andalusia.
Malaga - Benalmádena - Mijas - Malaga (around 75km in total)
Morning
Begin your morning with a walk around the narrow, winding streets of Malaga's historic centre, taking in the character of the old part of the city.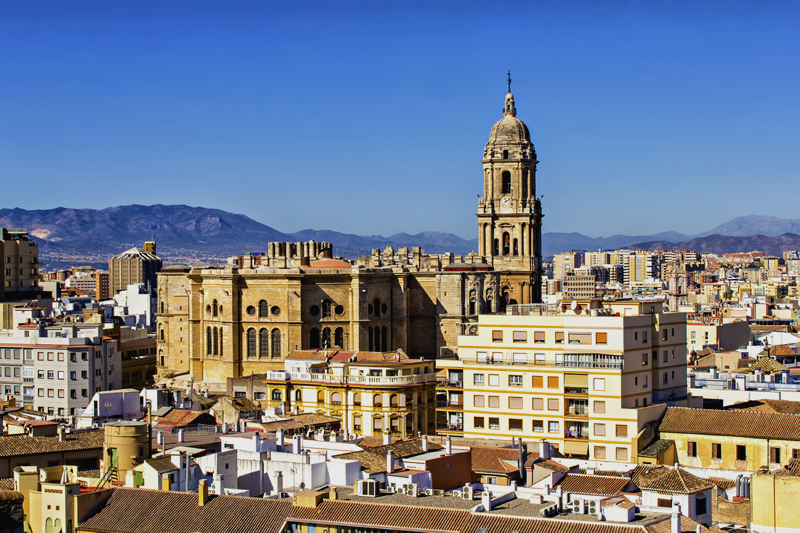 For breakfast, stop at Casa Aranda (Calle Herrería del Rey, 1) and indulge in churros (fried dough strips, often sprinkled with sugar and cinnamon) and thick hot chocolate to dip them in. Open from 8am from Monday-Saturday, it's a great place to try this authentic Spanish street food. There are plenty of other quaint cafés in the area if you fancy a more hearty (or healthy) start to the day.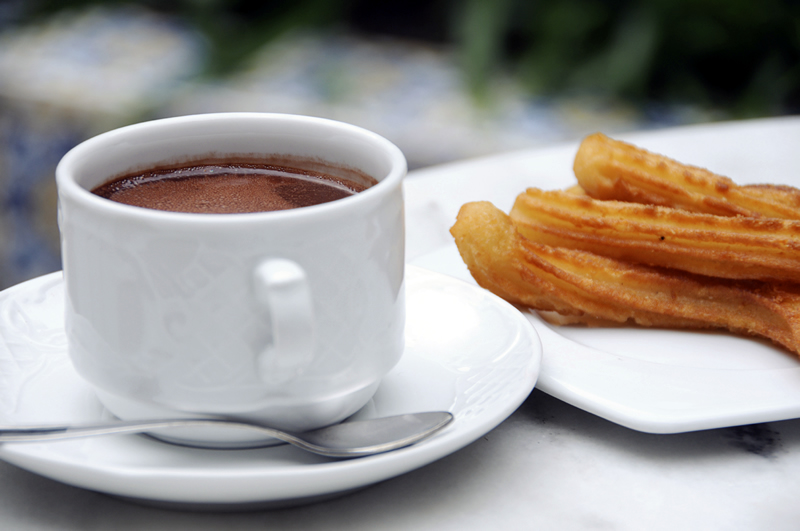 Lunchtime
After breakfast, drive for half an hour along the MA-20 and MA-21 to the bustling resort of Benalmádena. Although a popular tourist destination, Benalmádena has an abundance of eateries, particularly ones serving up fresh fish and seafood.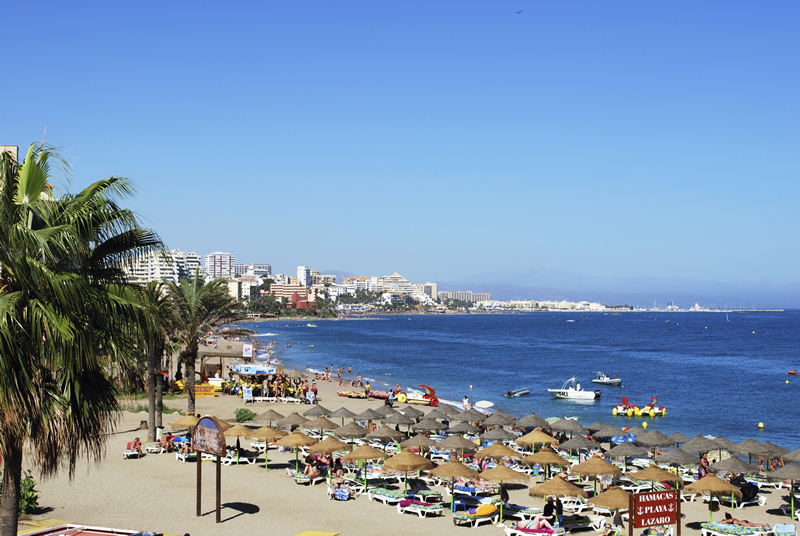 Stroll around the picturesque marina (where you can go on a boat trip or try some water sports), before walking along the beautiful beachfront promenade to one of the 'chiringuitos' for a spot of lunch.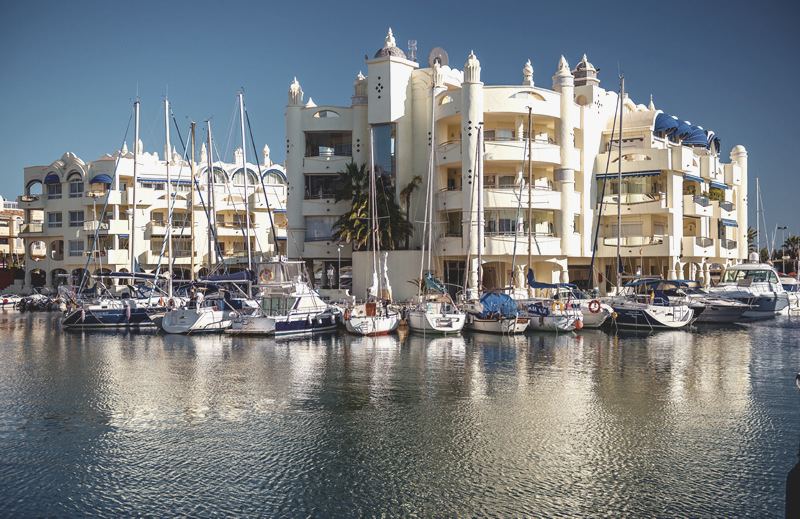 Chiringuito Rafael is popular among the locals, and here you can tuck into Espetos de Sardinas, tapas and an array of fish dishes — the staff will talk you through the catch of the day, so you can be sure what you're getting is fresh.
Afternoon
Continue your road trip with a 20-minute drive along the AP-7 to the traditional mountain village of Mijas. Characterised by white-washed buildings, Mijas is packed with authentic Andalusian charm….so it's well worth spending a couple of hours exploring.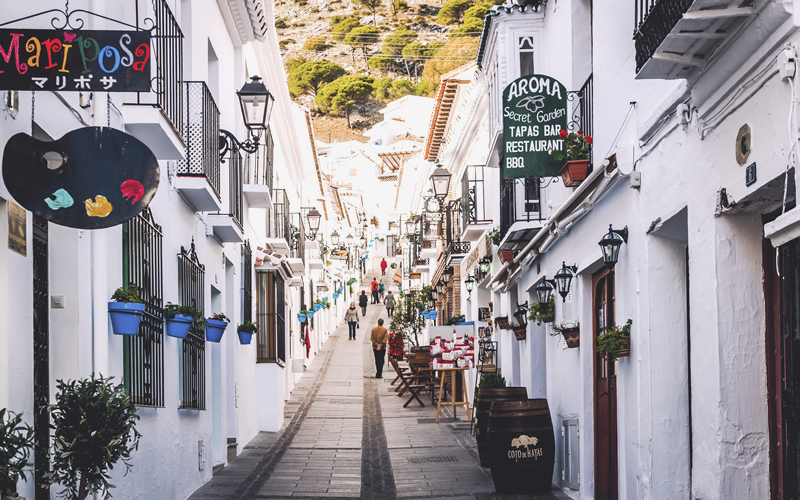 If you have a sweet tooth, make sure you visit Mayan Monkey Mijas, the world's smallest chocolate factory. For €11.70, you can try your hand at making three chocolate bars, while tasting some of the finest chocolates from around the world.
Take time to see some of Mijas' other notable attractions: including its attractive village church, the CAC Mijas (a centre dedicated to contemporary art) and the historic bullring.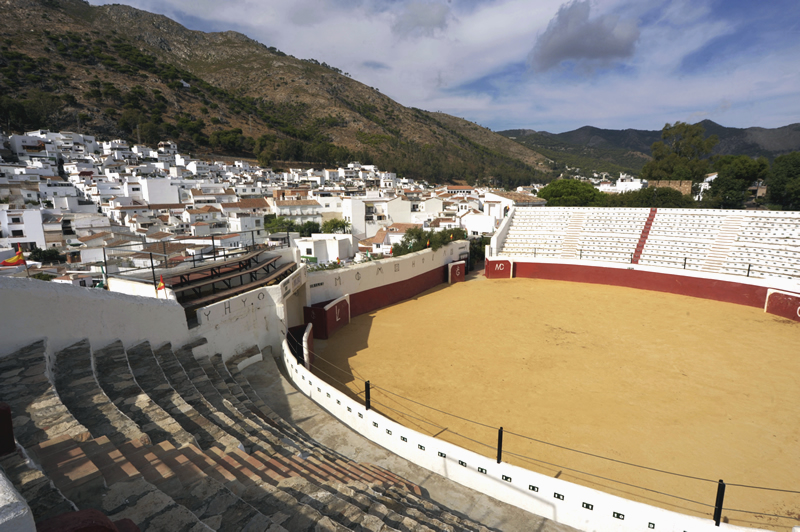 Evening
You've spent the day taking in the delights of a seaside town and a hillside village, so finish your day back in the city, soaking up Malaga's cosmopolitan atmosphere (the drive from Mijas back to Malaga takes around half an hour).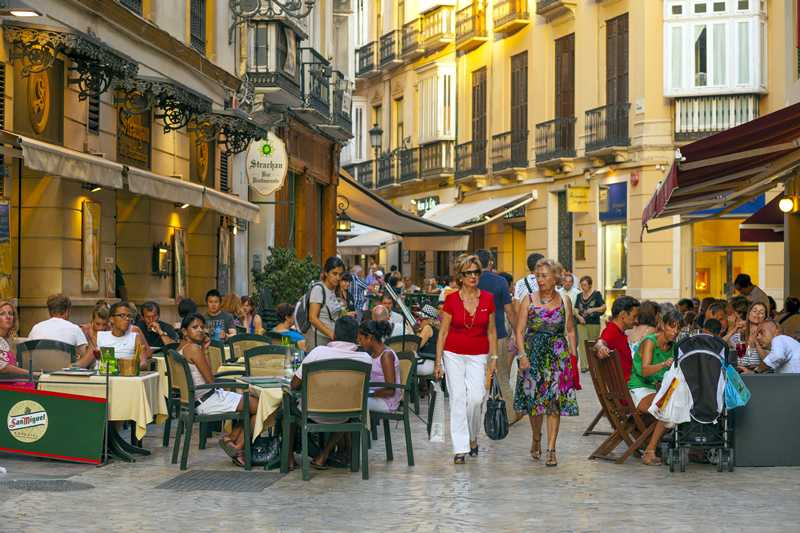 Why not make like the locals and spend your evening hopping around some of Malaga's famous tapas bars, sampling a couple of dishes at each place? Be sure to check out Bodega Bar El Pimpi (Calle Granada, 62) just around the corner from the Picasso Museum, where the walls are lined with barrels. There's also a stunning outdoor terrace with views overlooking the Roman amphitheatre.
Malaga - Marbella - Puero Banús - Estepona - Malaga (around 180km in total)
Morning
Start your day with a trip to Malaga's Atarazanas Market (open Monday-Saturday from 8am) to grab breakfast and pick up some items to make your own gourmet Spanish picnic — which you can enjoy for lunch later in the day.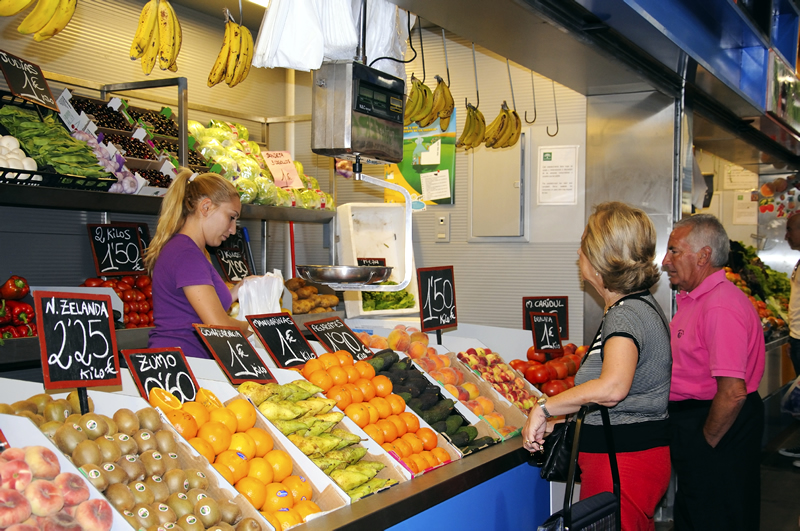 There are plenty of stalls selling meats, cheeses, breads and cakes, so you will find plenty to fill you up for breakfast and lunch. Take time to appreciate the sounds and smells as the market enchants your senses, and admire the stunning stained glass window above the entrance.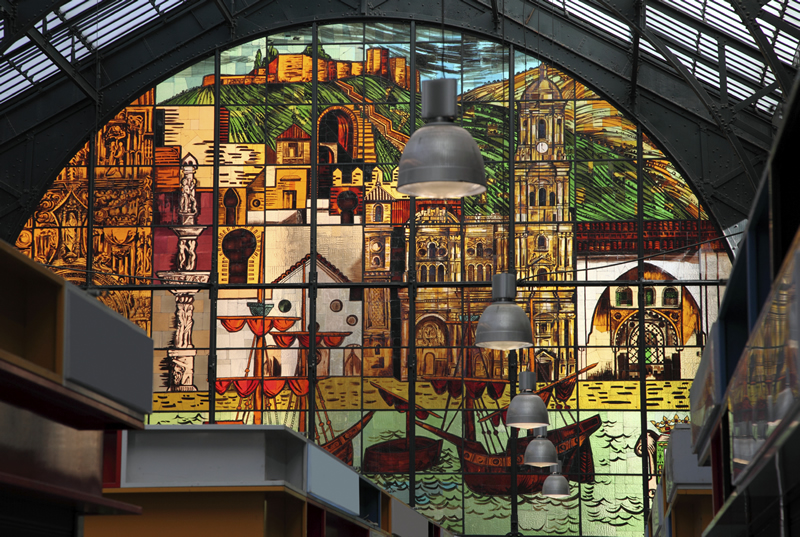 Lunchtime
Once you've picked up your picnic, jump in your hire car and drive to Marbella (via the MA-20 and the AP-7), which will take around 50 minutes. Spend time discovering the 'old quarter', with its narrow streets, small shops and attractive, old-fashioned buildings… giving you a true taste of old Andalusia.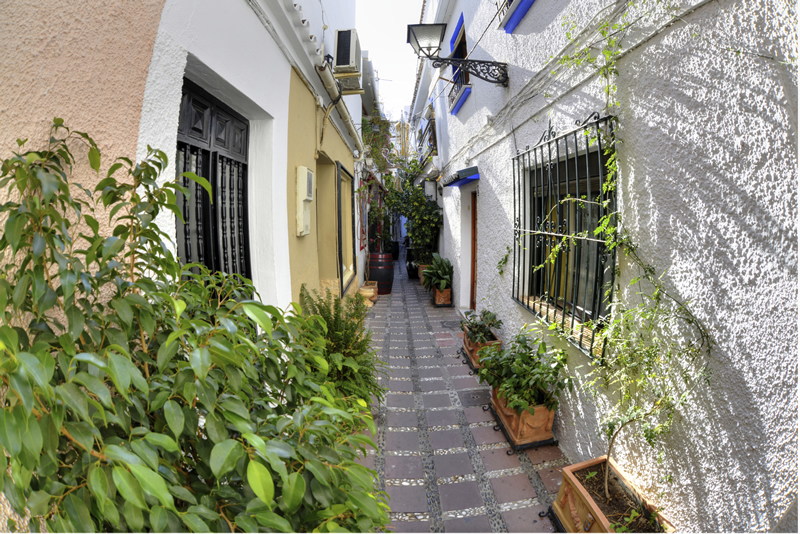 After meandering through the old quarter, head to the beach to devour your picnic in the sun. Why not hire a sun lounger and relax for an hour?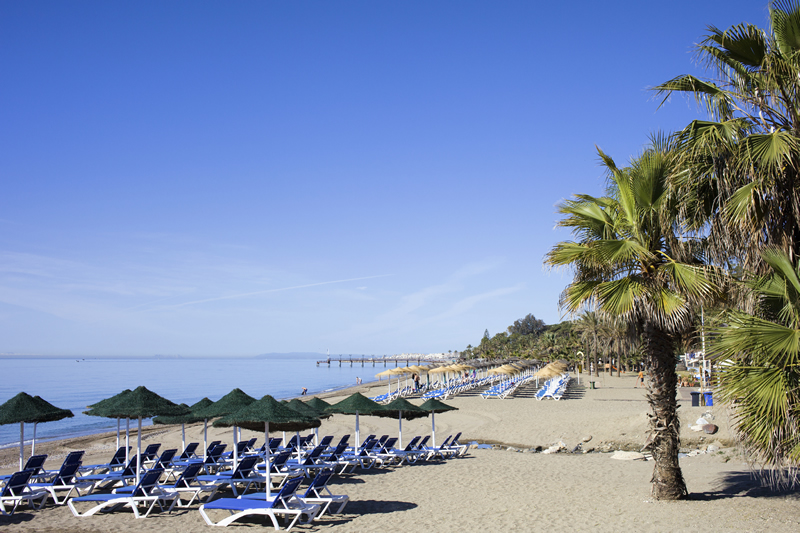 Afternoon
While you're in the area, stop off at the stylish marina of Puerto Banús. Just 6km south-west of Marbella, this millionaire's playground is home to expensive restaurants and luxury boutiques.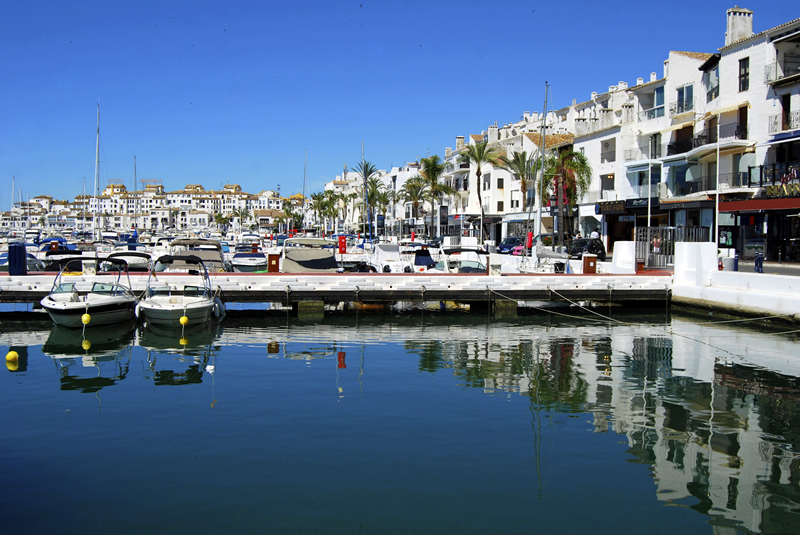 Admire the extravagant yachts and lavish sports cars (a common sight, particularly in the summer months), then continue your drive along the A7 to spend the evening in the beautiful town of Estepona.
Evening
Finish your road trip in Estepona — a town that's managed to retain the majority of its traditional character, despite being a popular destination for tourists.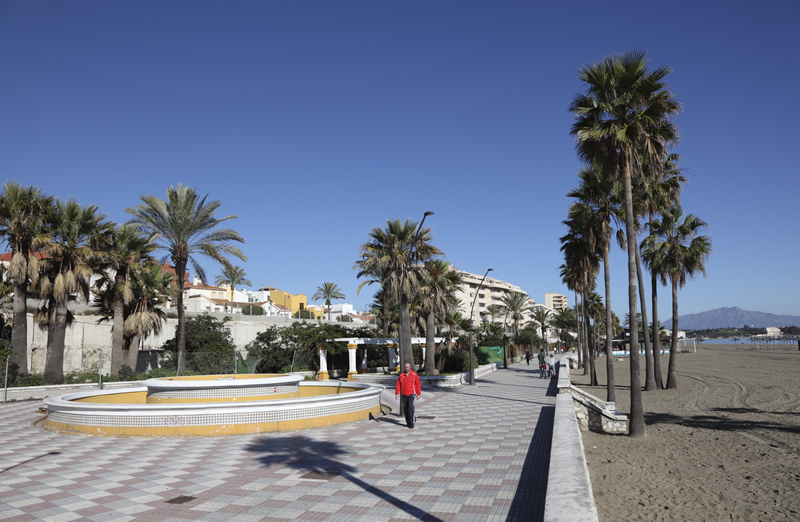 Work up an appetite by taking a pleasant walk along the seafront promenade, then meander up the Avenida San Lorenzo to Calle Sevilla — here you will find La Pampa restaurant, dishing up delicious Spanish cuisine (including paellas, soups, stews, meats and fresh fish). Boasting rustic décor and offering a friendly welcome, La Pampa is the perfect place to enjoy your evening meal.
Round off your evening with a walk through the picturesque 'old town': soak up the atmosphere as locals gather in the small cafés which line the attractive, winding streets, before heading back to Malaga. The drive back to base will take around an hour and fifteen minutes.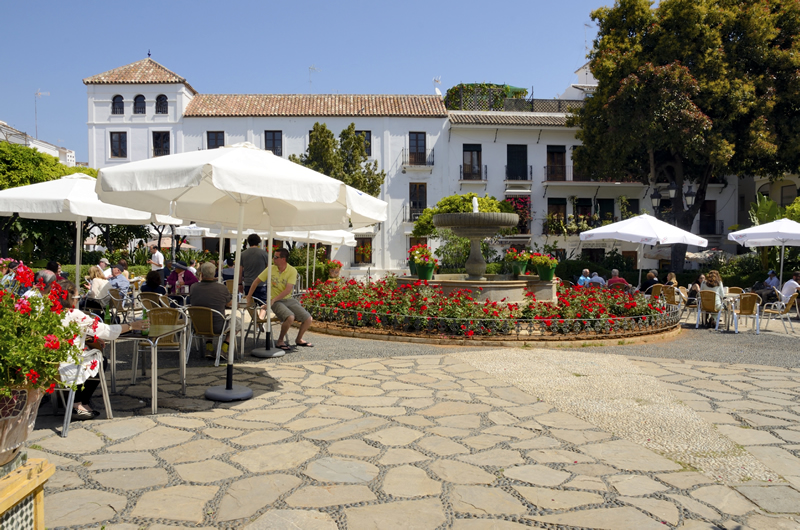 Malaga - Granada - Malaga (around 125km in total)
Morning
Just like the locals, head to a café near to your hotel or apartment, and have a light breakfast of croissants, pastries and coffee. Try and get up as early as possible, then you can really make the most of your time in Granada (the drive from Malaga to Granada takes around 90 minutes, depending on traffic).
Lunchtime
When you arrive in Granada, head for the city's most spectacular, 'must-see' attraction — the Alhambra.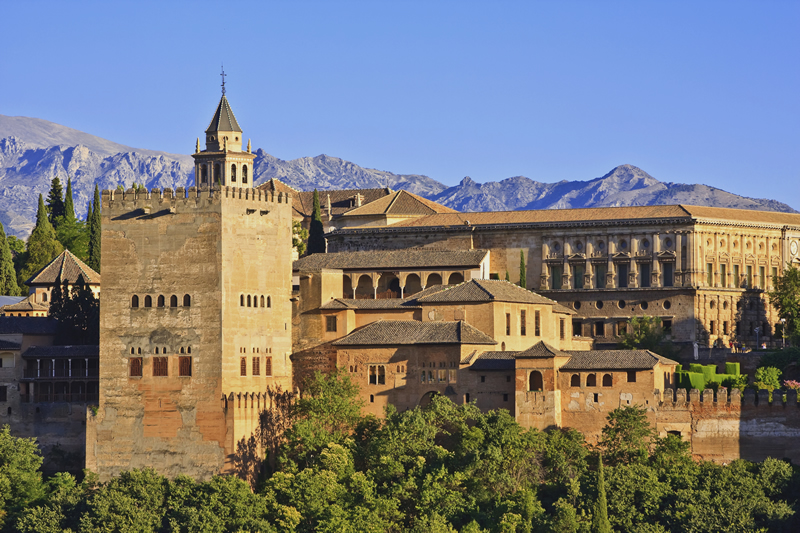 The striking palace and its fortress are fine examples of Moorish architecture, and although what you see has been heavily restored, it has been done in a way that retains as much of the original character as possible.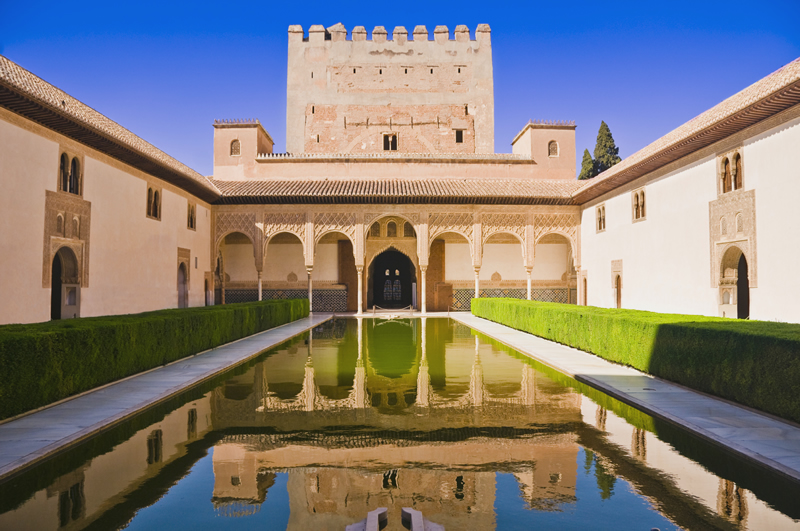 There are plenty of fascinating features for you to explore, including the impressive Generalife gardens, the Grand Palace of Charles V and the Alcazaba (the oldest part of the Alhambra, pictured below). Only 6,600 people are allowed to visit the Alhambra each day, so make sure you get there early to avoid disappointment!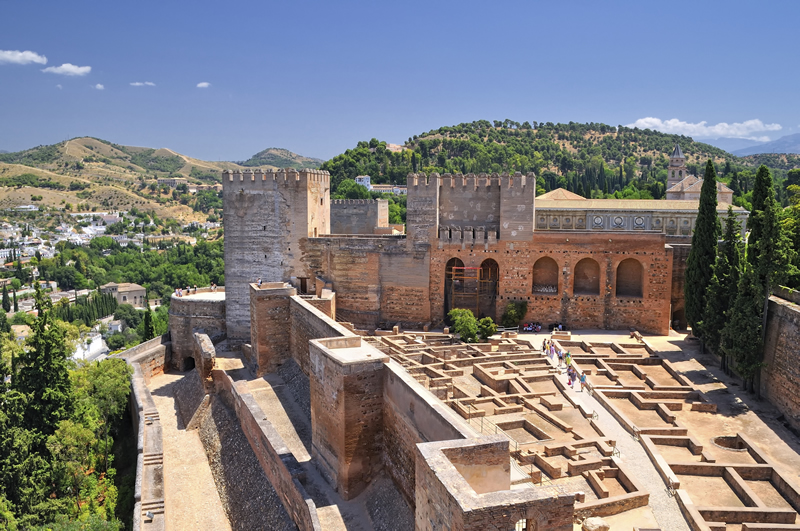 After exploring the Alhambra (and admiring the stunning views from the hill it sits on), head to the Jardines Alberto restaurant for lunch. The restaurant is just a few metres from the Alhambra ticket office and the main entrance to the Generalife gardens.
Serving up local and regional cuisine, you can enjoy the likes of gazpacho and salmorejo (shown below), cured ham, a selection of meats and sausages, and pork loin with almonds. Fish-lovers are also well catered for, with fried seafood, monkfish and marinated dogfish all appearing on the menu.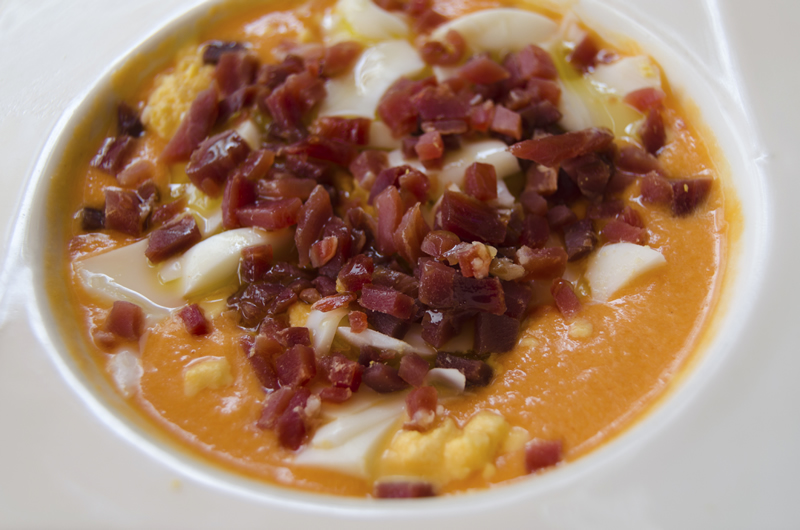 If you've still got room left at the end of your meal, you can sample a 'pionono': a small pastry from Santa Fe (a little town next to Granada), featuring a cylinder of syrup-y rolled pastry, and a crown of toasted cream.
Afternoon
Continue your culture-packed day with a walk around Granada's historic city centre, taking in the sights and attractions along the way.
The city is home to a wealth of ornate places of worship, including the Cathedral of Granada (pictured below), the Royal Chapel of Granada, the Monastery of St. Jerome and La Iglesia del Sagrario, so make time to see these beautiful buildings for yourself.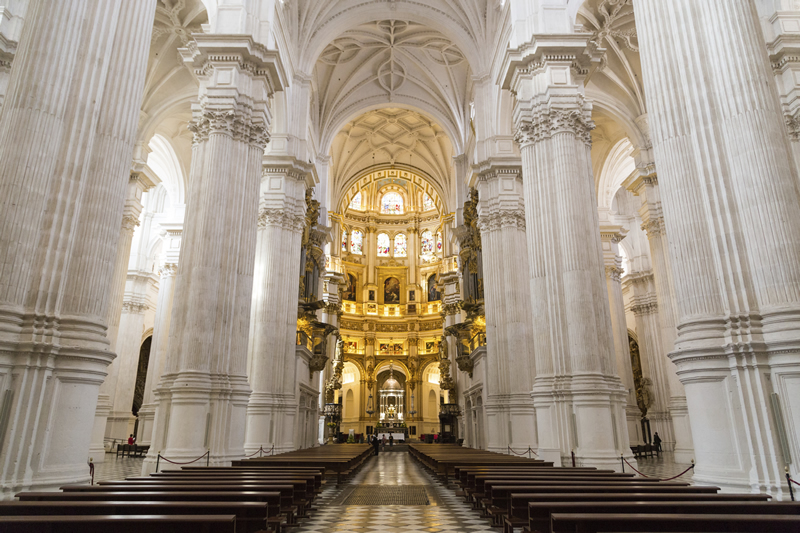 If you want to relax and watch the world go by, visit the Plaza Nueva — a large, open square with cafés, a fountain and street vendors.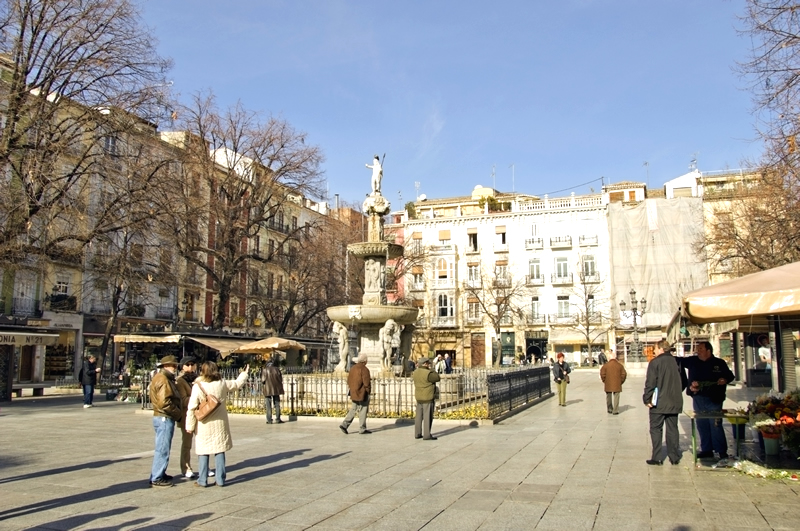 Evening
Complete your day trip to Granada by visiting one of city's many tapas bars. Why not give Bodegas Castañeda (Calle Almireceros ) a try? Boasting a lively atmosphere and brimming with tourists and locals alike, the bar has become an institution over the years. Portions here are generous, and with tapas dishes costing as little as €2, you won't have to pay much for quality food.
After filling up on Tapas, jump back in your hire car and make your way back to base. The roads tend to be quieter in the evenings, so your drive back to Malaga might not take as long.
If you've enjoyed reading our Malaga foodie guide, you might also enjoy our gourmet insight into the Barcelona area, or some of our other Spain travel guides.