The Ultimate Food-Lover's Guide to the Barcelona Area
To celebrate Taste of London this June, we are running a number of posts around food and travel. To get your mouth watering, we will kick-start the series with a trip to Barcelona and the local area.
Aside from its impressive Gaudi architecture, beautiful beaches and picturesque plazas, Barcelona is a paradise for 'foodies'.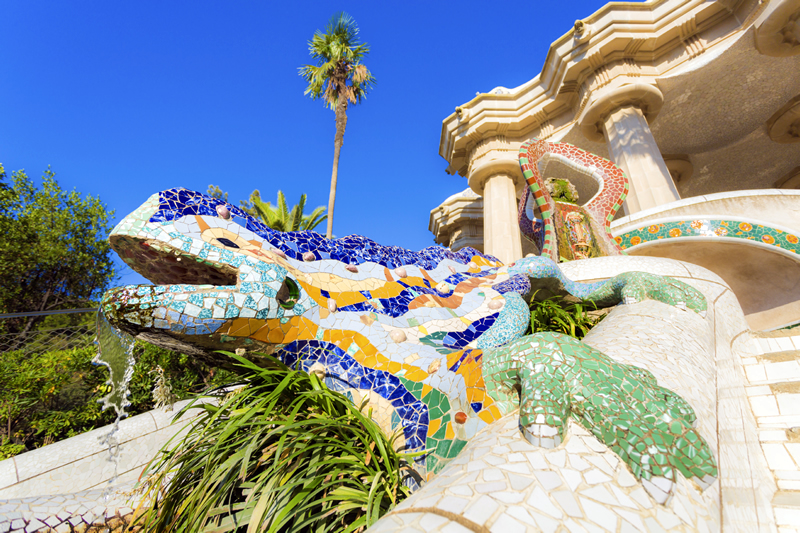 From quaint cafés and tempting tapas bars, to fine dining opportunities and a world-famous food market, the capital of Catalonia has plenty to entice your palate.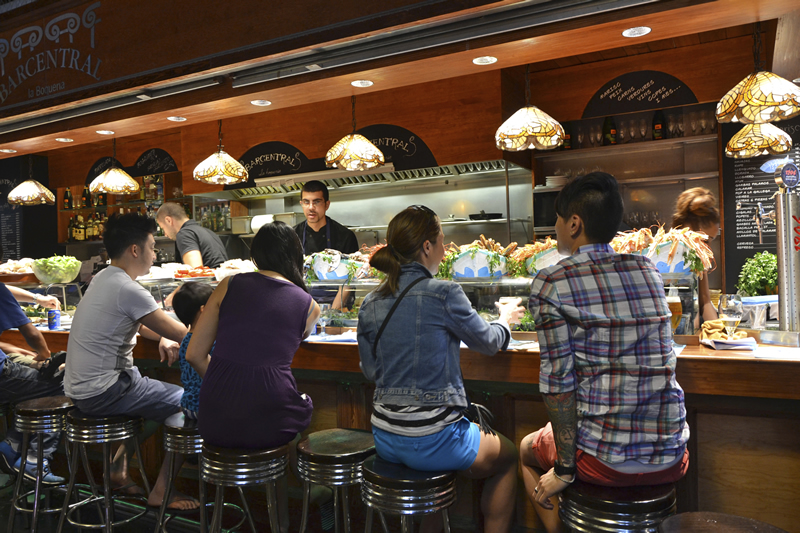 It's not just the eateries in the city itself that will satisfy your taste buds! The area is brimming with hidden gems where you can sample traditional cuisine — so why not hire a car and pack as many flavours into your trip as possible?
We've picked out some of the best places to eat in the city itself, and suggested some great drives around the local area. You can enjoy the finest in Catalan cuisine away from Barcelona...all while taking in the sights of this beautiful region along the way.
What should I try while in the Barcelona area?
Pa amb tomàquet: Bread (sometimes toasted) rubbed with fresh tomatoes and seasoned with olive oil and salt. Simple, but delicious!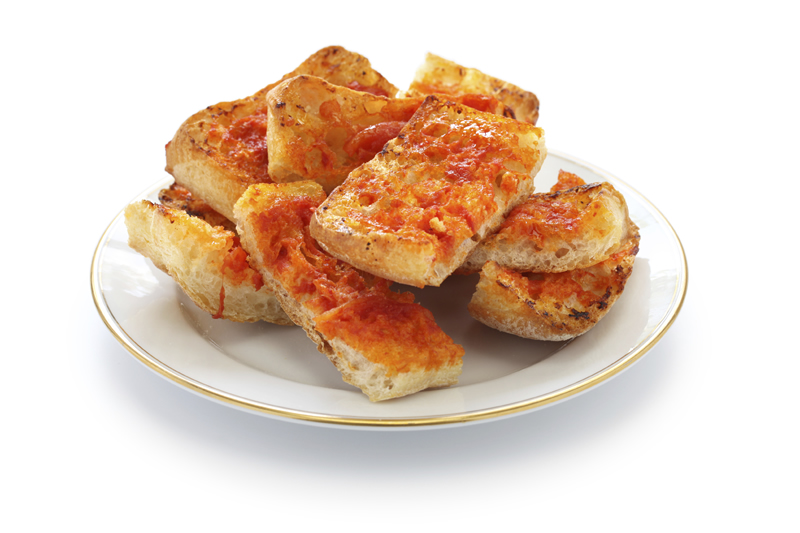 Fideuà: Similar to paella (made with white fish, shrimps, chicken, peppers and tomatoes), but served with thin noodles instead of rice.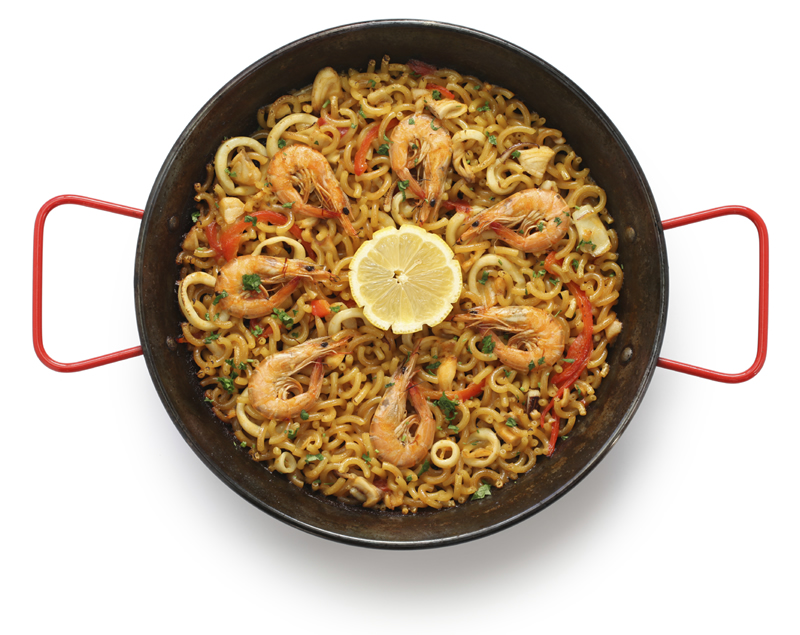 Esqueixada: A salad of shredded salt cod, tomatoes, onions and peppers in vinegar and olive oil. Sometimes olives or hard-boiled eggs are added as a garnish.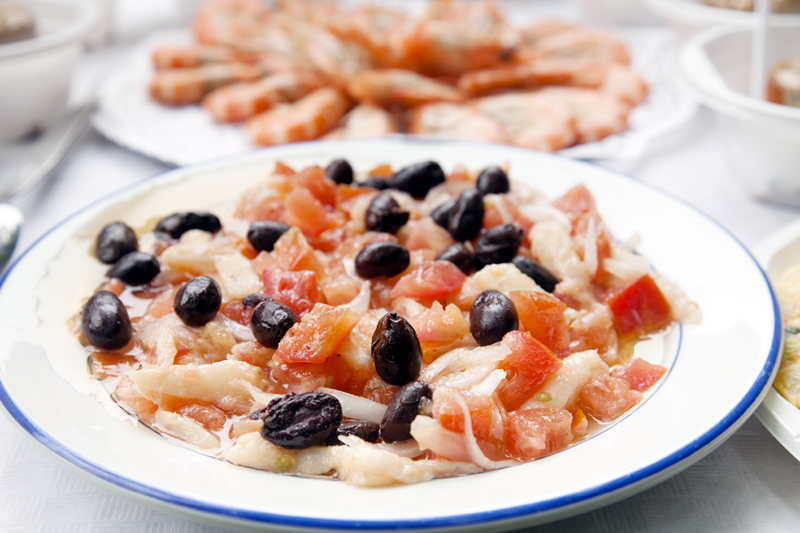 Bacallà amb panses i pinyons: Cod in a sauce of onions, tomatoes, garlic, raisins, pine nuts and olive oil.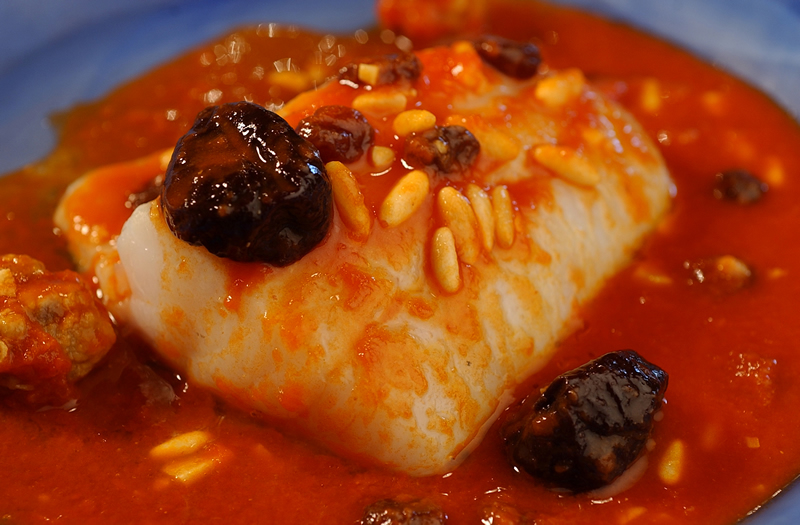 Suquet de peix: A hearty fish and seafood stew, made with tomatoes, garlic and potatoes. This dish originated on the Costa Brava.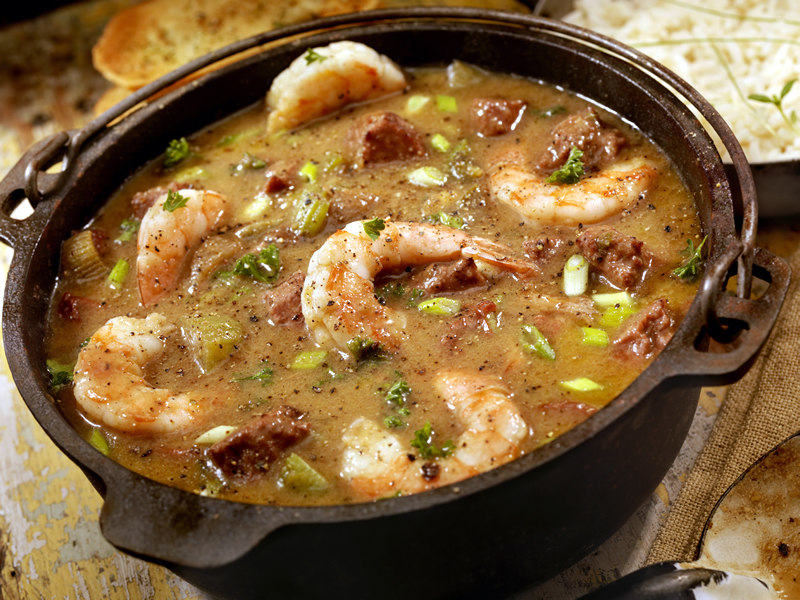 Botifarra (also known as butifarra or llonganissa): 'White' sausages made with pork but no paprika (unlike chorizo). They're usually grilled or barbecued.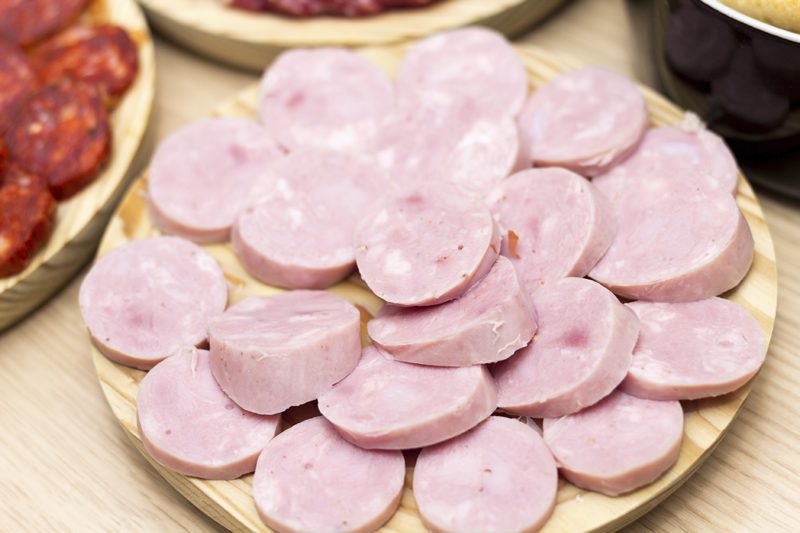 Crema Catalana: Similar to a crème brûlée, this delightful, creamy dessert is made with sugar and egg yolks, and has burnt cinnamon on the top. Sometimes vanilla and orange peel are also added.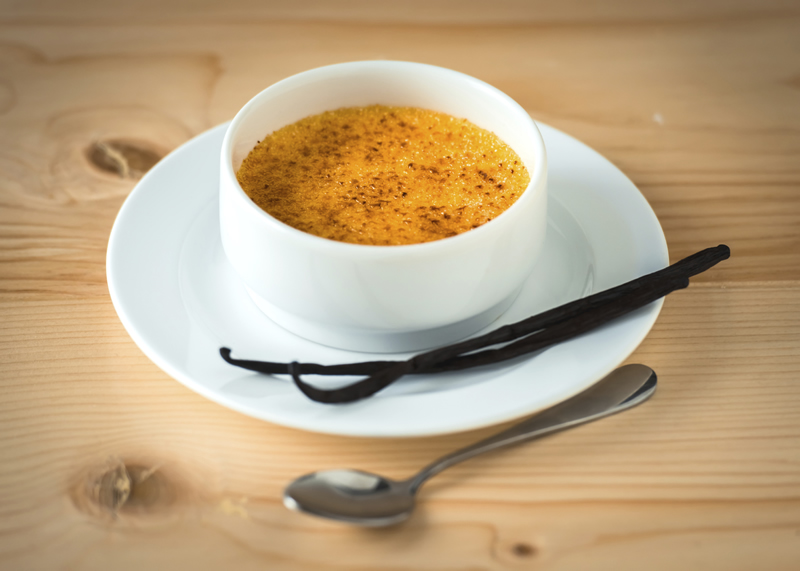 Mel y mató: A soft, unsalted cheese (made with milk from either goats or cows) traditionally served with honey and walnuts.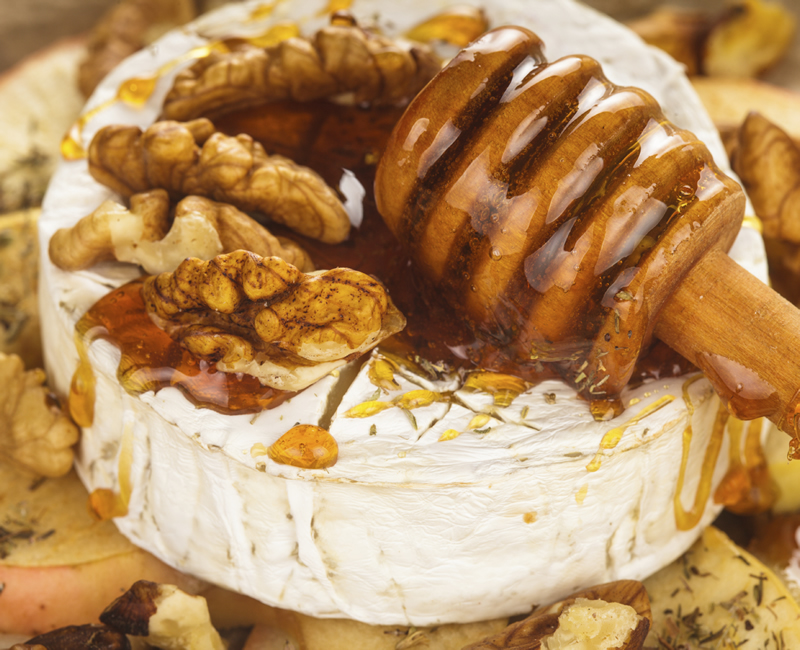 Where should I eat in Barcelona?
Barcelona has a vast array of dining options to suit all tastes and budgets. We've rounded up some of the best restaurants serving the finest Catalan cuisine, so whether you want a cheap eat or a lavish meal, you will know exactly where to go.
La Rita (£)
Situated in the city's Eixample district just off the Passeig de Gràcia (and just a stone's throw away from the beautiful Gaudi buildings 'Casa Milà' (pictured below) and 'Casa Batlló'), La Rita is a great place to enjoy a value-for-money meal.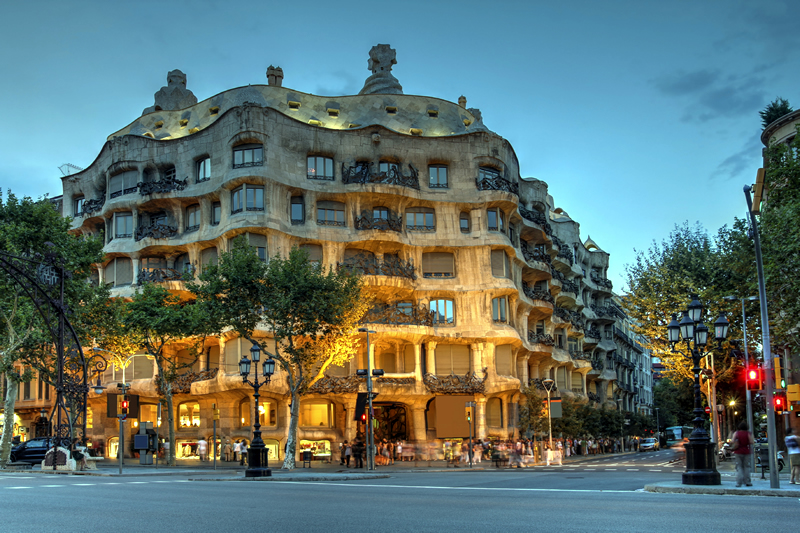 From tapas dishes and seafood to fresh meats and salads, the extensive menu includes some classic Catalan favourites: such as Esqueixada, Fideuà and Crema Catalana. Rice and pasta dishes cost €5-8, while seafood dishes range from €7-12.
Carrer Aragó, 279, Barcelona. Open from 1pm-3.45pm and 8.30pm-11pm (midnight on Fridays and Saturdays).
Near to:
Casa Batlló
Casa Milà (also known as 'La Pedrera')
Passeig de Gràcia
Bar Casi (£)
Ideally located just a 10-minute walk from Park Güell, Bar Casi is the place to go for cheap yet quality Catalan food; a sign is proudly displayed in the shop, saying 'we speak poor English but we cook very well'. For €10 (or €11 at weekends), you can enjoy a starter, main course, dessert, drink and cup of coffee — making it the perfect place for a value-for-money lunch. You can expect to see steamed mussels, meatballs, baked chicken, grilled salmon and escalivada (grilled vegetables which have a smoky flavour) on the menu.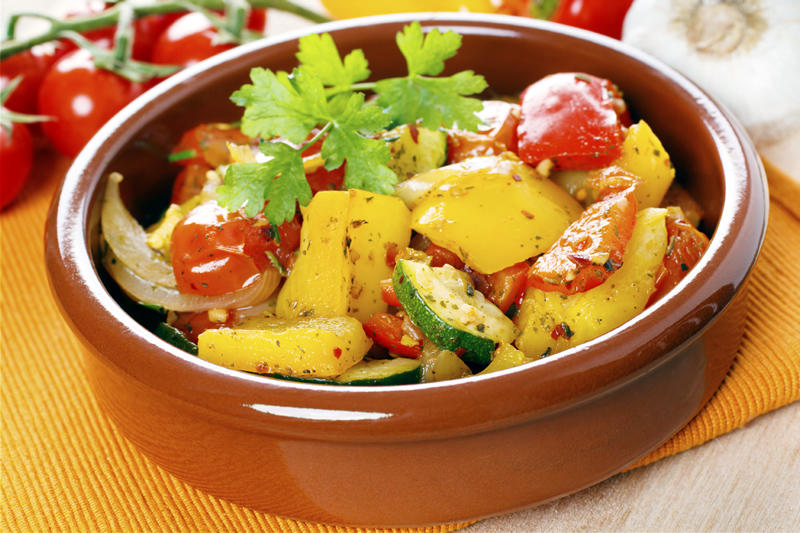 Carrer de Massens, 70, Barcelona. Open from 8am-4.30pm.
Near to:
El Portalón (£/££)
El Portalón is a cosy Catalan restaurant in the heart of the city's Gothic Quarter. You can choose from a wide range of hot and cold tapas (which include regional specialities like xipirons (fried and battered baby squid), pa amb tomàquet and croquetas (mushrooms, chicken or ham in breadcrumbs), or from a selection of meat and fish dishes — which include veal, lamb, hake and monkfish.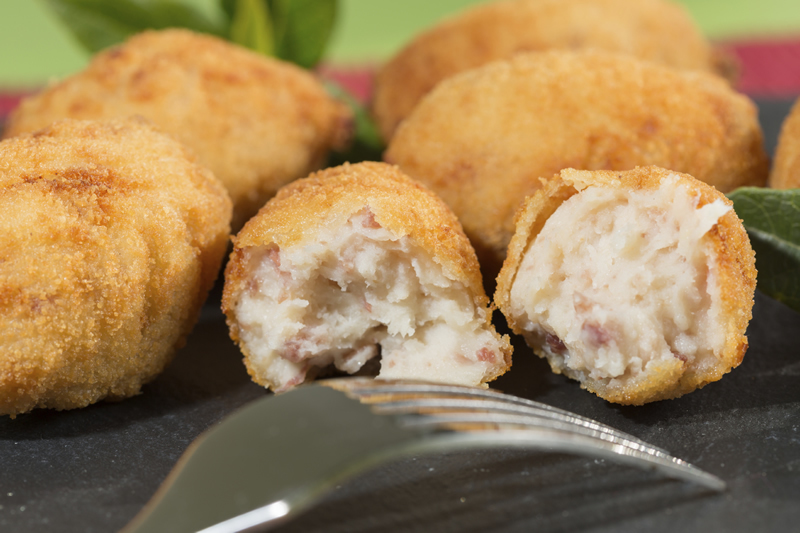 Prices are reasonable for all items on the menu, but if you want the best value for money, stop off here for lunch: for €10, you can choose a starter and a main course, and bread, desserts and a drink are also included in the price.
Carrer Banys Nous, 20, Barcelona. Open daily from 9am-midnight.
Near to:
Gothic Quarter
Barcelona Cathedral
La Rambla
La Boqueria
Can Culleretes (££)
Exuding charm and character, Can Culleretes is Barcelona's oldest restaurant, having opened in 1786. The menu features over 40 dishes, most of which are traditional Catalan delicacies — you can expect to find botifarra amb seques (pork sausage with beans), pica-pica de peix i marisc (three courses of seafood and fresh fish) and civet de porc senglar (stewed wild boar), so it's the ideal place if you want to try some authentic cuisine.
Carrer quintana, 5, Barcelona. Open from 1.30pm-4pm and 9pm-11pm. Closed all day on Mondays and on Sunday evenings.
Near to:
La Rambla
La Boqueria
Plaça Reial
Gothic Quarter
Basilica de Santa Maria del Pi
Pa I Trago (£££)
Pa I Trago (which translates as bread and drink in Catalan) has been based in the Raval area of the city since 1965. The family-run restaurant serves up traditional Catalan fare, and all its dishes are made using the most authentic recipes and the freshest produce from local shops and markets.
From Catalan sausages and assorted meats, to grilled seafood and Catalan salads, this rustic gem has plenty to suit all tastes and appetites — some of the restaurant's specialities include fried cod, cannelloni, snails in sauce and beef tripe in sauce.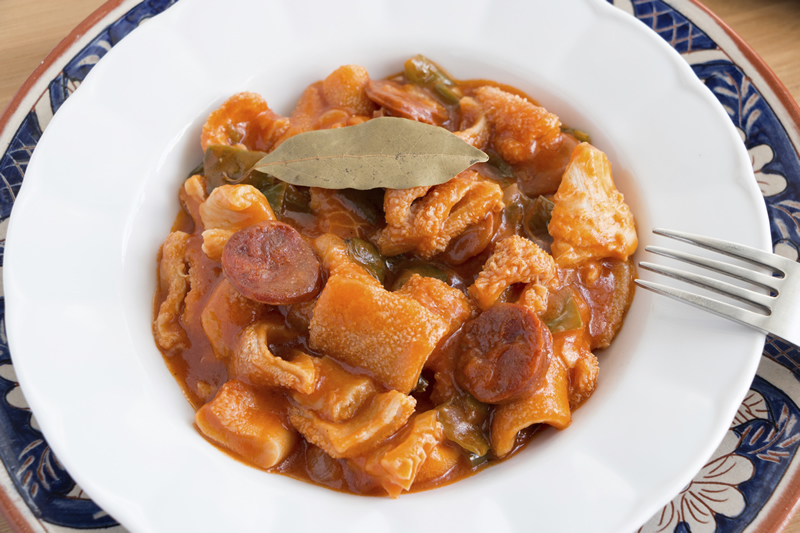 Each morning from Tuesday-Sunday, a brunch is also served (choose from a variety of dishes, including pork cheeks, stuffed omelette, sausage with beans, stews and baked eggs with bacon).
Carrer del Parlament, 41, Barcelona. Open for brunch Tuesday-Sunday from 9am-12pm. Lunch is served Tuesday-Sunday from 1pm-4pm, and dinner is served on Fridays and Saturdays from 8pm-11pm. Closed on Sunday evenings and all day on Mondays.
Near to:
El Raval District
Avinguda del Paral•lel
La Biblioteca Gourmand (£££)
A short walk from La Rambla, La Biblioteca Gourmand features an open kitchen where you can see your food being prepared by expertly trained chefs. Offering healthy, authentic Catalan and Mediterranean cuisine (made using local ingredients), the chefs combine traditional recipes with modern techniques.
For a light snack, choose from the hot or cold tapas selection (with delicacies like fried lamb, sautéed squid, cod fritters with alioli, and sausage with chickpeas and quail's egg), or if you want a more hearty meal, pick one of the delectable main courses (ranging from beef tenderloin and pig's trotters, to fideuà, paella and roasted lamb).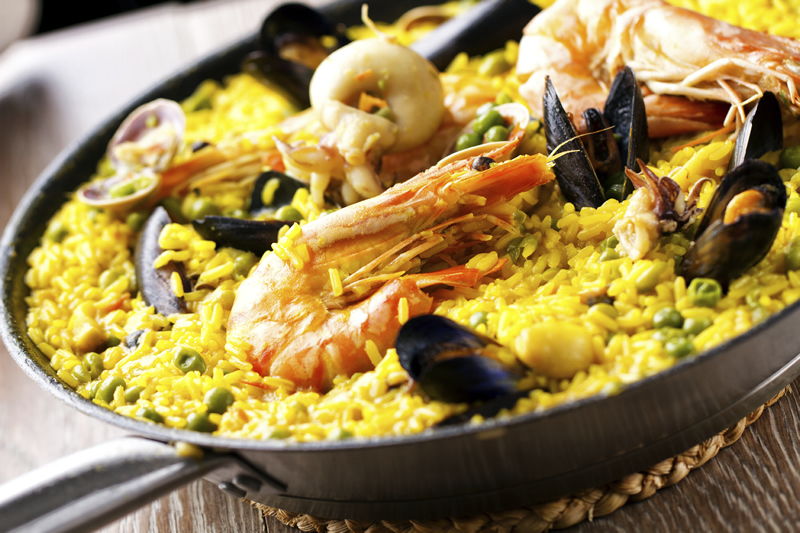 Carrer de la Junta de Comerç, 28, Barcelona. Open Mondays from 7.45pm-11.30pm, and Tuesday-Saturday from 1pm-4pm and 7.45pm-11.30pm. Closed on Sundays and Monday lunchtimes.
Near to:
La Rambla
La Boqueria
Palau Güell
La Cúpula (£££/££££)
Situated in a prime location for the Sagrada Família, La Cúpula has a small menu in comparison with some of the other restaurants we've mentioned — but what it lacks in size it makes up for in quality.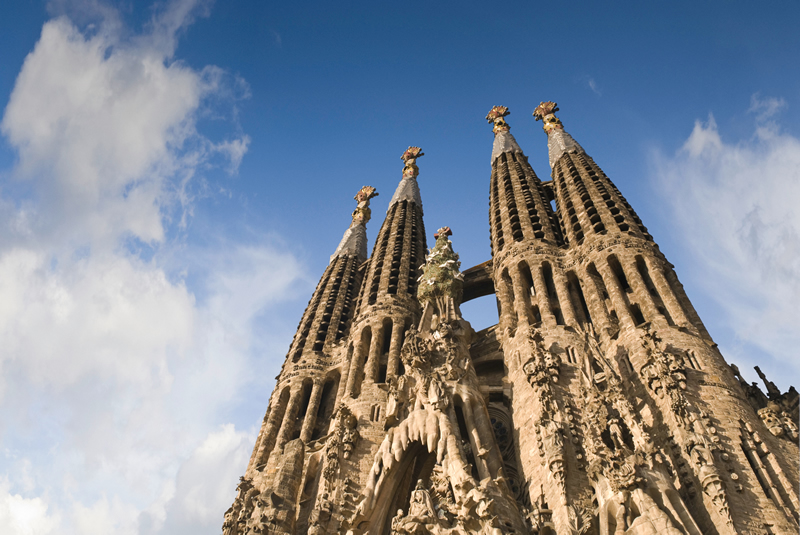 With dishes such as squid and prawn paella, saffron risotto with prawns and clams, and monkfish flambéed with garlic, beans and clams, the restaurant is a real treat for people who love seafood.
Carrer de Sicília, 255, Barcelona. Open Monday-Saturday from 1.30pm-3.30pm and 9pm-11pm. Closed on Sundays.
Near to:
Sagrada Família
Hospital de la Santa Creu i Sant Pau.
Freixa Tradició (££££)
Freixa Tradició focuses on traditional Catalan recipes, and boasts a capacity of just 40 guests…so you're sure to get a personal service and an intimate dining experience.
The menu changes to incorporate seasonal produce, meaning you get the best flavours no matter what time of year you're dining. On the menu are dishes like fried cod with tomatoes, plums and alioli (a Catalan sauce made with garlic and olive oil), stuffed squid, fricandó (stewed veal with mushrooms) and chicken stew with prawns (known locally as 'mar i muntanya').
Carrer de Sant Elies, 22, Barcelona. Open from 1pm-3.30pm and 9pm-11.30pm. Closed all day on Sundays.
Near to:
Jardins del Turó del Putxet
Moments at the Mandarin Oriental Hotel (£££££)
Moments restaurant has already been awarded two Michelin stars, and is managed by one of the country's most famous chefs, Carme Ruscalleda, and her son Raül Balam. Situated in the plush Mandarin Oriental hotel, the restaurant specialises in neo-traditional modern Catalan cuisine, so you can experience contemporary twists on regional classics.
You can choose between a seasonal tasting menu (featuring five appetisers, five main courses, five cheeses, two desserts and petit-four confectionery) or items from the à la carte menu; with dishes such as Iberian pork, rice and prawns, stuffed pigeon and sea bass.
Passeig de Gràcia, 38-40, Barcelona. Open from 1.30-3.30pm and 8.30-10.30pm. Closed on Sundays.
Near to:
Casa Batlló
Casa Milà (also known as 'La Pedrera')
Passeig de Gràcia​
Plaça de Catalunya (pictured below)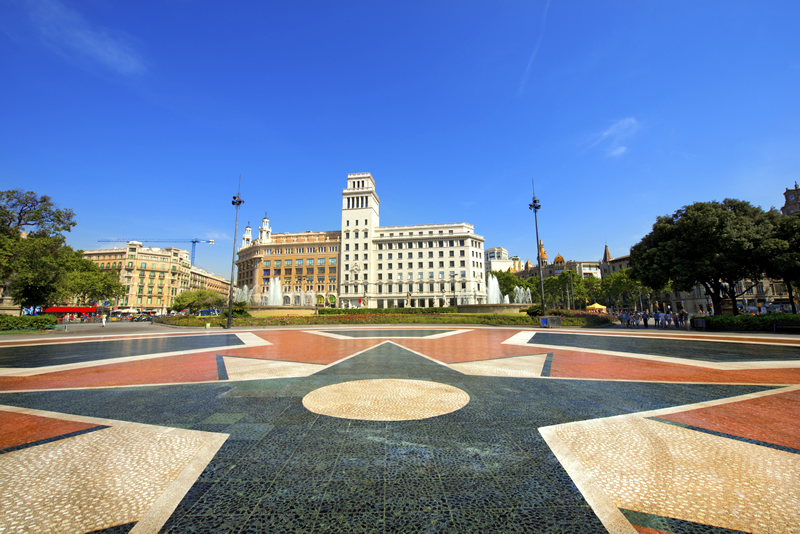 Restaurant L'Orangerie at the Gran Hotel La Florida (£££££)
Offering some of the most spectacular views over Barcelona, Restaurant L'Orangerie is based on the Gran Hotel La Florida on Tibidabo Hill. You can enjoy one of the finest Catalan gastronomic experiences in the city, and the setting is undeniably romantic if you're with a loved one.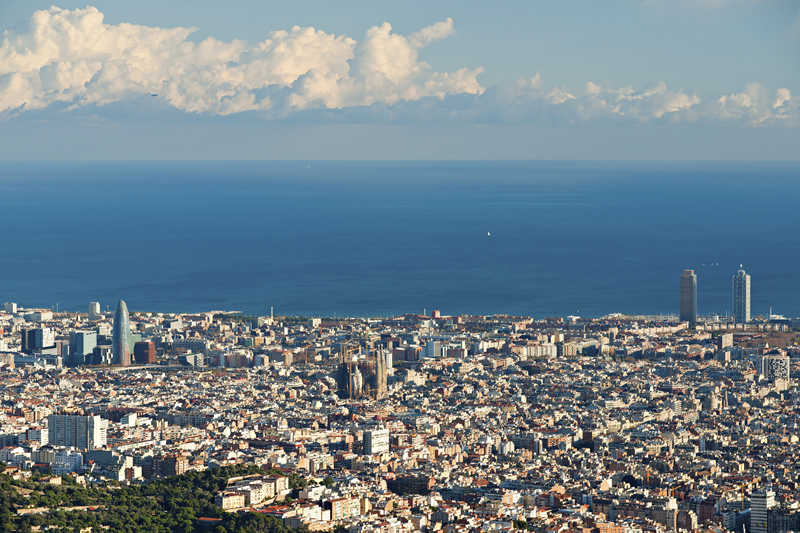 Although the roots of the dishes are distinctly Catalan and Mediterranean, the menu has a contemporary influence as well: expect to see wild tuna belly with sea urchin custard, and beef loin with a Romesco sponge cake. Other dishes include sole with lobster butter, and octopus with shallot rice. If you want to try a range of dishes, why not opt for the seasonal tasting menu?
Carretera de Vallvidrera al Tibidabo, 83-93, Barcelona. Open Thursday-Saturday from 8.30pm-11pm (11.30pm on Fridays and Saturdays).
Near to:
Tibidabo Mountain (where you will find an amusement park, a funicular railway and the Temple of the Sacred Heart of Jesus)
Foodie Drives from Barcelona
We know you will want to make the most of your hire car while you're in Barcelona, so we've chosen a few great drives for you to enjoy. Not only will you be able to escape the city and see some fantastic sights, but you can sample more of the local cuisine at the places we've picked out for you to try.
Barcelona - Tarragona - Salou - Cambrils (around 118km each way)
Morning
Wake up in Barcelona and have a leisurely stroll through the winding streets of the Gothic Quarter (or el Barri Gòtic as it's known locally). Stop off at one of the quaint cafés for a croissant or pastry, washed down with a fresh coffee or hot chocolate.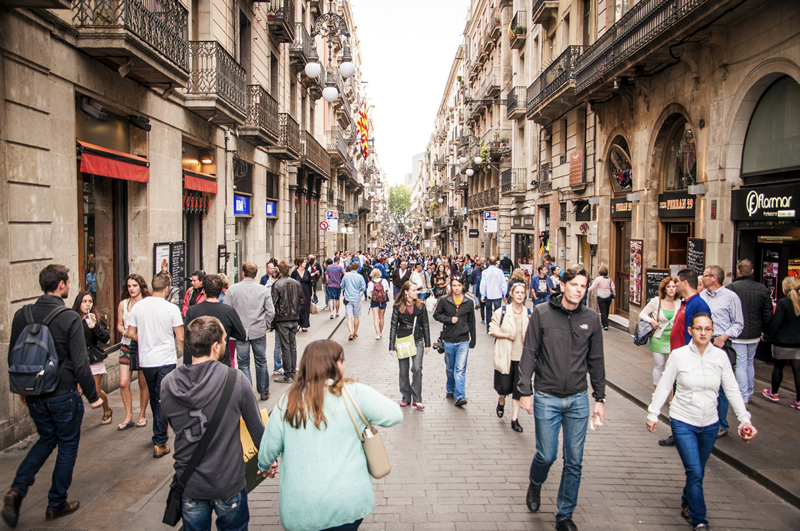 If you want a heartier breakfast before hitting the road, head to Milk Bar and Bistro (Carrer Gignàs, 21), which is open daily from 9am for brunch. The menu features breakfast favourites, including fry-ups, eggs benedict and pancakes, along with salads, burgers and tortillas.
Lunchtime
After breakfast, get in your hire car and drive south-west to the Roman city of Tarragona (around one hour and fifteen minutes away) for a few hours of sightseeing and a spot of lunch. Tarragona was named a UNESCO World Heritage City back in 2000 due to the importance of the city's impressive Roman remains (which include city walls, an amphitheatre, an aqueduct and several religious buildings), making it a great place for history-lovers to vist.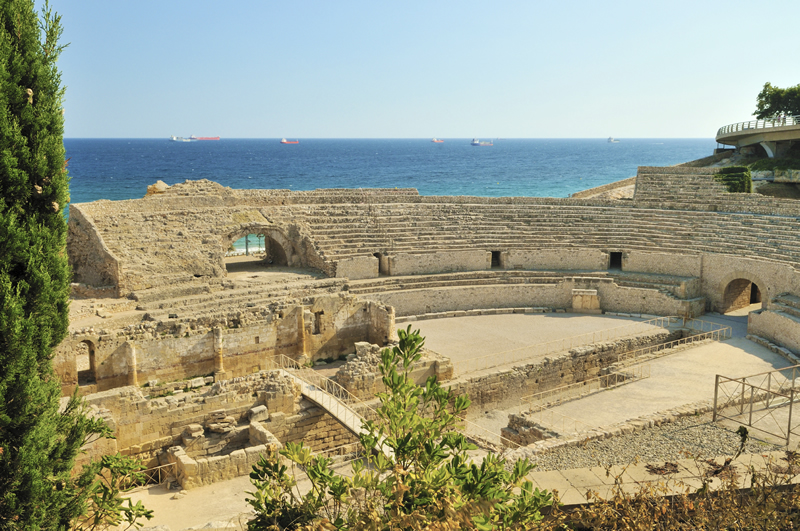 Take a walk down La Rambla Nova (a pedestrianised avenue much like La Rambla in Barcelona, lined with shops, bars and restaurants) towards the port and beachfront, then meander along the Passeig de les Palmeres towards the Roman ruins.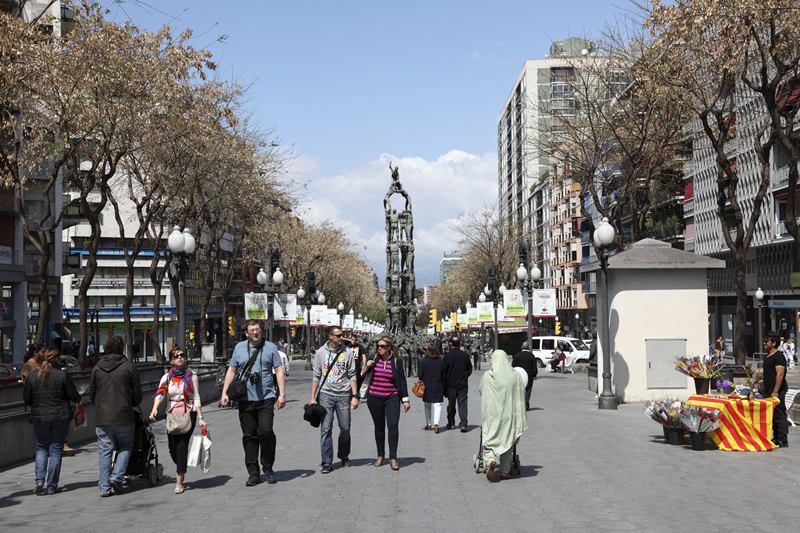 However, one of the main appeals of Tarragona is its rich cuisine, and you will find plenty of authentic Catalan eateries around the city. Being home to Catalonia's biggest fishing port, many of the restaurants specialise in fish and shellfish dishes, made with ingredients caught fresh by the fishermen. For the best fish restaurants, be sure to visit 'El Serrallo' — this area of the city is the fishermans' quarter, and where you will find numerous restaurants serving the catch of the day.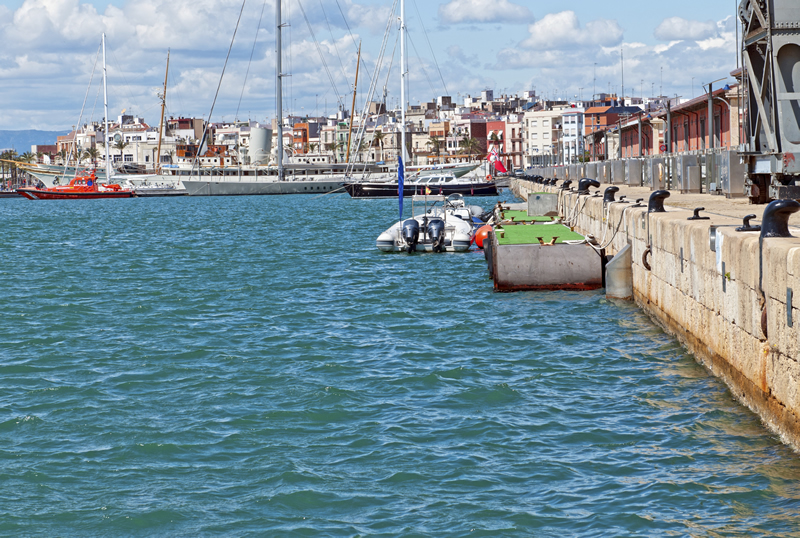 Other notable seafood dishes which you're sure to find in Tarragona include 'arròs negre' (rice cooked in squid ink to give it a black appearance, pictured below), 'arrossejat' (seafood and rice cooked in fish stock), 'fideus rossejats' (noodles cooked in a fish stock) and the city's most famous delicacy 'cassola de romesco' (a casserole, usually made with seafood, cooked in a regional, nut-based sauce).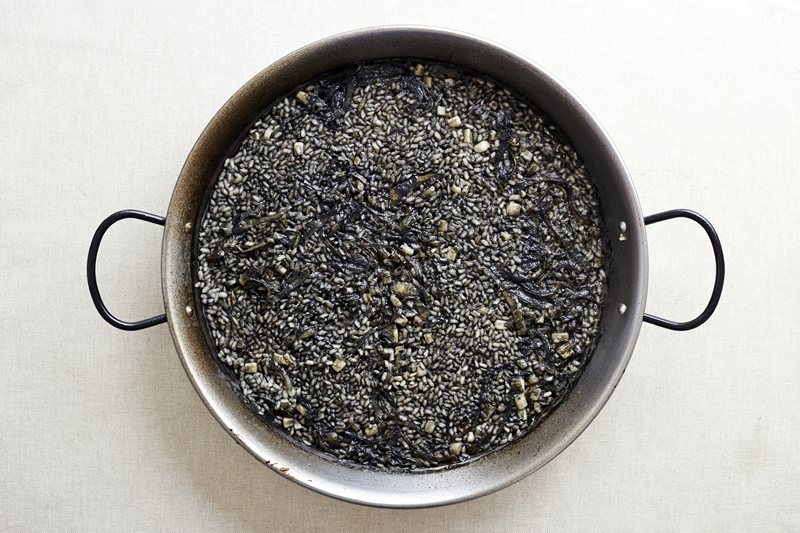 Aside from La Rambla Nova and El Serrallo, the areas around the cathedral and the Plaça De La Font (an attractive, long plaza in the heart of the city) are great places to find restaurants for lunch.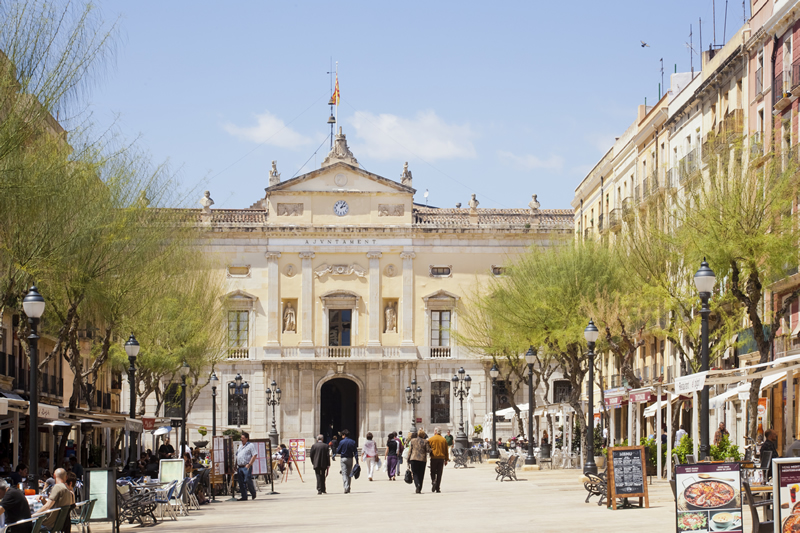 Afternoon
Once you've enjoyed a tasty lunch in Tarragona, jump back in the car and drive for 20 minutes along the C-31B to Salou, and soak up the last of the day's rays on one of the resort's beautiful beaches.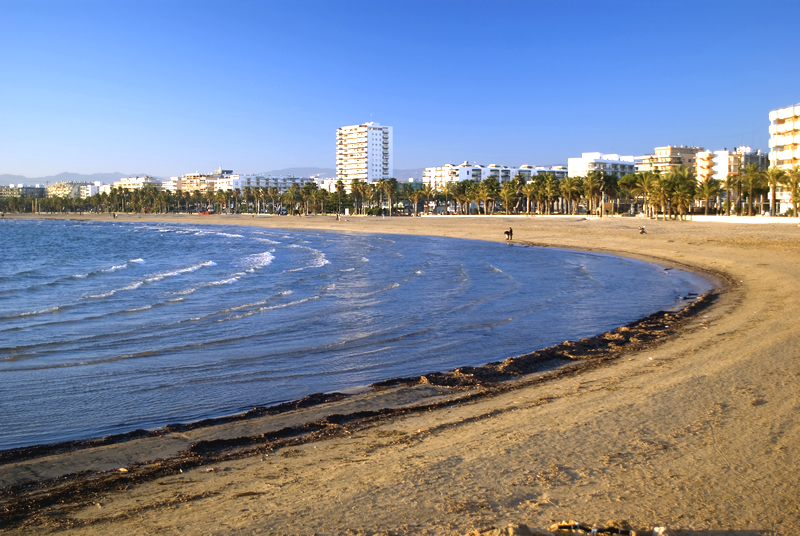 If you're feeling adventurous, you could even spend a few hours at PortAventura — a huge theme park packed with thrill rides (and attractions for the whole family) on the outskirts of Salou. Depending on the time of year, PortAventura stays open as late as 3am (but for the majority of the summer season, it stays open until midnight).
Although you won't find the most authentic cuisine in Salou (the resort is known for its UK-style pubs), there are plenty of eateries to choose from if you're feeling peckish.
Evening
To finish your foodie day out, continue down the coast for another 15 minutes to the quieter fishing village of Cambrils, and feast on more Catalan cuisine before heading back to Barcelona.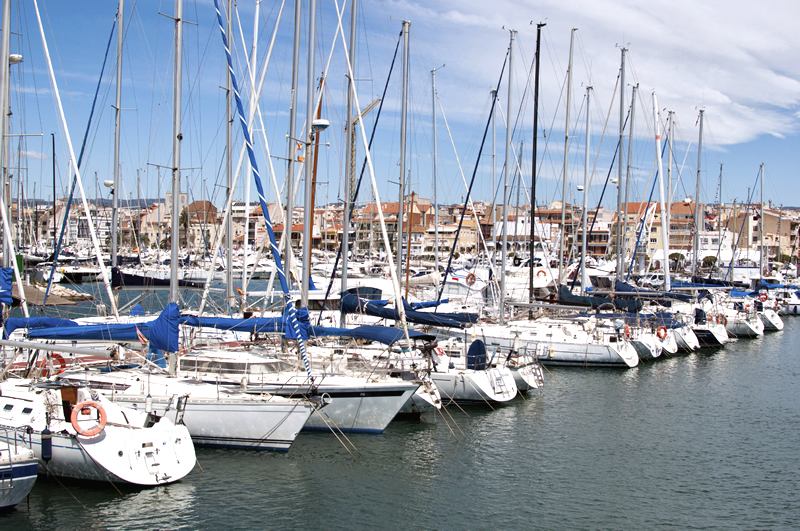 To round off your road trip with the finest regional fare, head to Bresca Restaurant, just a short walk from the beachfront. The menu features the best Catalan and Mediterranean flavours, with dishes like octopus, potatoes and alioli, baked fish with potatoes, onions and tomatoes, monkfish with spring onions, veal fillet, and pork cheeks with Parmentier potatoes. Starters and main courses cost around €20, while desserts will set you back around €6.
Barcelona - Girona (around 117km each way)
Morning
To give you plenty of time to explore Girona, why not get up early and grab breakfast on-the-go from Barcelona's La Boqueria Market?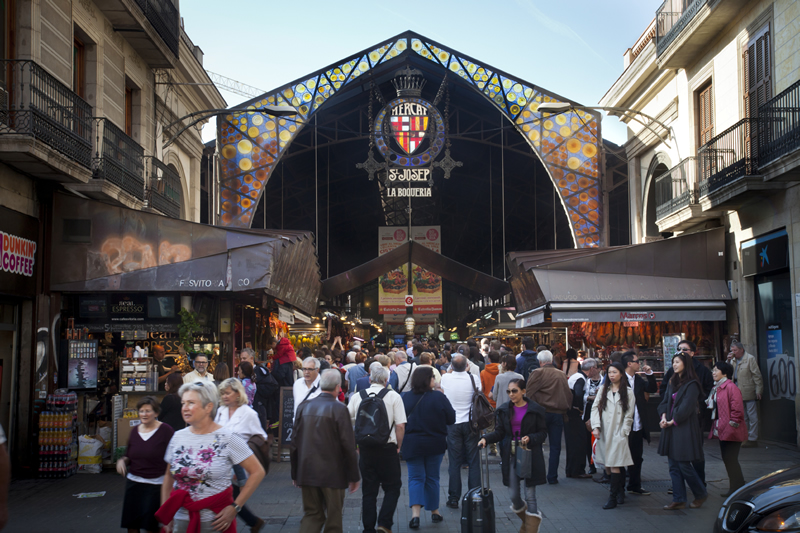 The market opens at 8am, so head there early and enjoy the fresh produce on offer — from baguettes, cakes, croissants and pastries to fresh fruit salads, juices and smoothies, there are plenty of breakfast options for you to choose from.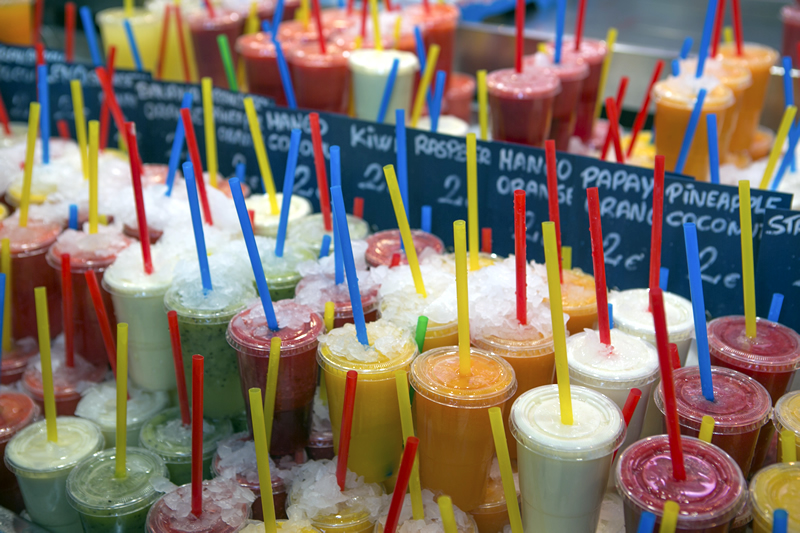 After breakfast, jump in your hire car and drive up the AP-7 to Girona; the drive will take about one hour and fifteen minutes, depending on traffic.
Lunchtime
Spend time exploring Girona's cathedral (home to the world's widest Gothic nave), then meander through the narrow, cobbled streets of the historic Jewish Quarter and the charming Barri Vell (Girona's 'Old Quarter') — where you will find plenty of shops to pass the time in.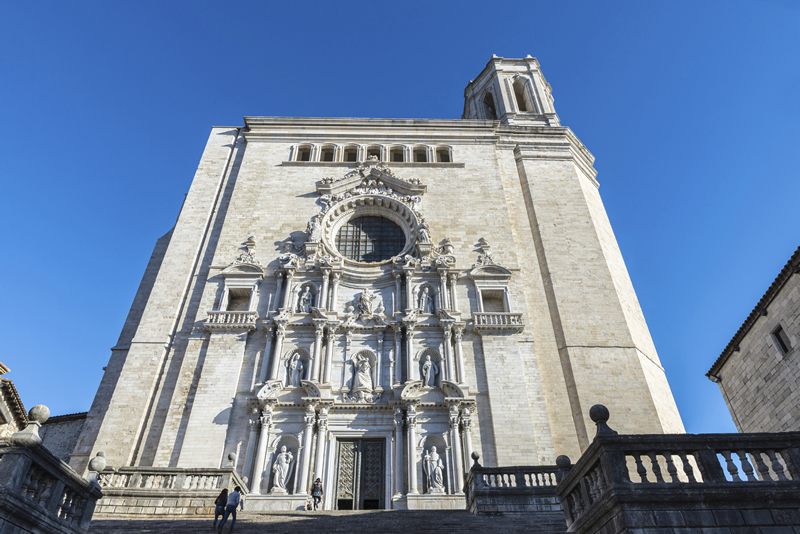 If you want a light snack for lunch, visit the Xocolateria l'Antiga to sample traditional, thick hot chocolate accompanied by 'coca de l'avia' (a delicious sponge cake). Sandwiches are also served if you fancy a savoury treat.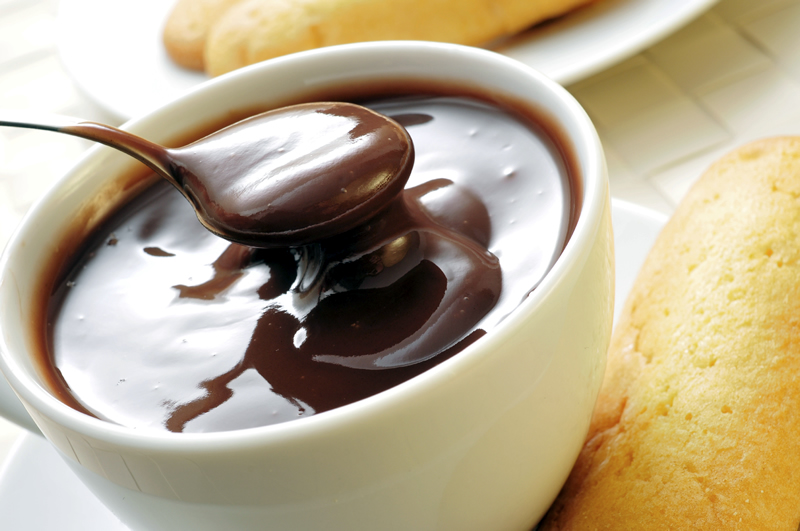 For something a bit more creative, give Llevataps (Plaça de l'Oli, 1) a try: serving up Catalan cuisine with a contemporary twist, the restaurant offers a three-course lunch menu (including bread and a drink) for €14.50. Be sure to try the 'mato' (Catalan ricotta), which is served 'burnt' with toffee foam. Please be aware that Llevataps is closed on Mondays.
Fish and seafood fans will enjoy a lunch at Arròs i Peix, in the heart of the old city. Catalan favourites on the menu here include black rice with fish, fideuà, and paella mar i muntanya (paella with chicken and shrimp).
Afternoon
Take a walk down Rambla de la Libertat (a picturesque street fringed with shops and cafés), before heading over the river to explore Girona's new area. Walk over one of the many bridges over the River Onyar, and admire the colourful buildings which line the banks of the river. In the city's new area, you will find several plazas, an urban park, a large public garden and a museum dedicated to the world of cinema.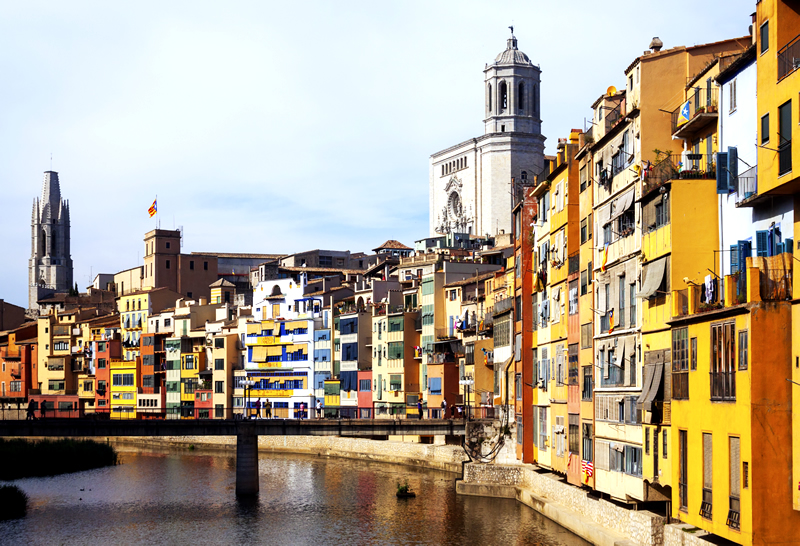 Evening
Stay in the new area and enjoy your evening meal in the modern part of the city. There are a number of restaurants where you will find authentic Catalan cuisine and international dishes, so end your day in Girona sampling more fabulous fare.
For a fusion of Catalan gastronomy and world food, visit Massana (Carrer Bonastruc de Porta, 10), which has held one Michelin star since 2007. The menu predominantly consists of Catalan-inspired dishes (such as wild turbot baked with onions, almonds and olive oil, prawns of Palamós cooked with sea salt, and cod served with a mushroom pil pil and soft alioli), although some of the dishes have a nod towards international, contemporary flavours — like tuna with baba ghanoush, and tuna tartare with wasabi ice cream. It's the perfect place for anyone who likes to experiment with unusual flavour combinations.
If you'd rather opt for a lighter evening meal before making your way back to Barcelona, head to Txalaka (Carrer Bonastruc de Porta, 4) to experience a tapas buffet. Simply choose your plates from the extensive selection and pay once you're done. The buffet is a great way to try as much Catalan food as your appetite will allow!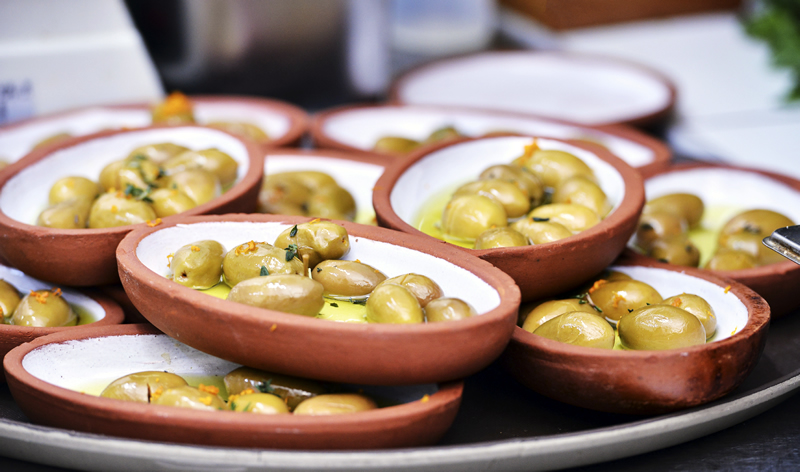 Barcelona - Vilafranca del Penedès - Sitges (around 117km in total)
Morning
Leave your hotel in Barcelona and head to Barceloneta area of the city for an energising walk along the beachfront. The area has a real 'village' feel, so stop by one of the cafés for a leisurely breakfast with the locals.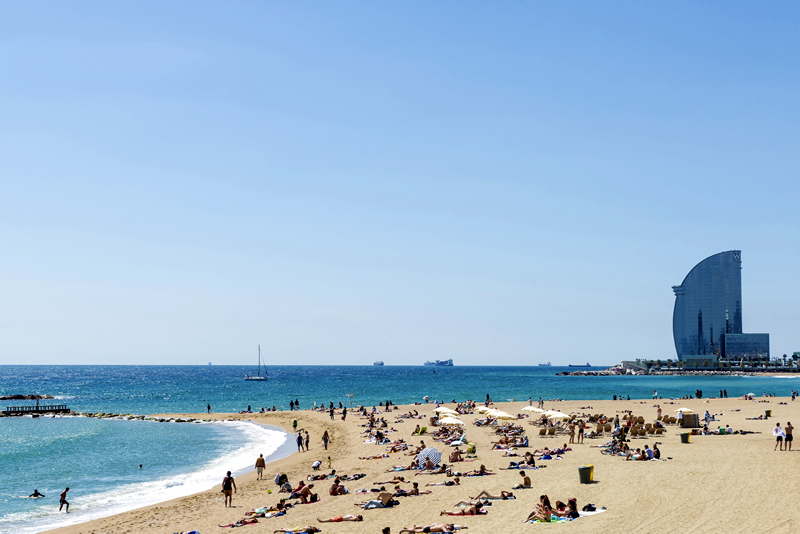 Once you've soaked up the atmosphere of the Barceloneta district, get in your hire car and take the one-hour drive along the E-90 to the culture-rich city of Vilafranca del Penedès (or more simply known just as Vilafranca).
Lunchtime
Spend a couple of hours exploring the old town, where you will find the Gothic church of Santa Maria, the convent of Sant Francesc and the Vinseum (a museum dedicated to wine (remember: don't drink and drive!) and heritage).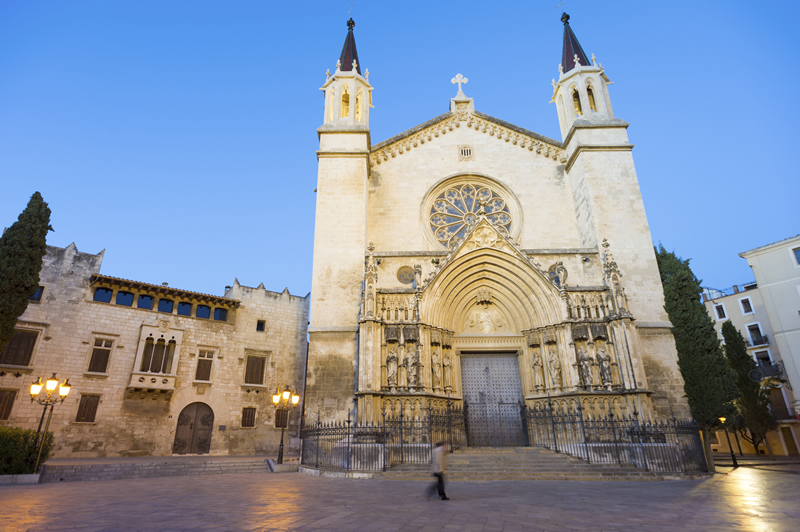 After taking in the culture, why not treat yourself to a lavish lunch before your drive onto Sitges? Head to Restaurant Cal Ton (Carrer del Casal, 8) for a great gourmet experience; main courses include pigeon with carrot marmalade, ox tail in red wine with pears, cod with chickpeas and spinach, and tuna from L'Ametlla de Mar served with onions, tomatoes and green peppers. To round off your meal, you can tuck into the likes of Crema Catalana, chocolate soufflé and orange & lemon hot cakes.
Afternoon
From Vilafranca, take a short, 20-minute drive to the vibrant seaside resort of Sitges, and enjoy a pleasant afternoon relaxing on the sandy beach, strolling along with picturesque promenade or wandering through the charming streets of the 'old town'.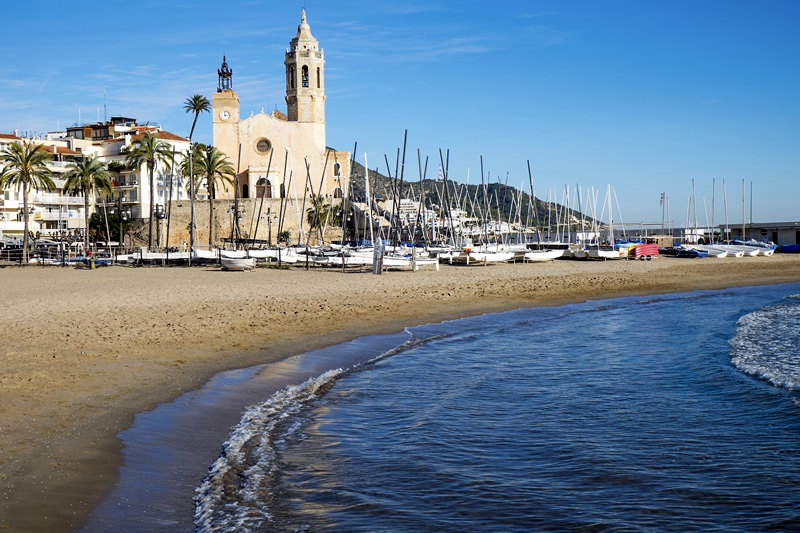 If you fancy a snack to keep you going throughout the afternoon, head to one of the town's tapas bars — El Café de la Plata in the Port d'Aiguadolç area is great for tapas with an international twist (dishes include vegetable wontons, soya burgers and chicken with almonds and a lime sauce).
Evening
The drive back to Barcelona from Sitges takes around an hour, so you can head back to base for an evening meal. For an extra special end to your day (if you're willing to splash your cash!), take a trip up Montjuïc Hill and experience the delights of the Xalet de Montjuïc — where you can dine on the outdoor terrace with breathtaking views over the city (or in the indoor, panoramic restaurant if you'd prefer). Main courses cost around €30, while desserts will set you back about €12.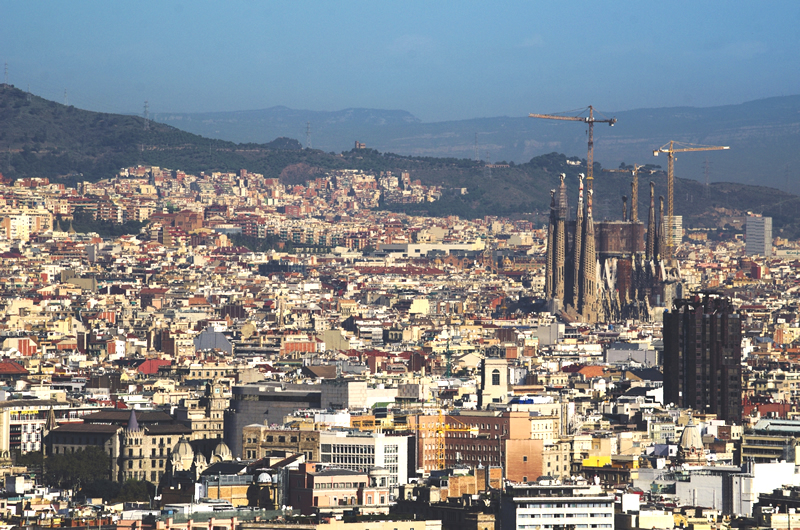 If you've enjoyed reading our food guide to Barcelona and the surrounding area, you might also like to read some of our other Spain travel guides.