Our City Guide to Alicante, Spain
An attractive city on Spain's Costa Blanca, Alicante is more than just a gateway to the nearby tourist resorts. Boasting a stylish marina, a traditional old quarter and several beautiful beaches in the vicinity, Alicante is the perfect destination for people who want to combine a city break with a beach holiday.
We've picked out some of Alicante's 'must-see' sights and attractions, so you can plan the perfect trip. Whether you want to take a relaxing stroll along the palm-lined promenade, soak up some culture in one of the local museums or explore one of the biggest medieval fortresses in Spain, Alicante has plenty to satisfy all ages.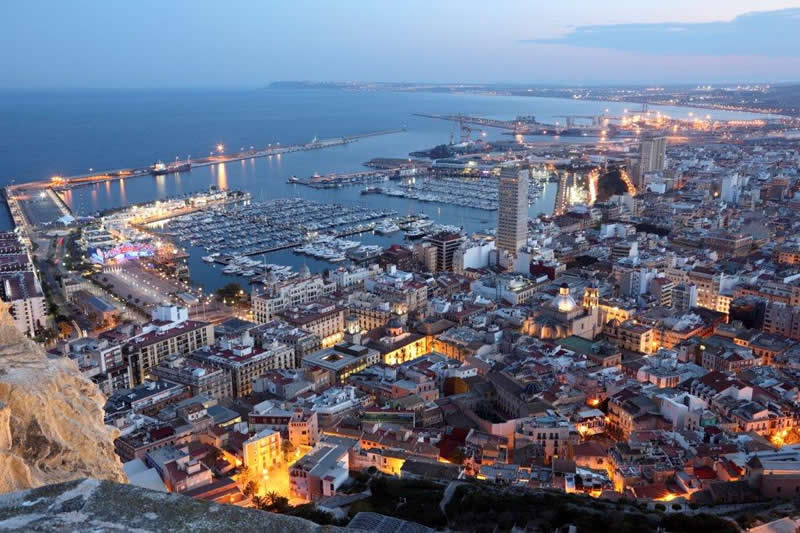 To help you make the most of your Alicante car hire, we've also listed some lovely places which are only a short drive away from the city — giving you a little inspiration for your road trips.
Here's our selection of some of Alicante's best attractions for you to enjoy:
Castillo de Santa Barbára (Santa Barbara Castle)
Found in the heart of Alicante, Santa Barbara Castle is situated 166m above sea level on top of the Benacantil Mountain. The castle features a palace, a moat, cannons and dungeons — not to mention stunning views of the city!
If you choose to go on a guided tour, you're able to access areas of the castle that are closed to the general public. The castle is also home to the Museum of the City of Alicante, which will take you on a journey through the city's history.
Castillo de Santa Barbára, 03002 Alicante, Spain. Entry is free, unless you choose a guided tour. Guided tours cost €3 for adults (aged 16-64), and €1.50 for children aged from 6-16 years and seniors aged 65+. There's no charge for guided tours for children under the age of six. Opening times depend on the time of year.
Alicante Marina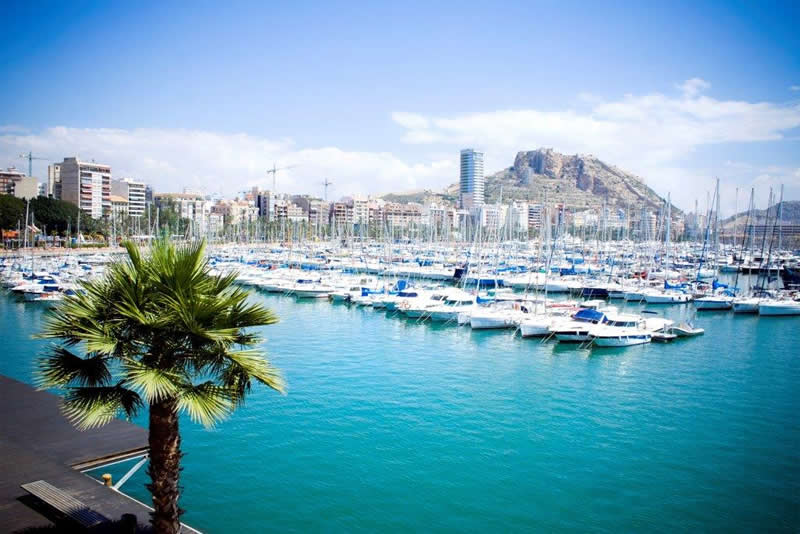 The pretty marina is the perfect place to relax and watch the world go by. Aside from luxury yachts, here you'll find stylish bars, modern cafés and an abundance of eateries — particularly seafood restaurants. The marina also has plenty of shops for you to splash your cash in, while the wide promenade is ideal for a moonlit walk after dinner.
Marina de Alicante, Muelle 8, Zona de Levante, 03113 Alicante, Spain.
Playa del Postiguet
​Located at the foot of Benacantil Mountain, Playa del Postiguet is a 900m stretch of fine, golden sand that's the perfect spot for sunbathing. The beach has several zones which are reserved for playing sports, such as volleyball. During the summer, there's also an area dedicated to educational play for people with mental disabilities.
With calm waters and a Blue Flag status for cleanliness, it's a great choice of beach for families. When you've caught enough rays, have a wander down the promenade to one of the restaurants or cafés for some refreshments.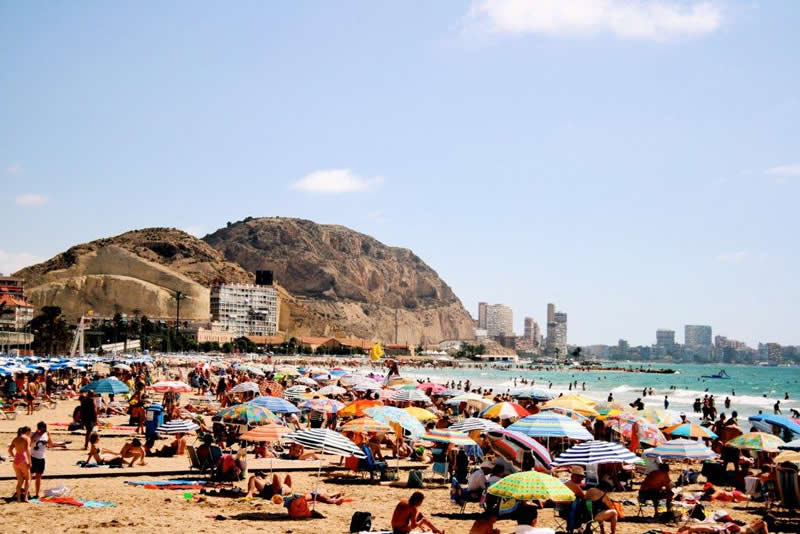 Rambla de Méndez Núñez
​This busy shopping street provides a pleasant stroll up from the promenade. From fashion and footwear to jewellery and home interiors, Rambla de Méndez Nuñez is a haven for any shopaholic!
Built on the site where the ancient, city-encompassing wall once sat, the street also has plenty of restaurants and cafés for you to enjoy. It's also worth taking a little detour down the side streets to discover some of the smaller, independent shops and eateries in Alicante's traditional 'old town'.
Rambla Méndez Núñez, 4, 03002 Alacant, Alicante, Spain.
MARQ (The Archaeological Museum of Alicante)
Displaying archaeological artefacts in a modern way, the museum is home to a variety of exhibits which range from 100,000 years old to as modern as the mid-19th century. The museum's collections are brought to life with audio-visuals and stunning lights which enhance their natural beauty.
Plaza. Dr. Gómez Ulla, s/n03013 Alicante. Opening hours depend on the time of year. Entrance costs €3 for people over the age of 15, and €1.50 for children aged 7-15 years. Children under the age of seven are admitted free of charge.
With over 200km of coastline across the Costa Blanca to explore, why not take your hire car and explore the wider area? From built-up towns to picturesque villages, you'll be able to discover both the traditional and tourist-focused areas of Spain. To help you decide where you fancy visiting, we've picked out some places which we think are well worth a drive to:
Benidorm
The most popular resort on the Costa Blanca among British tourists, Benidorm is a concrete jungle of high-rise hotels and apartments — but its authentic old town still retains typical Spanish culture and charm. Benidorm is around a 40-minute drive from Alicante on the N-332 coastal road, and its range of attractions makes it the ideal place for families to visit.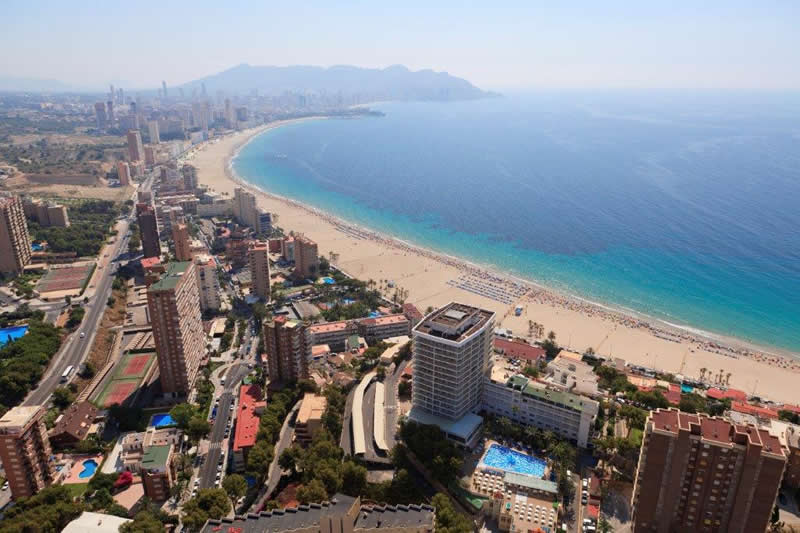 Aside from the magnificent Poniente and Levante beaches (which stretch for around 3km), Benidorm is also home to Terra Mitica (a theme park with a good selection of rides and shows), Aqualandia (a water park with 15 rides and attractions), Mundomar (a marine life and animal park where you can see humorous dolphin and sea-lion shows) and Terra Natura (a nature park where you'll find a range of animals, including tigers and elephants to name but a few).
Calpe
A little further along the N-332 is the small town on Calpe. The town has some beautiful beaches which aren't as crowded as the ones in Benidorm. As far as sightseeing goes, there are two 15th century churches (the Iglesia Antigua and Senora de las Nieves), and an archaeological museum which displays several local artefacts (some of which date back to the 4th century).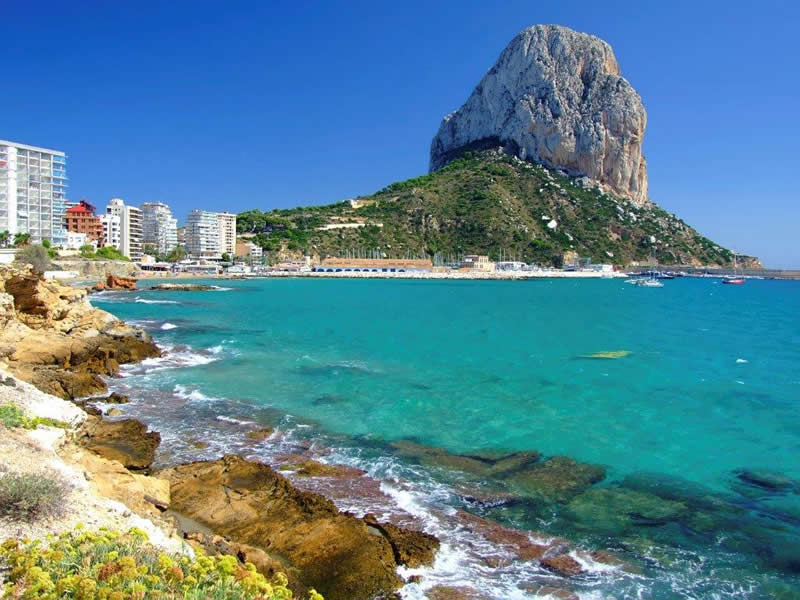 Calpe also has one of the most unusual yet stunning geographical features on the Mediterranean coast — the 'Rock of Ifach', a large rock which rises from the sea to a height of 332m. The rock is the result of a landslide, and it's joined to the mainland by a narrow strip of land.
Denia
Located around half an hour away from Calpe, Denia is a small city that has plenty to offer its visitors. The city has a beautiful harbour, where you can take a boat trip to one of the nearby islands — including Ibiza and Mallorca.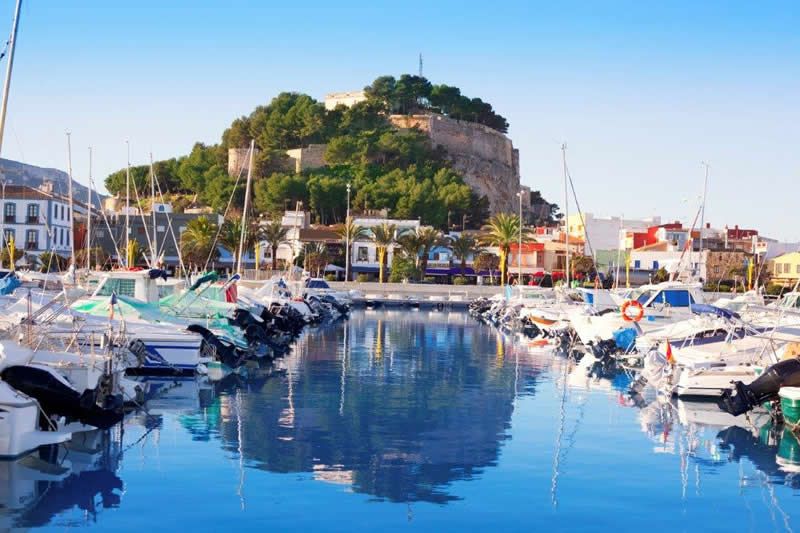 One of Denia's star attractions is the 11th century castle which stands majestically over the city; it's a highly symbolic heritage site where a significant number of preservation and restoration works are carried out. Denia is also a great place for shopping, while golf enthusiasts can hit the fairways of La Sella Golf Resort (where you can play golf 365 days a year).
Torrevieja
Torrevieja is situated around 50km south of Alicante, and it attracts a large number of British visitors and ex-pats each year (although the resort is considered to be a little more 'refined' than Benidorm). Boasting a number of safe beaches, Torrevieja also has a water park within driving distance of the town.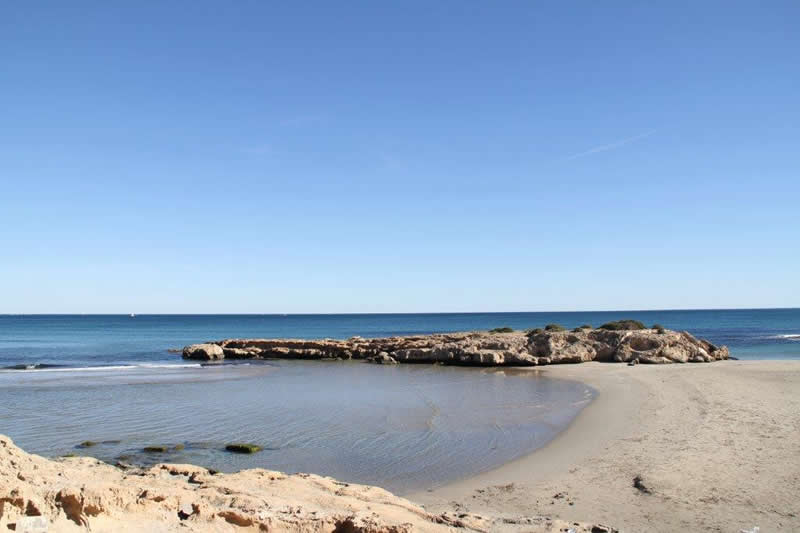 Originally a salt-mining and fishing village, Torrevieja is located between the sea and two large salt lakes — which gives the area a healthy microclimate (Torrevieja was voted one of the world's healthiest places to live by the World Health Organisation).
Murcia
One of Spain's major cities, Murcia is just under an hour's drive from Alicante. Located inland, the city is bursting with history and culture — from its gothic cathedral (which took more than 300 years to complete), to its variety of museums. Murcia also serves up some of the best food in Spain, so why not enjoy some traditional tapas overlooking one of the city's narrow streets or pretty plazas?