Driving Abroad with Tots100
We've teamed up with the Tots100 community to discuss family holidays and driving abroad — from keeping the kids entertained and annoying driving habits, to finding out who handles the driving duties and what worries people the most about driving in a foreign country. The response from the family bloggers was so overwhelming that we decided to create this handy infographic of the results!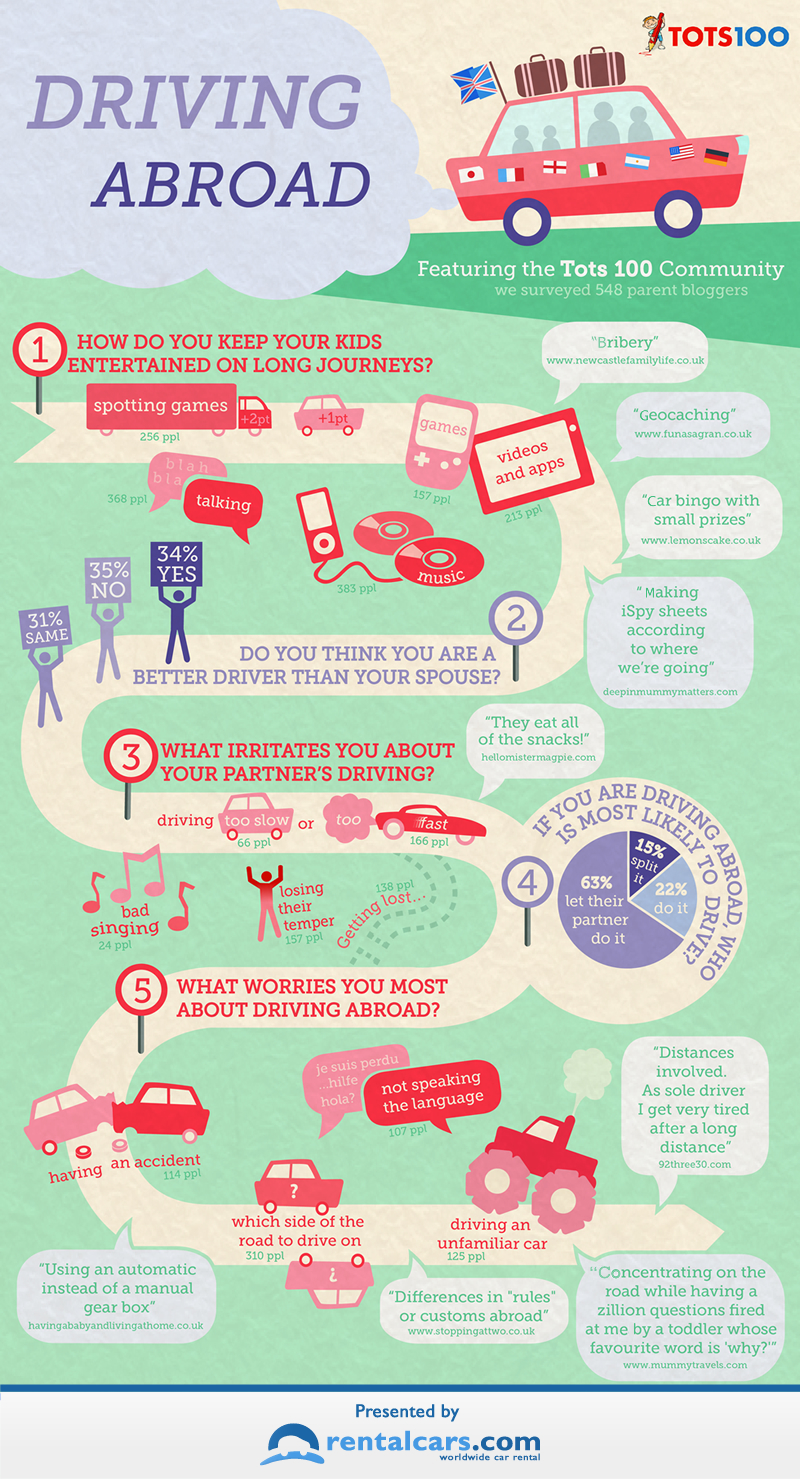 How do you keep the kids entertained on long drives?
It looks like parents favour drowning out the sound of their kids, since listening to music was the most popular answer! 70% of all respondents chose listening to the radio as their preferred way to keep kids entertained on long journeys. The old-fashioned art of conversation isn't dead either, with 'talking to each other' being the second-most popular answer. 57% also play simple, traditional games (such as I Spy) — proof that hi-tech gadgets aren't always the answer when it comes to keeping kids occupied in the car!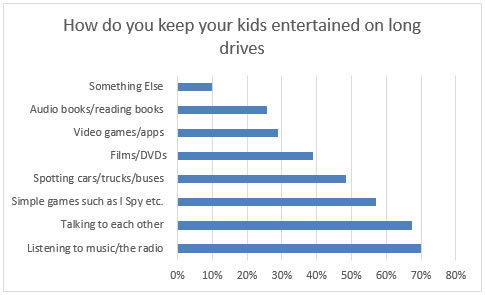 Here are some helpful tips from a couple of our bloggers:
"My boy is only small so we make sure to have a variety of toys for him, from his fave cuddly giraffe to noisy, light-up toys; even his sunshade has a bar of toys dangling from it. When the toys fail, snacks help — and when snacks fail then he normally needs a nap, so I always make sure to have a cuddly blanket so he can cosy up and feel comfy for a little snooze." — Briony Stebbings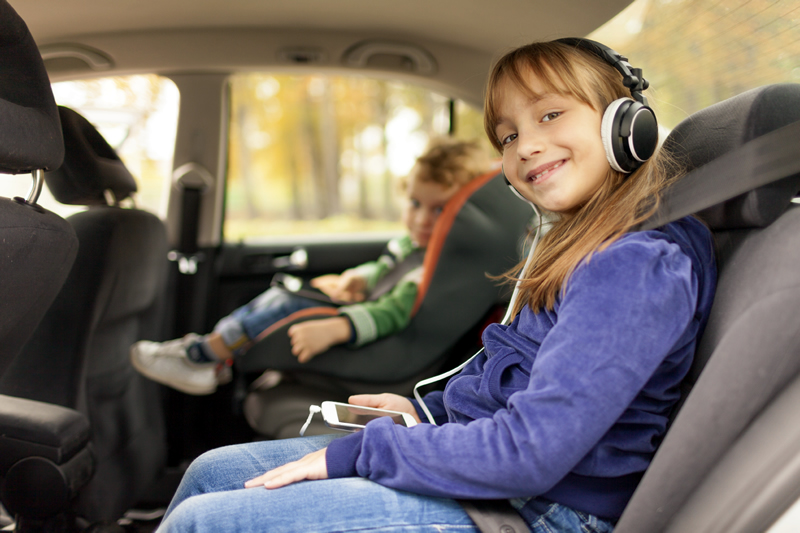 "Lots of different games. Our current favourite is where one person is 'The Judge', who then chooses up to three items (for example: a yellow car, a number plate with a B, or a sheep in a field). The first person to spot each one gets a point and the Judge chooses another set of items." — Annie Hall
What irritates you about your partner's driving?
It's no surprise that 30% of respondents get most annoyed by their partner driving too fast, after our recent YouGov survey revealed that 34% of British, male drivers had driven over 100mph on a motorway! Bad-tempered other halves were a close second, with 29% saying their partner's road rage gets them riled.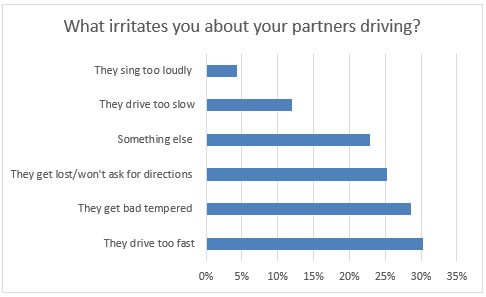 Getting lost is another popular cause of frustration, while just 4% get annoyed by their partner singing too loudly in the car — so it looks like you're safe to turn up the radio and belt out those tunes on your next road trip!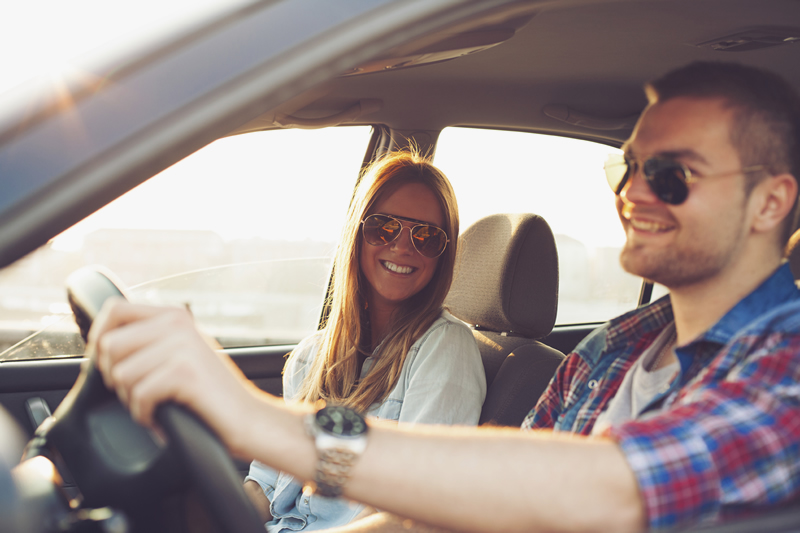 Some of our bloggers spill the beans on what annoys them:
"He doesn't like the radio on. He moans about my driving. He has no idea about following my directions but won't make an attempt to work them out himself (oh yes, and I'm the one with the geography degree). He will only go on holiday in his parents' big Range Rover rather than my Qashqai, and then won't park it wherever there's space in case it gets bashed. And, he drives too slowly when on holiday — 'because I'm not in a rush, I want to see what's going on, and I'm on holiday'. Arrrgghh! In New Zealand we were overtaken by lorries! We're not compatible when in the car at all!" — Emma Tustian
"They eat all of the snacks!" — Laura Dicken
"He sings badly and only puts music on that nobody else likes!" — Helen Jessup
Do you think you are a better driver than your partner?
It's a common cause for debate (aka arguments!), but the partners slightly outdid the bloggers on this question!
34% said yes
35% said no
31% said about the same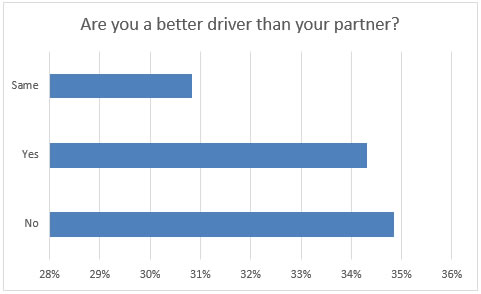 If you are driving abroad, who would be most likely to do the driving?
63% pass the task onto their partner
22% take charge and do the driving themselves
15% play fair and split the duty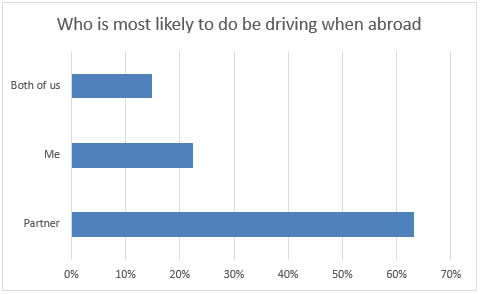 What worries you about driving abroad?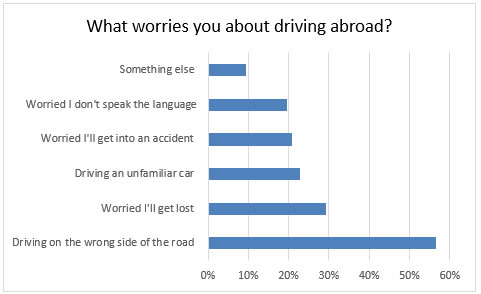 In this 'tick all that apply' question, a massive 57% were worried about driving on the wrong side of the road. Only 23% of respondents were worried about driving an unfamiliar car, while 29% were concerned about getting lost (whether they blame the GPS or their partner's map-reading skills is another question!).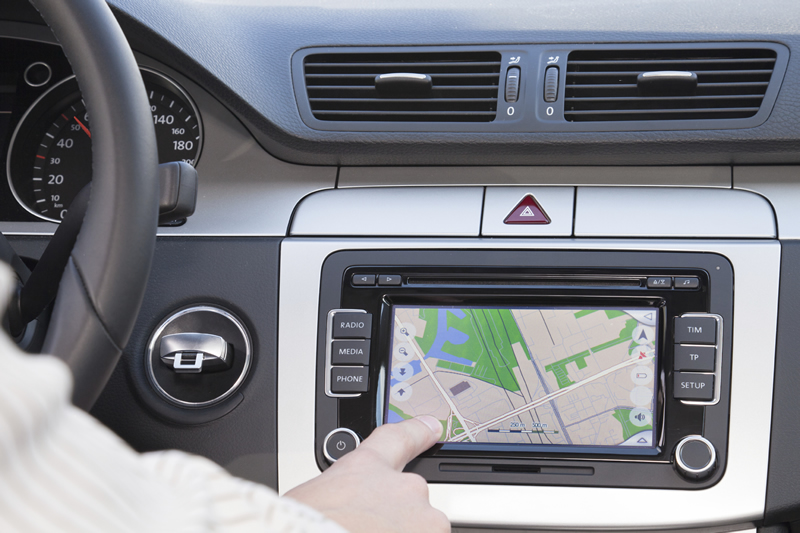 Here are some other concerns raised by our bloggers when it comes to driving abroad:
"Unfamiliar road systems and signs." — Erica Price
"The rules and regulations of the country I'm driving in." — Michelle Ordever
​To prepare yourself for driving abroad, have a read of our helpful round-up of various speed limits and driving laws from around the world.