Rentalcars.com Nominated for Two World Travel Awards
Rentalcars.com are delighted to announce that we have been nominated for not just one, but two World Travel Awards.
These awards recognise companies who go the extra mile to make sure their customers have the best experience possible. With over 650,000 votes cast in 2014 alone, a World Travel Award is one of the biggest endorsements in the travel industry.
We have been nominated for World's Leading Car Rental Company Website and World's Leading Car Rental Company App. Needless to say, we would love to win them both.
A website that makes car hire easy

Over the past decade, millions of people — from couples to families to businesspeople — have come to depend on us for their car hire needs. Instead of scouring the web, customers can simply visit our website to find the best deals from hundreds of car hire companies worldwide, all in one convenient location.
We want everyone to make an informed decision when they visit our website. This is why we publish ratings and comments — both positive and negative — left by people who have already booked through us. We're pleased to say that the vast majority of this feedback comes from happy, satisfied customers.
That said, we are constantly looking for new ways to make the entire car hire experience even better, from helping customers find the ideal car to solving any issues that might arise — before, during or after the rental.

A handy car hire companion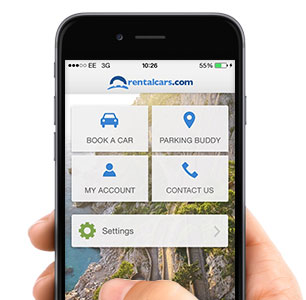 Already downloaded by almost two million people, our app is also proving extremely popular. The app puts everything that people love about Rentalcars.com straight into their pockets, along with a range of useful extra features.
For instance, the app remembers people's details, which makes all future bookings even faster and simpler than the first one. Plus, customers can download their eVoucher and pick up the car with their phone — a particularly appealing feature for anyone who has ever realised their printer is out of paper… 10 minutes before they leave home.

We need your vote!
We want everyone to have the best car hire experience possible, and we need your help to spread the word. So if you have enjoyed using Rentalcars.com, why not help other people find out about us? Visit the World Travel Awards website, fill in a short form and vote for our website or our app – or both!