Our City Guide to Dublin, Ireland
Dublin By Car: Key Attractions
The capital of Ireland, Dublin is a vibrant city that boasts a wealth of culture, a rich history and unforgettable beauty. Whether you want an escape with the whole family or to end your Guinness curiosity and finally see if a pint really does taste better in the factory, then Dublin is sure to be the perfect getaway for you.
Download our City Guide to Dublin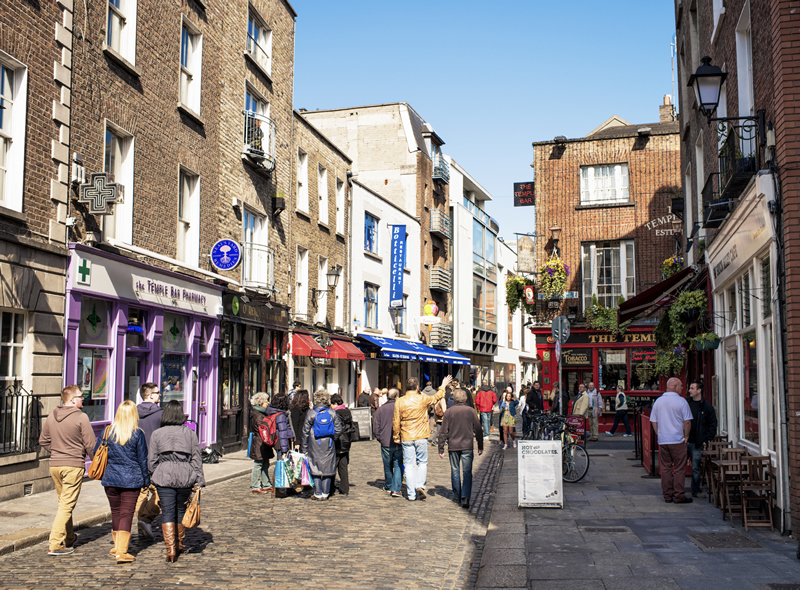 With something to suit everyone, why not take advantage of one of our great car hire deals and discover what this picturesque city has to offer? To help you decide where to start, we've created this guide of Dublin's top attractions — so you can make the most of your hire car and explore this magnificent city.
The National Gallery of Ireland
Founded in 1854, The National Gallery of Ireland is one of the country's most beloved cultural attractions. It houses prestigious European collections of western art, dating from the Renaissance period to the twentieth century — with gallery highlights including works by Caravaggio, Rembrandt, Van Gogh, Monet and Picasso.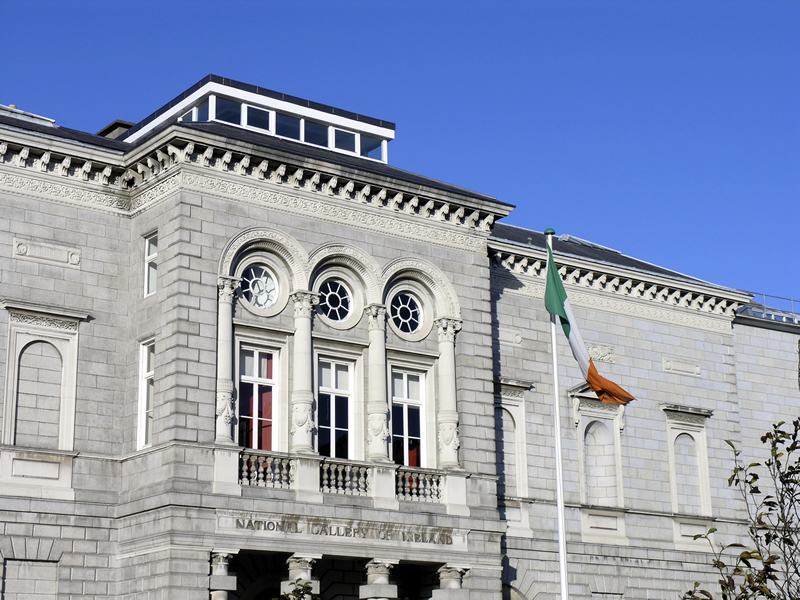 The gallery features over 2,500 paintings and some 10,000 other works, such as watercolours, drawings, prints and sculptures. The gallery offers free admission, and is open seven days a week to the public. There are also free guided tours that are not be missed.
National Aquatic Centre
The National Aquatic Centre is Ireland's principal facility for water sports, and forms part of the National Sports Campus. The Aquatic Centre is home to AquaZone, one of the biggest and most innovative water parks in Europe. Perfect for family fun, the water park features three water slides (The Dark Hole, The Green Giant and the Master Blaster), a surfing-machine, a 'lazy river' and a large wave pool.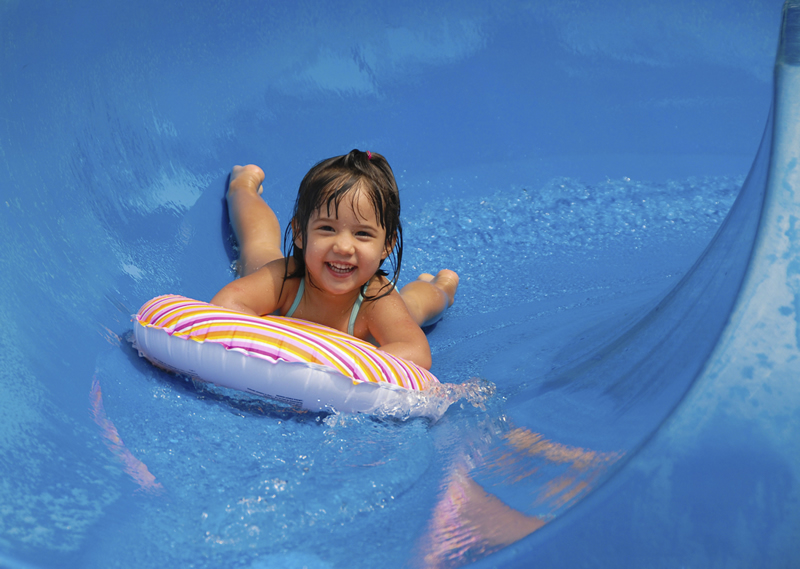 If you're a thrill-seeking adrenaline junkie, then Dublin's AquaZone has all the best water rides and attractions for an exciting day out with the family.
Guinness Storehouse
Arguably the most popular attraction in Dublin, the Guinness Storehouse lies in the heart of St. James's Gate Brewery. Home to the country's most famous export, a visit will provide you with an unforgettable experience, and teach you everything you ever wanted to know about the world-renowned drink. Shaped like a giant pint of the black stuff, the brewery rises seven stories high around a beautiful atrium.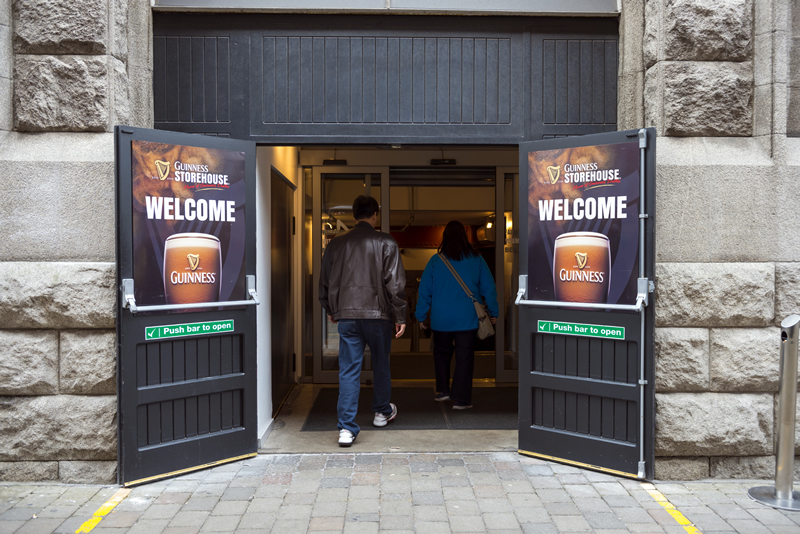 At the top of its head sits the 'The Gravity Bar'— it's here you'll receive a complimentary pint of Guinness and get a chance to relax while enjoying a breathtaking, 360-degree panoramic view of the city.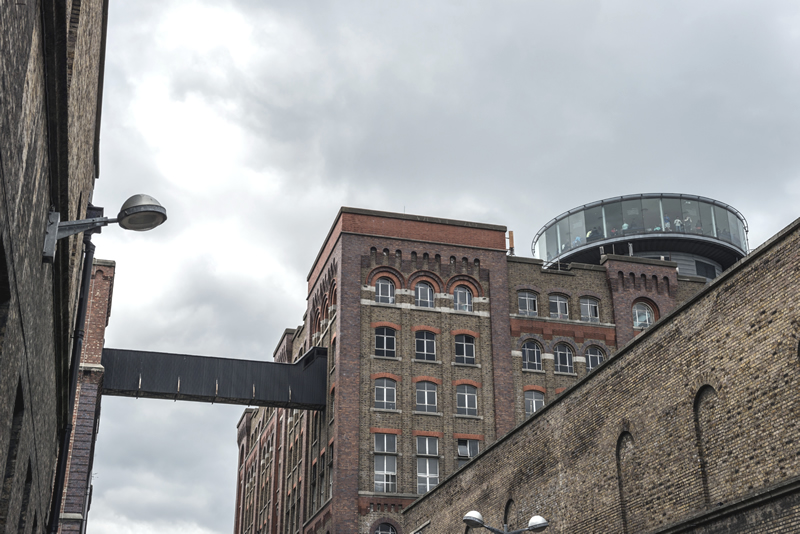 Dublin Zoo
In the heart of Phoenix Park, Dublin Zoo is a popular family attraction. Here, you can discover over 400 different animals, including giraffes, Asian elephants, tigers, reptiles and even gorillas roaming in a variety of natural habitats.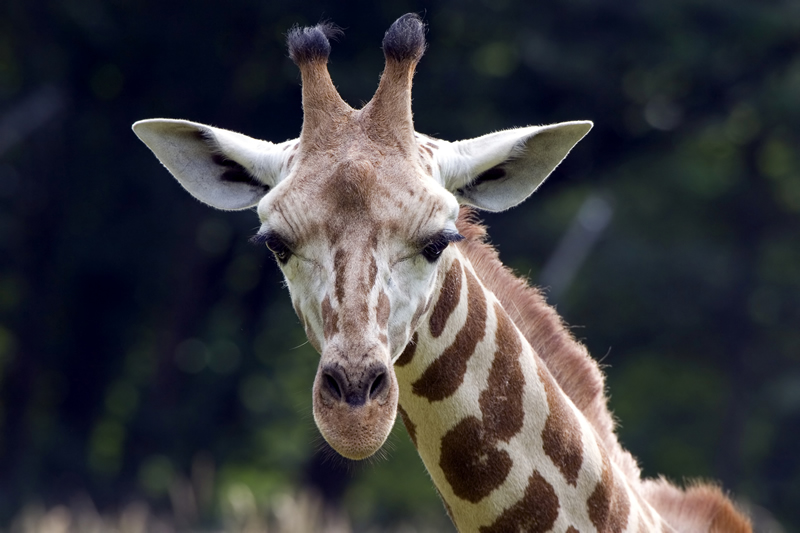 As a registered charity, your visit helps them continue to make a significant contribution to the conservation of some of the most endangered species on Earth. Not only is it one of the oldest zoos in the world, Dublin Zoo is a place where fun, education and conservation go hand in hand. It was also home to Cairbre, the lion mascot who you may recognise at the start of films for Metro-Goldwyn-Mayor (MGM) studios.
National Botanic Gardens
No trip to Dublin is complete without a visit to the picturesque Botanic Gardens. The 19.5 hectare complex (located adjacent to the River Tolka) is an oasis of calm and beauty, and perfect for a relaxing day out.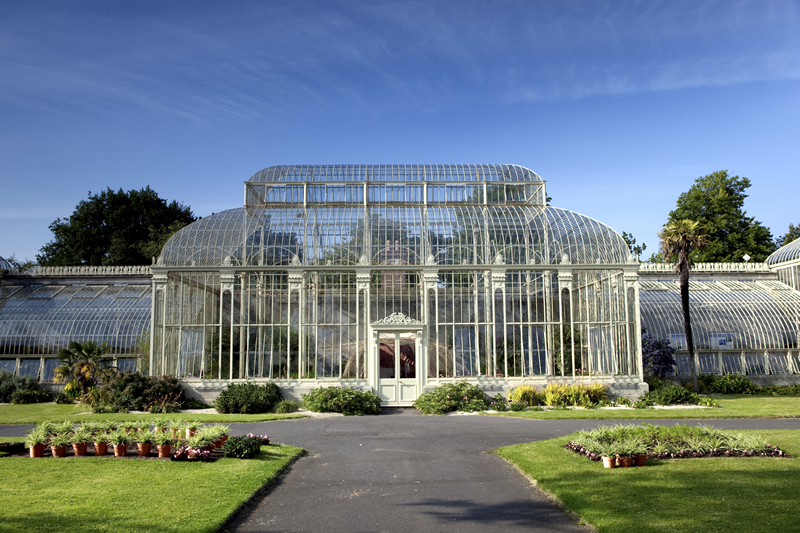 This scientific institution, founded in 1795, contains the National Herbarium, architecturally stunning greenhouses and 20,000 eye-catching plants. It's a place where leisure, recreation and education combine to bring you a fascinating day out.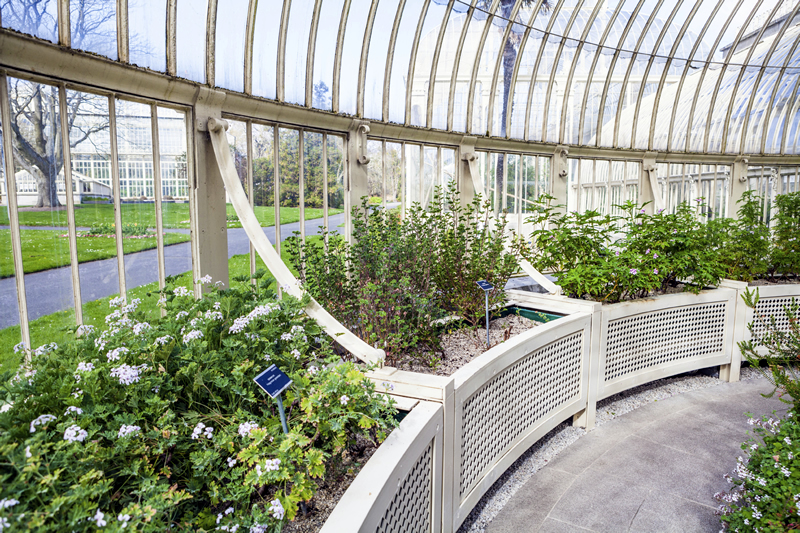 Book of Kells
The Book of Kells is a world-famous, illuminated manuscript (written in Latin) of the four Gospels from the New Testament. The 680 pages of vellum were painstakingly hand-written and illustrated by Irish monks, in around 800 A.D. The manuscript was buried for fear of destruction by the Vikings, and was only rediscovered and passed onto Trinity College Dublin for preservation in 1653.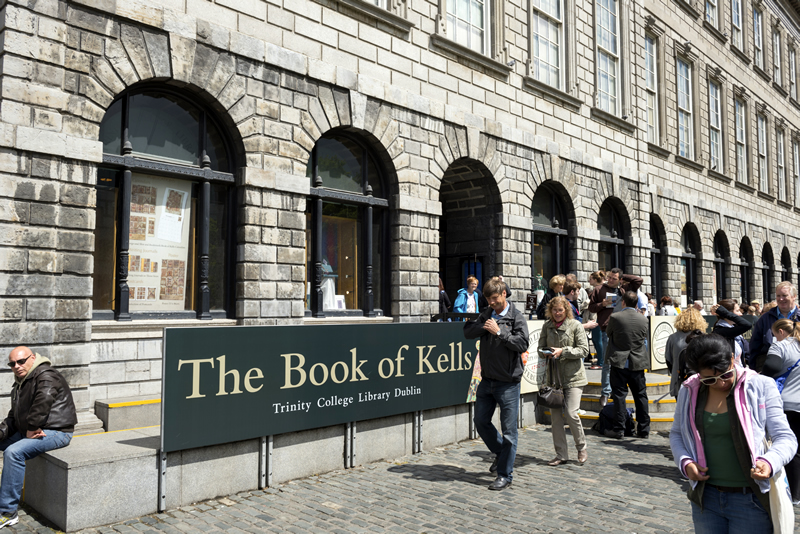 Two volumes are currently on public display: one opened to exhibit a major decorated page, and one to show typical pages of script. You'll be able to witness its lavish decoration and see why this spectacular piece of history attracts over 500,000 visitors a year.
National Museum of Ireland: Archaeology
Make your way to Kildare Street to behold the national repository for all archaeological objects found in Ireland. With over two million artefacts, the NMI permanently exhibits gold relics from Western Europe, outstanding examples of metalwork from the Celtic Iron Age and a world-renowned collection of medieval religious objects and jewellery. The building's appearance itself is striking enough to entice anyone to enter, so take the time to experience Ireland's prehistoric wonders.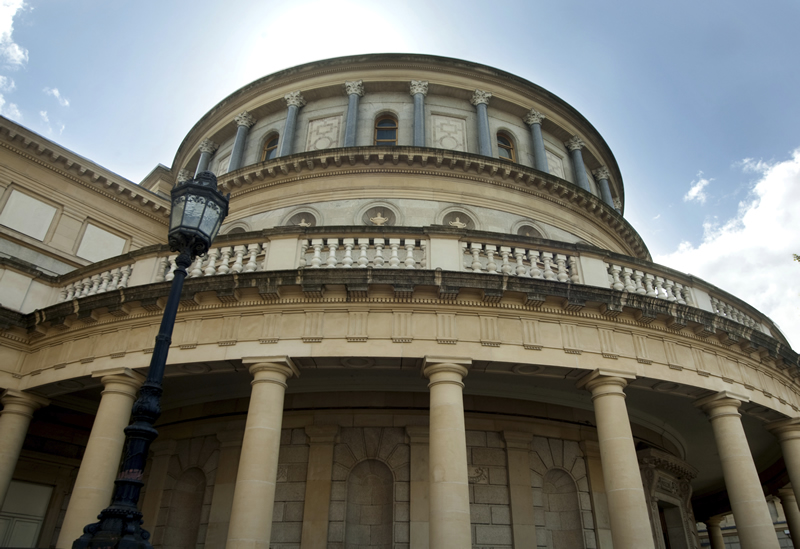 Farmleigh
Situated on an elevated point north-west of Phoenix Park, this stunning house (now owned by the Irish Government) is used to provide accommodation for visiting dignitaries and guests of the nation, for high-level Government meetings. Guests over the recent years include: Queen Elizabeth II, King Harald V & Queen Sonja of Norway, and the President of the Republic of Poland, Mr. Lech Kaczynski.
Built in the late 18th century, Farmleigh was purchased by Edward Cecil Guinness, great-grandson of Arthur Guinness, and it still contains many of the original furnishings and artwork he collected. This 78-acre estate remains a unique representation of the Edwardian period, consisting of scenic gardens, rare animals and vivid plants. It's sure to provide you with a wonderful insight into Ireland's cultural history.
Dublin Science Gallery
The Science Gallery is a completely fascinating place that anyone with even a slight interest in science should consider visiting. In 2008, Trinity College Dublin (pictured below) opened this innovative gallery (a world first of its kind). It's a new type of venue that's designed to be a space where today's white-hot scientific issues can be addressed, bringing art and science together as one.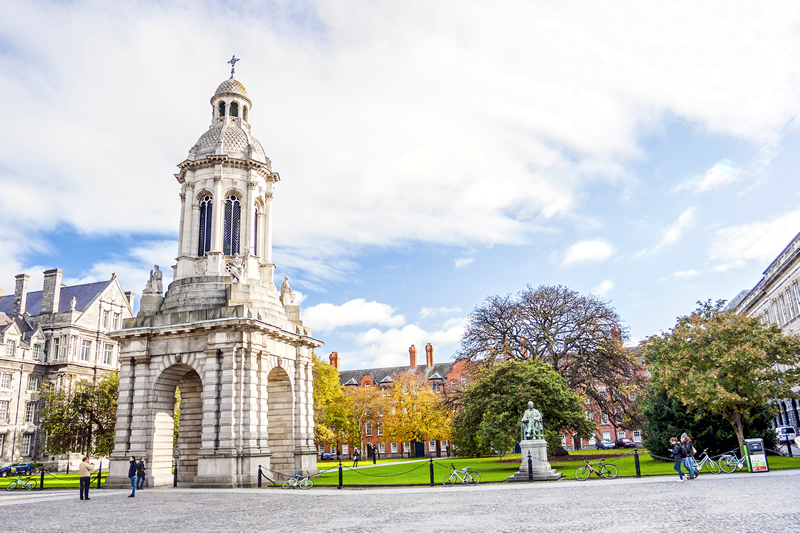 Since its opening, over a million visitors have flocked to the Science Gallery to experience 26 unique exhibitions (ranging from living art experiments and material science to the future of the human race and the future of play). Ranked among the top ten free cultural attractions in Ireland, this vibrant and fun museum will immerse you into the captivating world of science.
Unlike most galleries, it has no permanent collections, but rather a series of 4-6 temporary exhibitions a year. This means there's always something new to see, but in between exhibitions, only the shop and the café remain open — plan wisely and check to see what's on before travelling.
St. Patrick's Cathedral
St Patrick's is the National Cathedral for the Church of Ireland, and the largest cathedral in the country (it boasts a 43-metre/140-foot spire). Its most famous Dean, Jonathan Swift, is one of around 700 burials on the site.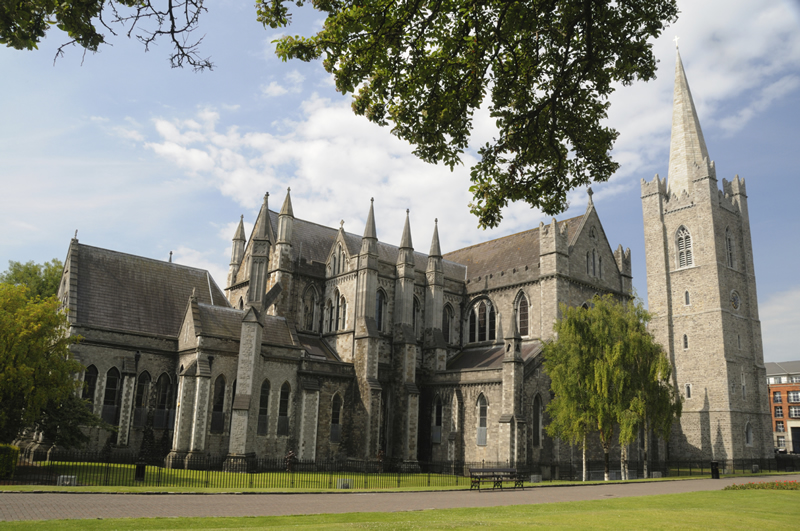 The magnificent cathedral stands majestically as a memorial to the country's historical past, and is the only remaining cathedral in Ireland with daily services that are sung. Built around 1220, this place of worship is an architecturally beautiful building and a glimpse of what's left of medieval Dublin.
Dublin Bars & Restaurants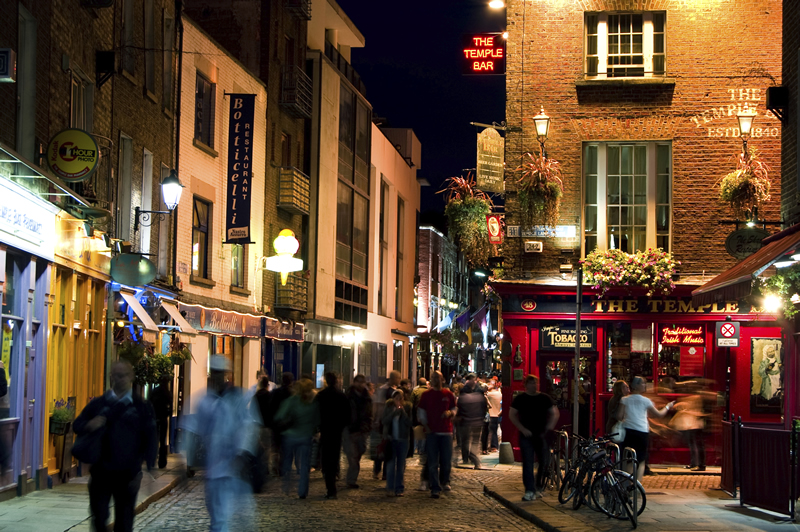 After your sightseeing, you're sure to want a bite to eat! We've put together a list of the best bars and restaurants the city has to offer. Simply check the 'bars and restaurants' box on the top left of the map to see what restaurants are nearby!
VCC (Vintage Cocktail Club)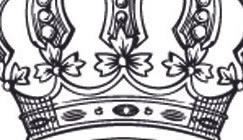 A mysterious and exclusive drinking and dining experience. Enjoy award-winning cocktails and gourmet food to a backdrop of vintage glamour.
Address: 15 Crown Alley, Temple Bar, Dublin 2
The Liquor Rooms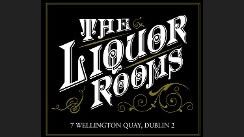 A subterranean drinking den serving up glorious cocktails, fine liquors and craft beers in luxurious Prohibition era surrounds.
Address: 7 Wellington Quay, Temple Bar, Dublin 2
Peruke & Periwig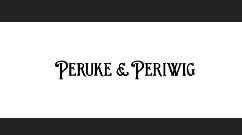 Step back in time at this intimate, old city house, which specialises in experimental cocktails and boasts a delicious, modern Irish dining menu.
Address: 31 Dawson Street, Dublin 2
Bison Bar & BBQ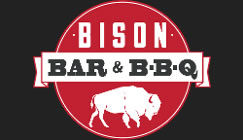 Ireland's only authentic Texan BBQ and whiskey bar, it serves slow-cooked meats and has more than 150 golden elixirs to choose from.
Address: 11 Wellington Quay, Dublin 2
Garage Bar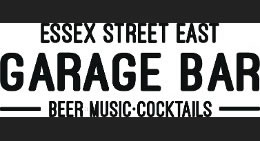 A fleapit dive bar that's Dublin's best kept secret. Enjoy beer pitchers and cocktails to a Motown and surf music soundtrack.
Address: East Essex Street, Dublin 2
The Workman's Club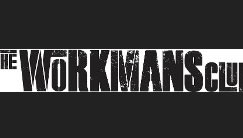 An eclectic and alternative live music venue, with gigs and indie club nights seven nights a week. It's a great place for a pint and a chat.
Address: 10 Wellington Quay, Dublin 2
Mary's Bar & Hardware Shop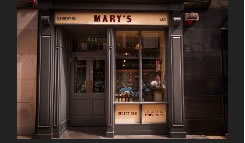 A bar, a grocer and a hardware shop in one! It's like having rural Ireland in the heart of the city.
Address: 8 Wicklow Street, Dublin 2
Captain America's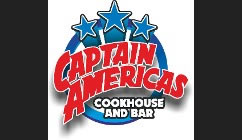 A Dublin institution, the first American-style cookhouse opened over 42 years ago, and it still does the best burgers and steaks in the city.
Also at Blanchardstown Shopping Centre, Dublin and South Main Street, Cork
Address: 44 Grafton Street, Dublin 2
Sophie's Restaurant & Bar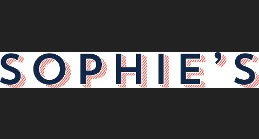 Offering a 360-degree view of Dublin, Sophie's Restaurant & Bar is a glasshouse restaurant high in the clouds. Serving a New York-Italian menu and delicious brunches at the weekend, the bar also has DJs on Fridays and Saturdays.
Address: 33 Harcourt Street, Dublin
Tower Café at Tower Records
Coffee and vinyl? A music lover's paradise, Tower Café is at the heart of Ireland's biggest independent music and entertainment store. Check out the biggest vinyl collection in the country while sipping on a latte!
Address: 7 Dawson Street, Dublin 2
The Octagon Bar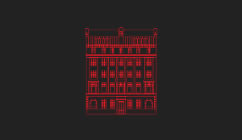 The world-famous bar is found in Ireland's original rock 'n' roll hotel! You never know who you might bump into over a pint!
Address: The Clarence Hotel, 8 Wellington Quay, Dublin 2