Car Hire Knowhow
First-timer's guide to driving abroad
Jumping in a rental car and hitting the open road is a wonderful way to explore a new country. Unfamiliar roads and regulations can be scary, but here are 8 quick tips to make your first trip fun.
All it takes is a little forward planning, combined with a cool head, to make the whole car rental experience a lot less stressful. Follow these tips in our first-timer's guide for a fuss-free road trip.
1) Choose a hire car you're familiar with
If you're going to be driving on unfamiliar roads, it makes sense to do so in a car you're at least relatively familiar with, especially if you'll be driving on the other side of the road, with the steering wheel and controls on the other side of the car.
If you drive a small hatchback at home, consider hiring a small hatchback on holiday. Even if you normally drive a larger car at home, it might be worth downsizing to a smaller model that's easier to manoeuvre and park.
2) Do a little prep before you go
Get familiar with a few key road rules of the country you're visiting, paying particular attention to speed limits, traffic signals and even driver etiquette – if you can drive like a local, that's half the battle won.
It can also be worth taking some time out to pre-plan the routes you'll take. You could stick to shorter trips for the start of your holiday, and leave any long journeys and city-centre driving until you're more familiar with the roads and feeling comfortable behind the wheel.
If you're taking a map, you can mark your routes ahead, make a note of the main roads and junctions you'll be using. Make sure you keep plenty of change or your credit card to hand in case you come across any toll roads.
3) Pack a satnav/GPS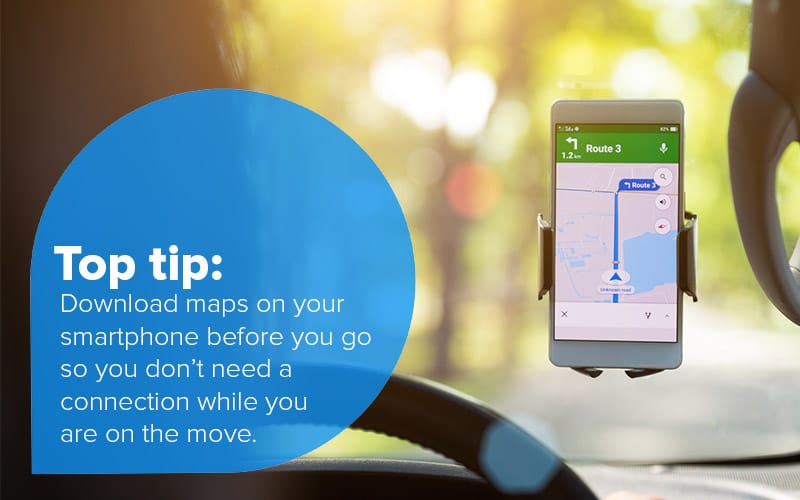 If your satnav/GPS has maps for where you're going, it's a great idea to take it along. Having a GPS will help you navigate the unfamiliar roads and save your passengers the hassle of map-reading. You'll be able to hire a satnav from your car rental company, but it works out a lot cheaper to take your own. You can also use a maps app on your smartphone – you can download maps before you go so you don't need a connection while you're on the move. To find out more, see Driving abroad? Here's how to make a free GPS/sat nav.
It is still worth having a backup map in case technology fails you. Also satnav rules and regulations can vary between countries – in France, for instance, it's illegal to use satnavs with radar detection that show the location of fixed speed cameras.
4) Take a moment to get used to the car
You might be itching to get your road trip underway, but it's worth taking a bit of time to get used to your car before you take to the road. So, before you drive out of the car hire compound, get familiar with the controls for the lights, wipers, windows and demisters, and take some time to get a feel for the clutch and gearstick, especially if these are on the 'wrong' side of the car.
Once you feel comfortable enough with the controls, take the car slowly around the car park or some quiet streets if you can, so you can get to grips with changing gear, indicating and turning.
5) Drive with care and stick to the rules
Drive carefully and cautiously, sticking to all speed limits and any rules you may not be used to – if you're driving in Spain, for instance, you're not permitted to drive while wearing flip flops, and in Italy you must never park against the flow of traffic.
Never drink and drive, as even just a small amount can impair your reactions at the wheel. And avoid driving if you feel tired – if you've a long journey, or you just feel fatigued after your flight, stop off somewhere to rest and have a cup of coffee or even a quick nap.
6) Keep your cool
Staying calm is key to a safe and enjoyable road trip, so try to keep your cool, even if everyone else is losing theirs. You may find local drivers are impatient and can be quite intimidating, but if you keep a clear head and stick to the rules you'll be fine.
If you are unfortunate enough to be involved in an accident, act just as you would in your home country and get everyone to safety before dealing with the situation. Your rental agreement should have emergency contact numbers.
7) Don't get caught out by additional rental fees
No one likes surprise expenses, and car rental is notorious for charging extra fees. If you're dropping your car off in a different place, or you're going into a different country, there will be fees to pay:
One-way fees
If you're dropping your car off at a different location to where you picked it up, you'll probably have to pay a one-way fee. A one-way fee is basically the cost of getting the car back to the pick-up location. The rental company will pass some of that cost on to you. To find out more about one-way fees, see What is a one-way fee?
Cross-border fees
Not all borders are quite as easy to cross as the Scottish border. And, in many places, you may find that the rental company will charge a cross-border fee – where they pass on the cost of additional insurance to you. You might find that you're not allowed to cross certain borders or even any borders at all. To find out more about cross-border fees and rules, see What is a cross-border fee?
To find out more about unexpected fees, see Top 10 unexpected car rental charges - and how to avoid them.
8) Enjoy the freedom
Once you're behind the wheel, and you know where you're going, you'll discover how fun it is to be exploring a new country. Have a great trip!
---
---