Why use rentalcars.com?
Amend or cancel your booking online quickly and easily
Dedicated customer service
Trusted by over 4 Million Customers!
Information on Hertz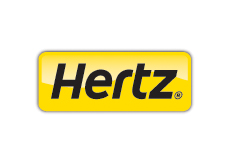 The Hertz Corporation, a subsidiary of Hertz Global Holdings, Inc. (NYSE: HTZ), is the world's largest general use car rental brand, operating from approximately 8,100 locations in 141 countries worldwide. Hertz is the number one airport car rental brand in the U.S. and at 42 major airports in Europe, operating both corporate and licensee locations in cities and airports in North America, Europe, Latin America, Australia and New Zealand. In addition, the Company has licensee locations in cities and airports in Africa, Asia, and the Middle East. Product and service initiatives such as Hertz #1 Club Gold®, NeverLost® customized, onboard navigation systems, SIRIUS XM Radio, and unique cars and SUVs offered through the company's Prestige, Fun and Green Collections, set Hertz apart from the competition. In 2008, the Company launched Connect by Hertz, entering the global car sharing market in London, New York City and Paris. Hertz also operates one of the world's largest equipment rental businesses, Hertz Equipment Rental Corporation, offering a diverse line of equipment, including tools and supplies, as well as new and used equipment for sale, to customers ranging from major industrial companies to local contractors and consumers from approximately 350 branches in the United States, Canada, China, France and Spain.
Washington DC Dulles Airport
We are currently searching for the best deal on your rental car...

No Credit card fees
No change fees